Amazon (NASDAQ:AMZN) is the antagonist in many a retailer's recent past as it drives more and more traffic to its platform. It is touted as more convenient and cheaper than traditional retail. Consumers also favor extensive online reviews and a large range of choices, two advantages of the company. Amazon increasingly competes with specialized retailers in specific markets. Today we take a look at one of these markets, Best Buy (NYSE:BBY) and Amazon's competition over the consumer electronics market.
Quartz recently reported that Best Buy registers just over 10% of its sales online but is the leader in terms of overall consumer electronics market share. Unsurprisingly, Amazon in second place is closing the gap. What is somewhat shocking is how fast. Earlier this month a Deutsche Bank report found that Amazon accounted for 90% of the sales growth of consumer electronics in 2015. In 2015 sales of consumer electronics sales grew 28% for Amazon compared to 3.8% at Best Buy. Consequently, Amazon's overall market share is steadily rising, while Best Buy's sinks or stagnates year after year.
What draws people to Amazon? Of course there are price and convenience considerations, as well as the expansive product offerings and reviews. The reviews are particularly important, though not often mentioned, as consumer opinions posted online was the second most-trusted source of product reviews after friend and family recommendations in the 2015 Nielsen Global Trust in Advertising Report's non-sponsored section. When including sponsored company advertising, trust in branded websites is even higher than in consumer opinions at 70% in the report. For some retailers, there is a lack of critical mass of consumer reviews to allow them to capitalize on both of these high trust areas. For Best Buy, this is not the case. It has extensive reviews on its products, often in the thousands, which satisfies and often exceeds the bar set by Amazon.
We compared the price, choices and convenience of identical products coming from both companies. For our purpose we used the algorithms of both Best Buy and Amazon and will compare the first result (skipping Amazon's sponsored content) on each for price and convenience. We assumed that this allowed each company to put its best foot forward, as well as shows what a consumer would initially see and most likely purchase. We also saw these first results as the most likely to be compared by consumers across platforms. If the first result was not offered on the other platform we noted it and moved to the next product. We used the Consumer Technology Association's study on the fastest growing fields of tech device home ownership from 2015 to 2016. The CTA found the largest gains in portable wireless speakers (up 10% to 30% of households). Using this admittedly anecdotal example as a base, we can speak to several broader trends in the two companies' strategies.
We searched "portable wireless speaker" on both platforms. The first Amazon result was an on sale JBL Charge 2+ for $199.99 with free standard shipping. Amazon had several at the same price with free shipping through Amazon Prime and its 2-day shipping. It is worth noting that a June Forbes survey found 33.5% of American adults subscribed to Prime with substantial numbers considering membership. Additionally, Prime boasted high renewal rates on subscriptions and conversions from free trials. Students, increasingly reliant on technology for convenience, are targeted with a free six-month trial then a 50% discount on Prime membership. Usually orders, including this one, that come through "Fulfillment by Amazon" vendors are eligible for free shipping after crossing $49 for those without Prime. For pricier consumer technology good this threshold is often easily met, but even if not can be bundled with other purchases to meet the requirement.
The first three results on Amazon were not accessible on Best Buy, but the fourth was - the JBL Flip 3 Portable Bluetooth Speaker. On Amazon it was at $84.50 with free shipping, while Best Buy had it at $99.99 with free shipping.
This brings up Best Buy's Price Match Guarantee, a bid to compete with Amazon and others that are listed prominently above the price. We do not believe it will have a substantial impact on the long-term value of the company in its current form, as it requires calling the company and navigating a representative to the competitor's website or going to a physical location. We see no strong reason why consumers would go through this process rather than buy through an equally trusted source like Amazon.
We ran the two companies on our platform analytics to show the bigger picture of total shareholder return.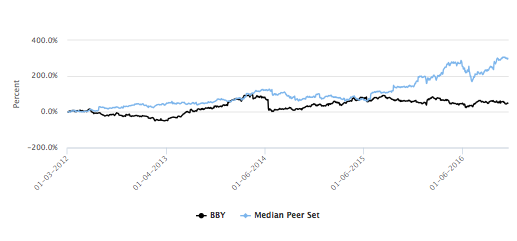 Exhibit 1: Best Buy Total Shareholder Return
Source: Enlight Research
Note: The Median Peer Set represents Amazon.
Best Buy's total shareholder return since 2012 has stayed under 50% over the past six months. Even at its peak in December of 2013, the return did not top 90%. At close on June 22nd, it was just over 48%. On the other hand, Amazon, represented by the peer set, closed June 22nd at nearly 292% total shareholder return. It has experienced its most dramatic uptick during the last year.
Despite some advocates, Best Buy's store-within-a-store format from way back in 2013 is not going to stem this tide. While it is nice to have associates of particular brands around the store, the Internet is increasingly making such concentrated expertise obsolete. Online, consumers can follow the reviews of industry experts, the market of consumers as a whole and peers. Instead of what is often a sales pitch more than a balanced review of options in the store, consumers can feel more confident of objective information from multiple sources online.
What does it mean for investors?
Convenience, price and reviews reign supreme in the consumer electronics field. Best Buy is not far off in price and from quick searches it seemed to often match Amazon's price and even beat it substantially on clearance items. Amazon seemed to have the edge on product offerings, unsurprising given its vendor setup. In convenience, Amazon has a clear and growing advantage - more people are joining and renewing Amazon Prime to get access to products quickly at free shipping. The shipping from Best Buy does not match the speed of free two-day shipping of Amazon Prime. Both sites offer extensive consumer reviews and we find that often Best Buy has the edge in sheer number, though at a point extra reviews become irrelevant. It seems like, in a lot of ways, the huge growth by Amazon is simply based on popularity - consumers are increasingly able to find anything they need there at what they trust is the most competitive price. Then they can receive it quickly through their Amazon Prime membership. Even those not on Prime can buy one larger item or bundle a few unrelated items to take advantage of Amazon's free shipping past the $49 threshold.
Amazon owning 90% of the new sales growth in consumer electronics while not even being the market leader in the category is a huge indicator to us of Best Buy's tenuous leadership position and long-term prospects. Best Buy's strategies to combat the growth of Amazon, the price match guarantee and store-within-a-store, do not seem sufficient to us. The price match does not incentivize customers to move away from Amazon and the in-store expertise is hampered by the prevalence of information online.
Interested in seeing similar metrics done with another company and peer set? Drop us a comment, send us a private message or check out our profile to access our free real-time monitoring platform.
Disclosure: I/we have no positions in any stocks mentioned, and no plans to initiate any positions within the next 72 hours.
I wrote this article myself, and it expresses my own opinions. I am not receiving compensation for it (other than from Seeking Alpha). I have no business relationship with any company whose stock is mentioned in this article.