Last month, BofA Merrill upgraded Alcoa (NYSE:AA) to Buy from Neutral and raised its price target to $11. Since the rating change on May 23, the stock has risen from $9.28 to $10.15 (9.4%), continuing its uptrend since the beginning of the year that has been fueled by a general rise in commodity prices. BofA believes AA's investments in firms with exposure to aerospace give it a path to growth that the market has not yet taken into account. While we believe AA's recent acquisitions will prove to be prudent in the long run, the firm will continue to struggle during the next couple of years. Alcoa is not a buy just yet.
Figure 1: YTD Price Performance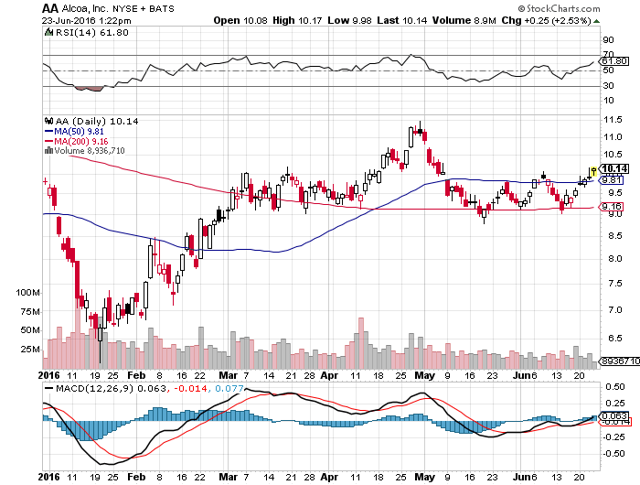 Source: stockcharts.com
Alcoa has made it a priority in recent years to invest in downstream operations and grow exposure to end markets with attractive growth prospects. Management has focused on aerospace in particular, citing a record 9-year backlog for aerospace OEMs as evidence of a secular uptrend. In 2014, the firm acquired Firth Rixon, a leading manufacturer of jet engine components, and in 2015, AA purchased RTI International, a supplier of titanium and specialty metal products primarily used in aerospace and defense markets. We like the decision to shift the downstream portfolio to aerospace, as we believe rising emerging market incomes will support consistent demand for commercial aircraft over time. But in the short run, there are still too many headwinds in too many of AA's end markets that will weigh on performance.
Commodity prices have been rising for the wrong reasons. The recovery during 2016 has been the result of a weaker dollar rather than an improvement in supply and demand dynamics. In last year's annual report, management estimated that global consumption of primary aluminum would grow by 6%, driven by improved market conditions in aerospace, building and construction, packaging, and automotive markets. Executives forecasted growth in all geographic markets with the exception of Brazil and Russia, and expected particular strength in China. The company was also banking on industry-wide capacity cuts, and believed that a curtailment in Chinese production during 2016 would lead to a better pricing environment. But so far, management's forecast has proved to be inaccurate on both the supply and demand side.
Sales in the first quarter declined 15% year over year. Part of the weakness is due to lower aluminum prices. Demand has not been as strong as forecasted back in December, nor global supply cuts as rapid. Management lowered its forecast for global consumption growth to 5% for 2016, revising growth in China down from 8% to 6.5%. And, while Alcoa has made major capacity cuts in its upstream operations over the past three years, subsidized producers in China continue to pump out volumes, despite global overcapacity. Chinese firms supply more than 50% of the world's metal, and their dumping practices were largely responsible for last year's 19% fall in aluminum prices. But prices in China have been rising, encouraging firms to ramp up production. Goldman Sachs (NYSE:GS) now worries that higher output will prolong the existing oversupply, and predicts that aluminum prices will fall to $1350 within the next twelve months.
China's dumping practices have sparked an investigation of the global aluminum trade on behalf of the US Trade Commission. It is possible that the commission will raise tariffs on imports from China to protect domestic producers. A favorable ruling would be a massive boost to Alcoa, but in our view, it is the only potential catalyst that could drive AA higher in the near term as aluminum fundamentals are still weak. We do not make investment decisions by attempting to guess regulatory outcomes. Growth will continue to be sluggish for the next few years, and long-term investors looking to get in before global demand recovers should wait for a pullback.
Disclosure: I/we have no positions in any stocks mentioned, and no plans to initiate any positions within the next 72 hours.
I wrote this article myself, and it expresses my own opinions. I am not receiving compensation for it (other than from Seeking Alpha). I have no business relationship with any company whose stock is mentioned in this article.