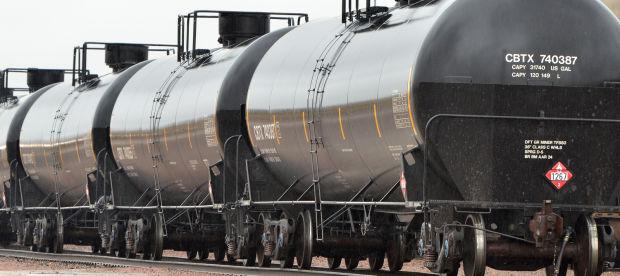 According to Railway Age, freight car manufacturers took in 6,646 railcar orders in Q1, down 58% Y/Y. This is also lower than the 9,169 orders taken in during Q4 2015 and the 7,374 taken in during Q3. Railcar orders have been in free fall since Q1 2015 when orders fell 57% Q/Q from 37,431 in Q4 2014 to 15,952 in Q1 2015; orders peaked at 42,900 in Q3 2014.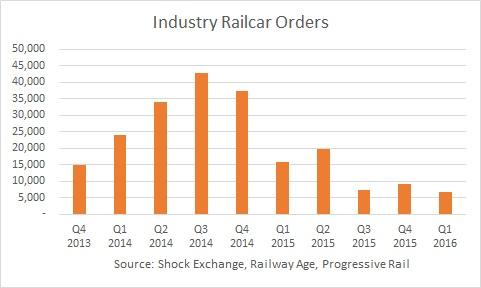 Q3 2015 orders were off 83% Y/Y, and some thought it was not a good metric since the previous quarter's results were abnormally high. A commenter on my previous article made this assessment:
Commenter: I see that you're still using an abnormal year of a year ago to suggest that new rail orders are collapsing. Noticed that you never use an average of 3, 5, or 10 years because it would hurt your argument.
However, Q1 2016 orders are below those garnered in both Q1 2015 and Q1 2014. It also buttresses the argument that the U.S. economy is entering a recession and railcar orders will stay lower for longer.
Will Greenbrier And Trinity Be Negatively Impacted?
The question remains, "Will free falling railcar orders sink Greenbrier (NYSE:GBX) or Trinity (NYSE:TRN)?" Both stocks have fallen from 35%-40% over the past year, versus a flat return for the S&P 500 (NYSEARCA:SPY). However, they bounced off their 52-week lows in January.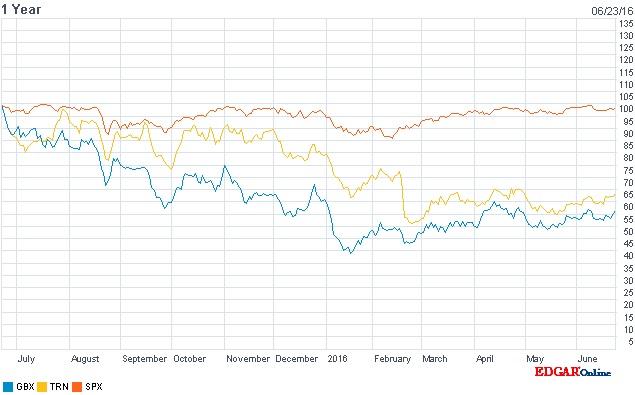 I am short GBX and TRN on the thesis that falling railcar orders will eventually catch up with these leading industry players.
Greenbrier
Greenbrier manufactures railcars and provides management services for companies that lease them. The company was one of the biggest beneficiaries of the shale oil boom and shale plays' rabid demand for tank cars needed to ship oil cross country. The rout in oil prices has reduced demand for tank cars. Greenbrier has supposedly diversified its product offerings that make it less reliant on tank cars. It has also benefited from its prodigious backlog built up when orders were more robust.
In FQ2, Greenbrier reported 3,000 orders, down 70% Y/Y. It had 4,500 deliveries out of its backlog, which equated to revenue of $669 million. Revenue was down 17% Q/Q but longs are betting the backlog (36,000 units) will sustain the company until orders pick up. Management expects 20,000 in deliveries for the full year, or about 8,600 for the second half of the year; the lion's share included in the backlog. 2017 revenue and earnings could fall sharply if new orders do not pick up and that could weigh on the stock.
Trinity
Trinity receives about 54% of its revenue from rail car manufacturing and another 11% from railcar leasing. In Q1, its total revenue fell 24% Q/Q; revenue from rail and leasing was down 25% and 52%, respectively. Leasing has allowed the company to soften the blow from declining orders, and allowed customers to forego the capital outlay of buying railcars outright. That narrative may be coming to an end.
Q1 orders of 1,620 were down 66% Y/Y. Deliveries of 7,145 were off 18% Y/Y while the average unit price ($118,500) fell 10%. That implies that even if deliveries were constant in Q2, railcar revenue would still fall due to the erosion in sales price. The company's backlog of 43,360 fell 24% Y/Y, and I expect it to fall further given the free fall in industry orders.
The majority of 2016E shipments of 27,000 are included in the backlog. However, the declining backlog and falling revenue will likely weigh on the stock. Whether TRN falls more than GBX could depend on which company's backlog deteriorates faster.
Declining Rail Traffic Will Not Help
Ultimately, rail traffic drives demand for railcars. North American rail volume for the first 24 weeks of the year was down 7.6% compared to the same time last year. In the U.S., total rail traffic was down 8.0% year to date through June 18, 2016. Chemicals (up 2.3%) and Auto Parts (up 4.2%) were the only two product groups that saw increases in traffic.
Until the decline in rail traffic abates, I do not expect railcar orders to pick up. Investors should avoid GBX and TRN. Both stocks will likely fall sharply in the second half of the year due to a dismal outlook for 2017 and beyond.
Disclosure: I am/we are short GBX, TRN.
I wrote this article myself, and it expresses my own opinions. I am not receiving compensation for it (other than from Seeking Alpha). I have no business relationship with any company whose stock is mentioned in this article.