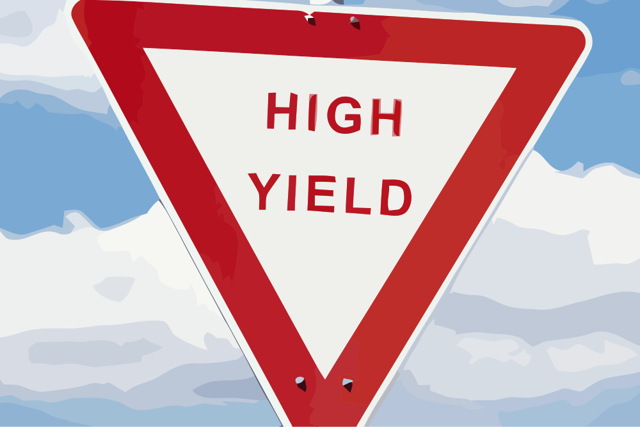 The ETF world has quite a few international options, particularly for investors looking for a higher yield that most domestic funds can offer. The average yield of the S&P 500 is only 2.14%, and this just isn't high enough for many investors who want to emphasize dividend yield over growth of the share price. The historical yield is 4.41%, and we aren't exactly close to reaching that average currently. Below is a chart of the S&P 500 dividend yield since 1860.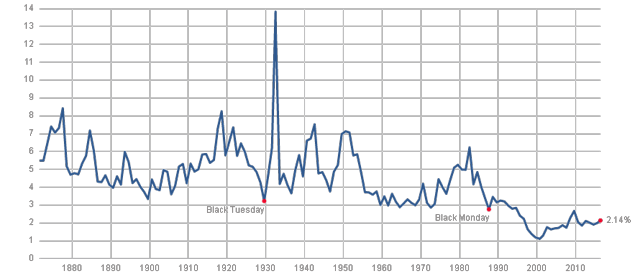 The Dow and S&P have no doubt outperformed foreign markets since the financial crisis, but other markets are offering a higher yield currently. For the long-term investor whose emphasis is on cash flow, this is a very good thing. For this type of investor, they actually look forward to a bear market so that they can acquire more shares when reinvesting those dividends. At the same time, it can be tough for many people to watch an asset they own decline in market price in the short run. For me, long-term investing goes hand in hand with reinvesting all dividends and using the power of compounding. When compounding is the goal, time is actually your friend, as compounding becomes more effective the longer it is allowed to go on uninterrupted.
Here are the choices for high yielding international dividend ETFs.
| | | | | |
| --- | --- | --- | --- | --- |
| ETF | Yield | Expense Ratio | Total Assets | Number of Holdings |
| IDV - iShares International Select Dividend ETF | 5.37% | .50% | 2.66 Billion | |
| DEM - WisdomTree Emerging Markets High Dividend ETF | 4.90% | .63% | 1.26 Billion | |
| DWX - SPDR S&P International Dividend ETF | 5.08% | .45% | 876.05 Million | |
| DGS - WisdomTree Emerging Markets Small Cap Dividend ETF | 3.14% | .63% | 863.49 Million | |
| DWM - WisdomTree International Equity ETF | 3.56% | .48% | 619.01 Million | |
| DOL - WisdomTree International LargeCap Dividend ETF | 3.59% | .48% | 358.60 Million | |
| IQDF - FlexShares International Quality Dividend ETF | 4.26% | .57% | 380.84 Million | |
| FGD - First Trust Dow Jones Global Select Dividend ETF | 4.93% | .58% | 344.72 Million | |
| DTH - WisdomTree International High Dividend ETF | 4.30% | .58% | 251.79 Million | |
| VYMI - Vanguard International High Dividend ETF | 4.29% | .30% | 32.11 Million | 811 |
I didn't include any ETFs with under 100 million in total assets with one exception. Below are the returns of all the ETFs also excluding VYMI.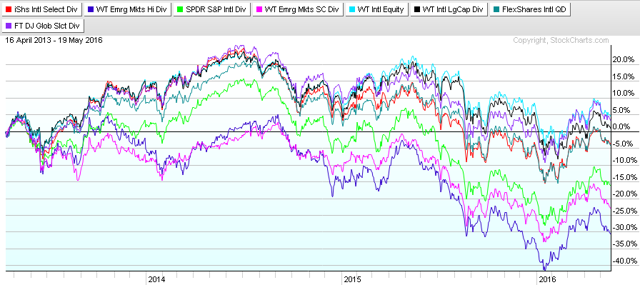 Firstly is the issue of the expense ratio, as this should be the first thing to consider when screening ETFs. This is especially important when the focus is on long-term compounding. Holding international stocks inherently brings higher expenses usually, and when compared to domestic funds with the lowest expenses such as SCHX and VOO which sport ERs of .03, .05. The cheapest international equity ETFs available are SCHF and VEA, with expenses at .08 and .09. For the most part, international dividend ETFs will have an ER of at least .40. So right off the bat, I'll eliminate the ETFs with the highest ratios - DEM, DGS, IQDF, DTH, and FGD.
With the remaining funds, we will look at the top 10 holdings.
Top Ten Holdings
| | | | | |
| --- | --- | --- | --- | --- |
| IDV | DWM | DOL | DWX | VYMI |
| | HSBC PLC (NYSE:HSBC) | HSBC PLC | Crescent Point Energy Corp. (CPG | Nestle SA (OTCPK:NSRGY) |
| AstraZeneca PLC (NYSE:AZN) | BP PLC (NYSE:BP) | BP PLC | Rio Tinto PLC (NYSE:RIO) | Royal Dutch Shell |
| Commonwealth Bank of Australia (OTCPK:CBAUF) | Royal Dutch Shell PLC Class A | Royal Dutch Shell PLC Class A | Pembina Pipeline Corporation (NYSE:PBA) | Roche Holding AG (OTCQX:RHHBY) |
| British American Tobacco PLC (NYSEMKT:BTI) | Novartis AG (NYSE:NVS) | Novartis AG | Woodside Petroleum Ltd (OTCPK:WOPEF) | Novartis AG |
| Macquarie Group LTD (OTC:MCQEF) | China Mobile LTD (NYSE:CHL) | Nestle SA | Fortum Oyi (OTC:FOJCF) | Toyota Motor Corp. (NYSE:TM) |
| VTech Holdings LTD (OTCPK:VTKLY) | Total SA (NYSE:TOT) | China Mobile LTD | Sands China Ltd (OTCPK:SCHYY) | HSBC Holdings PLC |
| Rio Tinto LTD | Nestle SA | Total SA | Electricite de France SA (OTC:ECIFF) | Taiwan Semiconductor Manufacturing Co. LTD (NYSE:TSM) |
| Canadian Imperial Bank of Commerce (NYSE:CM) | Anheuser-Busch InBev NV (NYSE:BUD) | Toyota Motor Corp | Whitecap Resources Inc (OTC:SPGYF) | British American Tobacco PLC |
| Casino Guichard Perrachon SA (OTC:CGUIF) | Toyota Motor Corp | Anheuser-Busch InBev NV | Woolworths Ltd (OTCPK:WOLWF) | Total SA |
| ENI | GlaxoSmithKline PLC (NYSE:GSK) | GlaxoSmithKline PLC | National Grid PLC (NYSE:NGG) | GlaxoSmithKline PLC |
You can see there is a bit of overlap with these funds, many of the same international blue chips are held by all of these funds. One concern I have with all of these ETFs is the number of oil producers held. The concern is over the stability of the dividend, due to the volatility of the oil price. This, however, is a bigger concern for dividend growth strategies, and this article is concerning only high yield international ETFs and not dividend growers. So instability with the dividend is not a huge deal for those simply seeking a high yield internationally.
DWM and DOL still have too high of an expense ratio when considering the yield of only around 3.5% for both. Aside from these expenses, there aren't any major flaws with these two funds, but in comparison with the other choices, they just aren't the best.
DWX appears to be a good choice considering the yield, but it wouldn't be my top pick. You can see in the top 10 holdings that it is heavily concentrated in energy companies and utilities, and the same issue I mentioned earlier regarding dividend stability exists with this ETF. I would expect this ETF to have a more volatile dividend as well as share price.
VYMI is the newest of all the funds, and also has the lowest expense ratio as well. It also has the most holdings compared to the others. While Vanguard usually has favorable ETFs compared to its peers, but VYMI is not my top choice here.
IDV is the best choice from the list due to a fairly higher yield in spite of higher expenses, which I normally wouldn't forgive. However, for those who are very conscientious about holding low-cost ETFs, VEA could be a better choice with its ER of .09 (the lowest of any international ETF), but only if you are happy with the almost 3.00% yield it offers. If the difference between VEA's yield and the S&P yield is enough to satisfy your desire for higher yields, the VEA is the way to go. Otherwise, IDV offers a high yield, plenty of liquidity, with average expenses that should serve the purpose of obtaining a much higher yield than the S&P average. Whether the investor already has a Vanguard account could make a difference too, since VEA or VYMI could be traded commission-free in that case.
Disclosure: I/we have no positions in any stocks mentioned, and no plans to initiate any positions within the next 72 hours.
I wrote this article myself, and it expresses my own opinions. I am not receiving compensation for it (other than from Seeking Alpha). I have no business relationship with any company whose stock is mentioned in this article.