To: Bracell (OTC:SATYY) independent committee of the board ("Bracell IBC") comprised of:
Mr. John Jeffrey Ying, Chairman
Mr. Jeffrey Lam Kin Fung
Mr. David Yu Hon To
Mr. Lim Ah Doo
Mr. Low Weng Keong
Mr. Armin Meyer
Cc: Bracell Independent Shareholders
Bracell IBC independent financial adviser (to be appointed)
Bracell Limited
From: Andrew Peng, Bracell Independent Shareholder

Re: Premium Take-Private Valuation Required for a Premium Asset; Cancellation Consideration to Independent Shareholders Not Sufficient
---------------------------------------------------------------------------
Dear Sirs:
The proposed privatisation of Bracell Limited (1768.HK) ("Bracell" or the "Company") by BHL Limited ("BHL") significantly undervalues the Company. I call upon the independent board committee ("IBC") to exercise your fiduciary responsibility to Independent Shareholders (as defined in the proposed privatisation announcement issued on June 17, 2016) and ensure that the process and outcome of the evaluation of the privatisation offer is entirely fair and considers the facts about the business and its appropriate valuation in light of multiple, objective methods to determine the Company's worth. Given the nature of the offer by the Company's large controlling shareholder, it is paramount that you exercise your authority to conduct an entirely fair process on behalf of Independent Shareholders.
In this letter, I present ample evidence and analyses demonstrating that the proposed consideration to Independent Shareholders of HK$1.78 per share is insufficient compensation in exchange for the cancellation of independent shares. Independent Shareholders of Bracell, owning the same shares as the controlling shareholder, deserve to be treated fairly and receive the appropriate value for their shares in the Company.
Over the last 14 months, I have authored three public, in-depth research reports discussing the merits of the business and examining its markets and competitors. It continues to be abundantly clear that Bracell is one of the best-positioned companies in the growing dissolving wood pulp ("DWP") industry, owing to its best-in-class production costs, state-of-the-art, modern production facility, owned forestry assets, high-quality products, access to growing end markets, and essentially unleveraged capital structure.
Bracell is a unique, premium asset in the growing DWP industry, and as such, a premium valuation considerably higher than the current offer is the only conscionable path to be considered for the IBC to advise acceptance of a privatisation offer.
Summary
Premiums analysis as disclosed in the privatisation offer is weak substantiation for the adequacy of the offer price, as the share price increase prior to the take-private offer announcement was driven by the "Positive Profit Alert" issued on June 8, 2016; the premium to the unaffected price was only 13%.
A thorough examination of the privatisation offer must take into account Company performance through June 30, 2016, considering the magnitude of the forecasted increase to profits during this period as disclosed in the positive profit alert.
A more thorough examination of comparable company valuation and precedent transactions reveals that Bracell should be valued much higher than the currently proposed offer.
Discounted cash flow analysis using conservative assumptions also leads to a present value per share meaningfully higher than BHL's proposed takeover price.
Bracell possesses a number of "intangible" assets that are not fully captured in its historical financial performance, including its integrated wood plantation, potential to gain share of cellulose specialties, and "capital cycle" considerations in the DWP industry.
Bracell will likely generate HK$0.25-0.30/share of annual free cash flow in each of the next two years and sustained annual free cash flow of HK$0.23/share on a completely unleveraged capital structure. Based on these highly achievable estimates, consideration to Independent Shareholders of HK$1.78 per share cannot be supported.
.
Premiums Analysis
The premiums analysis detailed in the proposed privatisation letter dated June 17, 2016, is flawed, in that it implies that the take private premium is adequate, given the premiums to certain trading periods prior to the announcement date: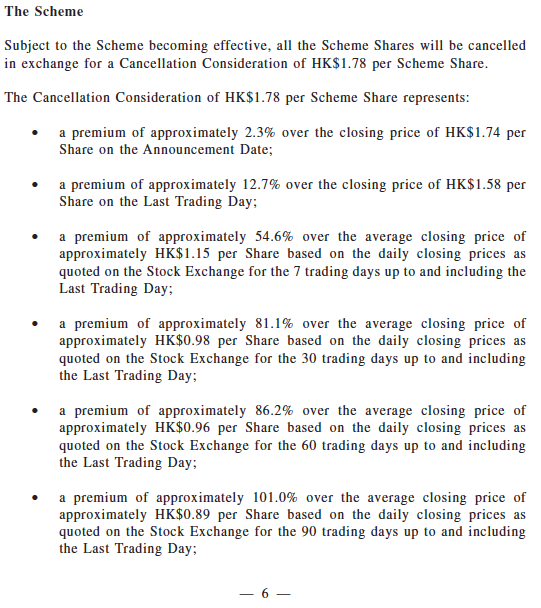 The premiums analysis above fails to account for the fact that the "Positive Profit Alert" issued by the Company on June 8, 2016, occurred prior to the announcement of the privatisation offer and thus, the acquisition premium must be based on the last trading price on the day prior to the announcement (June 15, 2016), which was $1.57 per share. Using this price, the proposed consideration of $1.78 is only a 13% premium to the last unaffected trading price of Bracell shares. The timeline below depicts the progression of events leading up to the privatisation offer: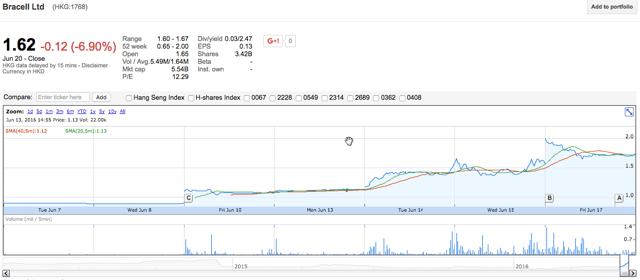 Click to enlarge
Wednesday, June 8th: Positive Profit Alert issued post-trading day, discussing "The Group's profit attributable to shareholders for the six months ending 30 June 2016 may increase by 100% to 150% as compared to the profit attributable to shareholders of $32.1 million for the corresponding period in 2015."
Thursday, June 9th: HK Stock Exchange holiday (Tuen Ng) - no trading. Friday, June 10th: First trading day following positive profit alert; shares close at $1.08, +20% vs. close price on June 8th.
Wednesday, June 15th: Last day of trading unaffected by privatisation offer; shares close at $1.57, +74% vs. pre-profit alert trading price.
Thursday, June 16th: Trading halt issued "pending the publication of an announcement pursuant to the HK Code on Takeovers and Mergers".
Friday, June 17th: First day of trading following trading halt, "Announcement Pursuant to Rule 3.7 of the Takeovers Code" issued prior to the beginning of the trading day; shares reach a high of $2.00 during the trading day and close at $1.74.
Friday, June 17th, after market close: Privatisation offer announced with proposed cancellation consideration of $1.78, premium of 13% to last unaffected trading price.
Based on this timeline, the share price increase occurred in two stages; first, from $0.90 to $1.57 as a result of the positive profit alert issued after trading hours on June 8th, and second, following the resumption of trading after the announcement of a pending takeover proposal. Due to the nature and sequence of events preceding the announcement of the privatisation offer, the calculation of acquisition premium cannot be based on a typical "7/30/60/90-day" trading period analysis; rather, the acquisition premium must take into account that the positive profit alert drove the Company's share price higher before shares further increased due to the privatisation offer that was announced just days later.
Company Comparables Analysis
Please refer to the attached Exhibit 2.
An appropriate valuation for Bracell should be based, in part, on the fair market valuation of publicly-listed peers operating in the DWP industry. The following publicly-listed companies are comparable businesses to Bracell, due to their focus on supplying specialty and rayon-grade DWP products:
Rayonier Advanced Materials (NYSE:RYAM), Sappi Limited (OTCPK:SPPJY) [JSE:SAP], Tembec (OTCPK:TMBCF) [TSE:TMB], and Lenzing AG (OTC:LNZNY) (VIE: LNZ)
These companies represent Bracell's largest competitors in the DWP industry. While several of them generate revenue from other business segments (e.g. paper), all of them rely on the production of specialty and commodity grades of cellulose pulp as a primary business segment.
The valuation analysis of Bracell's comparables (based on reported LTM historical financials) illustrates the degree to which BHL's offer undervalues the Company. Bracell's superior margins and cash generation potential should be reflected in the take-private valuation, and yet the offer values the business at a lower multiple than its peers, all of which have inferior margins and more leveraged capital structures.
Note: the implied valuation range below applies median valuation multiples from the comps analysis to Bracell's estimated LTM June 30, 2016, results, in part based on the directional guidance provided in the positive profit alert issued June 8, 2016. A more accurate implied valuation would clearly benefit from the use of actual reported LTM June 30, 2016, results, adjusted for non-recurring and non-cash items.
Bracell valuation range implied by comparables analysis: HK$2.68-3.04/share.
Precedent Transactions Analysis
Please refer to the attached Exhibit 3.
Several recent acquisition transactions in the DWP industry should also serve as valuation benchmarks in the assessment of fair value of Bracell in a privatisation offer. These transactions include the following:
Georgia Pacific's acquisition of Buckeye Technologies, Inc. (completed August 23, 2013)
These acquisitions were made (or announced) at significantly higher multiples, particularly on an EBITDA-Maintenance CapEx basis. It is also worth noting that none of the acquisition targets have margins as attractive as those of Bracell (by any standard measure of profits or cash flow).
Bracell's valuation range implied by comparables analysis: HK$2.46-3.56/share.
DCF Analysis Including Benefit Of Tax Assets
Please refer to the attached Exhibit 4.
A discounted cash flow analysis using a reasonably conservative, long-term model of Bracell cash flows further suggests that the business should be valued significantly higher than BHL's current offer. Incorporated in this model is an estimate for the benefits of unused tax losses stemming from Sateri's initial acquisition of the Brazilian DWP assets in 2003, in addition to benefits arising from a 75% reduction in Brazilian Corporate Tax ("BCT") as described in the Company's 2015 annual report.
Note the following key underlying assumptions:
No volume growth assumed beyond 2017 (first full year following 2016 debottlenecking to achieve design production capacity).
Nominal revenue growth driven by extremely modest ASP increases EBITDA margin compression due to rising cash costs relative to ASP increases.
Restoration of full taxes paid following the exhaustion of unused tax losses and expiration of BCT reductions discussed above. Depreciation expense normalizes over time to $35m, consistent with maintenance (i.e. no volume output growth) levels of CapEx (that are supported by multiple years of historical reported data).
Changes in working capital do not represent a meaningful source or use of cash going forward (despite being a positive driver of cash flow in 2015).
10% WACC based on an entirely fair (if not conservative) assessment of required rate of return for an unleveraged, premium asset selling into growing end markets.
1% terminal growth rate, in-line with the above assumptions.
Bracell's valuation implied by DCF using assumptions above: HK$2.26/share.
Other Value Drivers
In its FY2015 investor presentation (slide 38), Bracell competitor Lenzing AG expressed a strategic intent to control more of its "own pulp supply" through "backward integration". It is clear that having a captive wood plantation makes DWP producers more cost competitive, another reason why Bracell is such a valuable asset in a highly competitive global DWP market; it is one of the very few producers that controls 100% of its own supply of wood pulp. Bracell's supply of a limited volume of cellulose specialties (118k ADMTs in 2015, up from 92k ADMTs in 2011) is another important value driver for the Company, because it demonstrates that Bracell has managed to qualify its products into the ultra-high specification segment of the DWP industry (e.g. acetate tow, electronics, MCCs, filtration, tire cord, etc.), which brings higher margins due to its less commoditized nature. While the Company has not meaningfully grown share in this attractive market segment during the last several years, it has increasingly made inroads and is well-positioned to win future business. It must be emphasized that this type of qualification with the largest, most discerning global customers is an important asset; in the words of a direct competitor during an earnings call, Bracell's ability to manufacture acetate from eucalyptus pulp is a "relatively big breakthrough". While the selling cycles to win such attractive business are long, the fact that Bracell has qualified with major customers for this type of product is a significant intangible asset. In the most recent write-up on the Company, I described the "capital cycle" dynamics of commodity industries in reference to the industry dynamics playing out in DWP, which is still working off excess capacity built in the 2011-2014 time frame in response to high ASPs at the turn of the decade. I wrote:
"Bracell's competitive position is highly enviable; near the trough of the capital cycle it remains profitable, almost debt-free, and has the ability to both invest in incremental capacity and pay its shareholders a meaningful dividend."
DWP is a growth market (estimated at +5-6% per annum), fueled by developing world demand for more sustainable, efficient sources of fiber used in everyday consumer goods. Please refer to the attached Exhibit 5. As one of the lowest-cost, large-scale, vertically integrated producers of cellulose pulp, Bracell has a commanding position to supply into these growth markets on an extremely competitive basis. This is an extraordinarily important consideration in the context of the "capital cycle", as DWP overcapacity present today will rapidly be worked off as demand volumes continue to grow. Given the current point near the trough of the DWP capital cycle, it is understandable that the controlling shareholder prefers to own 100% of the Company; if capital cycle dynamics play out as contemplated, Bracell will be in a coveted position to generate even higher profits as the industry exits its oversupplied state, well above those modeled in the conservative DCF analysis above.
Conclusion
The privatisation offer of $1.78 per share as proposed by BHL Limited is simply not adequate when viewed in conjunction with the preponderance of valuation data and the Company's own strong performance to date.
While it is up to the Bracell IBC to recommend a course of action that takes into account the above facts and ensures that Independent Shareholders are treated fairly, it is ultimately up to individual shareholders to decide whether to vote shares in favor of the transaction. I believe that BHL's offer is completely inadequate to reward Independent Shareholders for the actual performance of the business and the superior quality of the assets, particularly considering its ability to generate large amounts of cash flow going forward (as it has in the past). Even under conservatively-modeled scenarios, the business is worth significantly more than the current price offered by BHL.
"In the end, what counts in investing is what you pay for a business - through the purchase of a small piece of it in the stock market - and what that business earns in the succeeding decade or two."- Warren Buffett
In your capacity as the independent board committee evaluating the privatisation offer, I urge you not to evaluate the offer solely based on a premiums analysis or an opportunity to achieve liquidity in an otherwise low-volume stock; Bracell is an attractive business with a number of solid "moats" that now, and in the future, generate significant cash flow for owners. Recommending a sale of shares to BHL at HK$1.78/share when the business has the potential to sustainably generate HK$0.23/share or higher in annual free cash flow cannot be justified.
I invite any members of the Bracell IBC or other Independent Shareholders of the Company to contact me with questions or comments about any of the contents of this letter.
Sincerely,
drew_peng@yahoo.com
Q&A
What is the purpose of this letter? To ensure that Independent Shareholders get a fair deal in the privatisation transaction being contemplated and to remind the Bracell independent board committee of their fiduciary duty to all shareholders, particularly those other than the controlling shareholder/offer or and any interested parties connected to the controlling shareholder.
What if the Controlling Shareholder rescinds the offer? Will the share price decline and why aren't you afraid of that? The establishment of fair value sought in this letter means that Independent Shareholders are indifferent to exchanging their shares for a fair price or continuing to hold them. Despite a history of illiquidity in the trading of Bracell shares, the cash flow generated by the business and ensuing dividend growth support a higher share price; for instance, in each of 2017 and 2018, the business will be able to generate HK$0.25-0.30/share in free cash flow alone (refer to attached DCF model). Board and management have thus far demonstrated strong alignment with all shareholders, exhibited by the large increase in the combined annual dividend over the last year (+60% growth). Should the Company remain public, dividends should increase precipitously as net debt is reduced to zero within the next year, and the Company will generate significant amounts of free cash flow available for return to shareholders. As per Warren Buffett: "If a business does well, the stock eventually goes up."
What about Brazil? Do the risks of owning assets in Brazil merit a discount? If Bracell were a business heavily exposed to the Brazilian economy, there could be a case for a valuation discount; however, the company is 100% export-based and not exposed to the Brazilian economy other than through a portion of its production costs. Furthermore, export-focused, resource-intensive industries generally have an advantage in being located in Brazil given its well-developed infrastructure, abundance of natural resources, and stable business environment.
Is Bracell's competitive advantage predicated on a weak Brazilian Real? No, even when the Real was much stronger against the US Dollar (2011-14), the business earned industry-leading margins in spite of average selling price pressures. The Company's advantages are based on its high-quality product, integrated wood supply, and best-in-class production costs.
The Controlling Shareholder's business entity, Sateri, is responsible for nearly 2/3 of Bracell's revenue through a pulp supply agreement ("PSA", currently expires at the end of 2017). Is this a concern? No. Bracell produces extremely high-quality product and the PSA is based on spot market pricing (there is no pricing advantage to Bracell whatsoever). The arrangement with Sateri is mutually beneficial, in that both companies achieve certainty and consistency of supply and demand, respectively. Moreover, Bracell's controlling shareholder already owns both companies and will make rational decisions that consider their best interests. While the original intent of separating Sateri was to enable Bracell to pursue a higher-margin business, it would be self-defeating for Sateri to shift business away from Bracell before Bracell has had the opportunity to gain market share in cellulose specialties.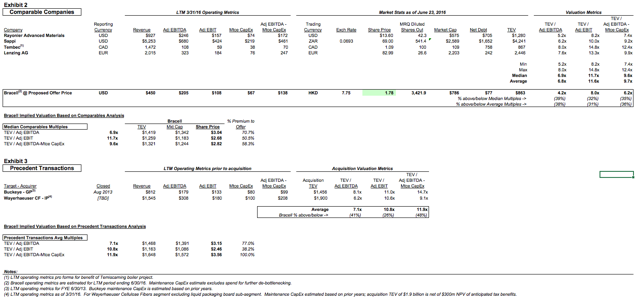 Click to enlarge

Click to enlarge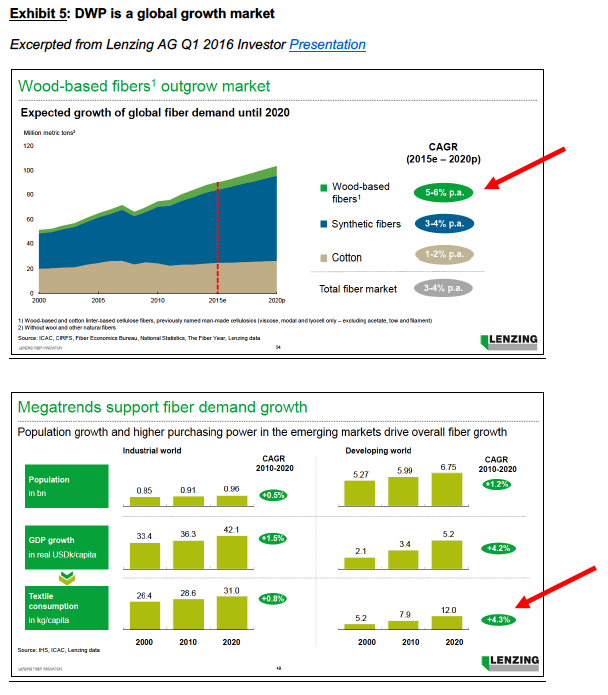 Disclosure: I am/we are long 1768.HK.
I wrote this article myself, and it expresses my own opinions. I am not receiving compensation for it. I have no business relationship with any company whose stock is mentioned in this article.