HM Treasury expects a short-term Brexit impact of 4%-6% GDP
Her Majesty's treasury has recently released an assessment of the immediate and the long-term economic impacts of Brexit.
The long-term impact will be dictated by the shape of the Brexit. The 3 existing alternatives considered are: 1) membership of the European Economic Area, like Norway; 2) a negotiated bilateral agreement, such as that between the EU and Switzerland, Turkey or Canada; 3) World Trade Organization (WTO) membership without any form of specific agreement with the EU, like Russia or Brazil:

Click to enlarge
Source: HM Treasury
The assessment of the immediate impact of Brexit suggests a 4%-6% decline in UK GDP: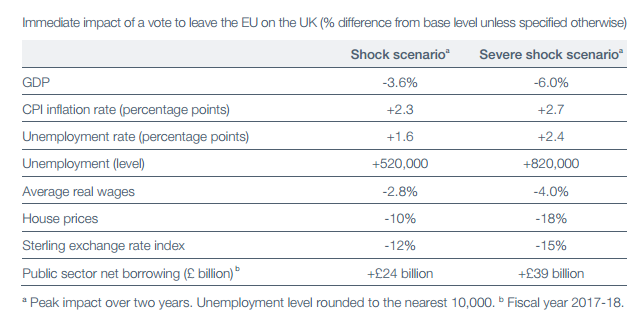 Source: HM Treasury
Lloyds is seen by the market as a proxy for the UK economy
The table above shows that UK house prices could decline by 10%-18%. Lloyds (NYSE:LYG) is the #1 UK mortgage player with a market share of circa 20%. Hence, in the event of significant falls in house prices, Lloyds would likely be more affected than its peers.
A 6% decline in GDP also suggests a significant credit quality deterioration, especially in the consumer credit sector given a 2%-2.5% rise in unemployment and a 3%-4% decrease in real wages.
According to SG Research, HM Treasury's severe shock scenario could absorb 58% of Lloyds' cumulative 2016-2018 earnings.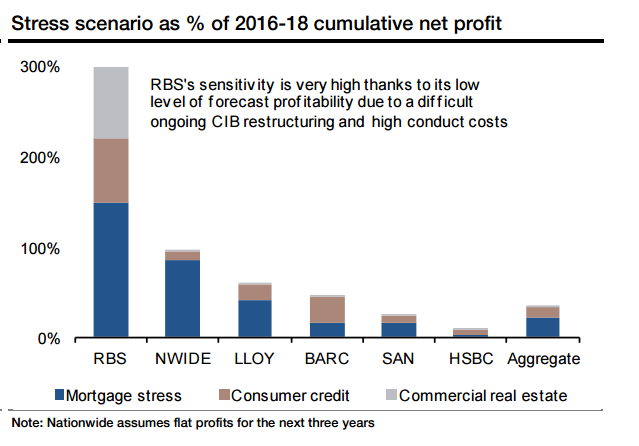 Source: SG Research
RBS is a screaming SELL
The chart above shows that RBS's (NYSE:RBS) sensitivity to a Brexit vote is very high thanks to its low level of forecast profitability due to a difficult ongoing CIB restructuring. Hence, a Brexit vote could absorb nearly 300% of RBS's cumulative 2016-2018 net profit.
Moreover, litigation risk remains a significant headwind, given the uncertainty on the scale and timing of settlements. To recap, RBS still needs to settle the mortgage-related Federal Housing Finance Agency (FHFA) lawsuit in Connecticut and the U.S. Department of Justice's civil and criminal investigations. Finally, RBS faces an additional issue in that it is the most exposed of the large UK banks to Scotland. According to First Minister and Scottish National Party leader Nicola Sturgeon, a second Scottish independence referendum is "highly likely" and should take place before Britain leaves the European Union.
Bottom line: Lloyds is a BUY; RBS is a SELL
Lloyds has the most exposure to the risk areas given its UK focus. However, with a 13% CET1 ratio (one of the highest CET1 among European banks), high pre-provision profitability levels and a strong organic capital build-up (2% CT1 generation per annum), Lloyds is well-positioned to withstand Brexit headwinds, in our view. Lloyds shares are down 21% this morning and we think the slump represents a unique buying opportunity for long-term investors.
By contrast to Lloyds, RBS looks like a screaming SELL to us, given its depressed profitability levels due to IB restructuring costs and litigation charges. In addition, a second referendum on Scottish independence is an additional issue for RBS.
I provide equity research coverage on U.S., European, LatAm and CEEMEA banks/financials, including fundamental analysis complete with a valuation, commentary on price-sensitive events and actionable trading ideas. If you are interested in the topic, click the "Follow" button beside my name on the top of the page.
Disclosure: I am/we are long LYG.
I wrote this article myself, and it expresses my own opinions. I am not receiving compensation for it (other than from Seeking Alpha). I have no business relationship with any company whose stock is mentioned in this article.