On June 20, Marathon Oil Corporation (NYSE:MRO) shot up by 10% (aided by WTI moving higher) after announcing it had expanded its position in the prolific STACK play in Oklahoma. Marathon Oil purchased PayRock Energy Holdings for $888 million in cash, which was a part of EnCap Investment's portfolio, growing its STACK presence by 61,000 net acres to over 200,000 net acres. SunTrust analysts see roughly 60% of PayRock's STACK acreage being in the core part of the region, making this a solid investment in a very economical play.
To fund the purchase, Marathon Oil is going to utilize the cash it raised from its non-core divestment program. Keep in mind the company sold off $950 million in assets on April 11, bringing the haul from its non-core divestment program to $1.3 billion. That was $300 million above the top range of its target and deals were made much earlier than expected, enabling the company to capitalize on low energy prices via acquisitions. During its conference call, management mentioned that Marathon Oil's divestment and optimization program is still ongoing, implying a good chance for additional sales in the future.
Very strong drilling economics
Marathon Oil Corporation is especially excited about the emerging Meramec oil play. The company will co-development the Meramec shale with the well established Woodford horizon and the emerging Osage interval in the prolific STACK region. Wells targeting those plays tend to sport very high oil cuts, generating strong drilling economics on an incremental well basis. Depending on how effective Marathon Oil is at controlling costs, the company is guiding to generate a 60% - 80% before-tax IRR when WTI is at $50/barrel.
At a completed well cost of $4.5 million, Marathon Oil sees its core Meramec drilling inventory yielding a 60% before-tax IRR on an incremental well basis. That goes up to 80% if Marathon Oil can push completed well costs down to $4 million. A payback period of ~1.5 years when WTI is at $50/barrel showcases Marathon Oil's strong incremental drilling economics. The last five wells PayRock brought online all had a completed well cost below $4 million, so Marathon Oil is already off to a strong start.
This assumes a standard lateral length of 5,000 feet in the oil window producing a well with a gross 30-day IP rate of 790 BOE/d and a gross EUR (estimated ultimate recovery) of 940,000 BOE (~80% liquids). The average productivity of PayRock's Meramec wells exceeded the industry average by a wide margin, but location is key. Most of PayRock's STACK acreage is in Kingfisher and Canadian counties.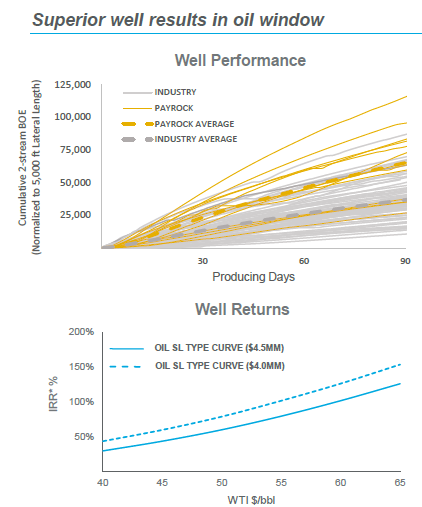 Source: Marathon Oil Corporation Acqusition Presentation
Stretching the STACK
During the conference call, an analyst brought up how Marathon Oil had grown its Blaine County acreage by 12,000 net acres last year and wanted to know how PayRock's acreage would stack up. Marathon Oil has focused most of its attention towards Blaine County and the western parts of Kingfisher County when developing its STACK acreage.
Management replied that the economical portion of the Meramec oil window extends beyond its initial focus and that this acreage competes with other regions of the STACK. A couple analysts also brought up lateral lengths, and Marathon Oil commented it would use whatever lateral length would provide the strongest returns. On PayRock's acreage, it appears standard length laterals are capable of generating the best returns. When pressed on the issue, Marathon Oil noted that it wasn't due to constraints that the company wasn't pursuing extended lateral wells as it has the ability to do so. It came down to capital efficiency.
There is a decent chance Marathon Oil is going to use a combination of both standard and extended lateral lengths to maximize the economics of its STACK portfolio. Marathon Oil, leveraging its experience in other parts of the STACK, will probably test out longer laterals than what PayRock was using (at least as a pilot program). PayRock primarily used standard length laterals, while Marathon Oil was focusing on using extended length laterals in a different part of the play.
In the map below you can see that the wells Marathon Oil brings up all had well lateral lengths around 10,000 feet in Blaine County, with only one other extended lateral well being shown in the southern portion of Kingfisher County. The rest are standard length lateral wells, so it will be interesting to see how longer laterals in other parts of the STACK region impacts the company's guidance.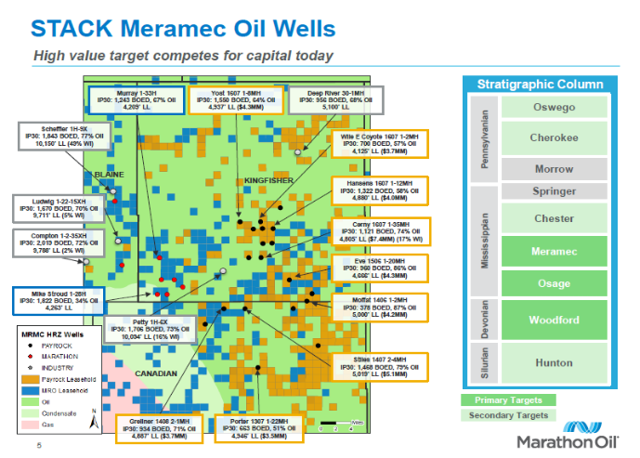 Source: Marathon Oil Corporation Acquisition Presentation
It appears that the market is bullish on Marathon Oil's deal, at least so far, especially as Marathon Oil effectively traded non-core positions for a bigger core growth runway. For $888 million, Marathon Oil also gained 9,000 BOE/d in net production, 490 new gross drilling locations (added bonus, 90% of PayRock's acreage is in the oil window), and 330 million BOE in additional 2P resources. That will grow Marathon Oil's STACK production base to 17,700 BOE/d net, its potential well portfolio to 1,465 gross locations, and pushed its 2P resource base in the STACK play to over 1 billion BOE.
There is room for plenty of additional upside as Marathon Oil plans to also develop the Osage horizon as its third primary horizon for development. When energy prices are higher Marathon Oil has several secondary targets, including the Hunton and Oswego formations, that it wants to test out. Through downspacing efforts (reducing the distance between well laterals) Marathon Oil may be able to bring more wells per section online than its initial estimates. Currently, Marathon Oil is guiding for six wells per section tapping into the Woodford and Meramec intervals. None of these programs are factored into Marathon Oil's 2P resource base but could materially bolster its growth runway in the future.
As the company runs at least four rigs in the STACK play next year, Marathon Oil will have the operational flexibility to run several pilot programs that could yield very bullish gains. Marathon Oil doesn't plan to increase its $1.4 billion 2016 capex budget as management found room in the budget to cover increased STACK activity.
Final thoughts
Marathon Oil Corporation plans to report its Q2 2016 earnings results after the bell on August 3 (followed up by a conference call a day later), which investors should pay close attention to. The upstream player should have more to say about its purchase and STACK operations overall during its conference call, providing more information for investors to digest. It's possible Marathon Oil will provide a more detailed idea of what its 2017 activity will look like, especially if it becomes more apparent where oil prices might head into 2017. WTI has been able to tread water just below $50/barrel for a sustained period of time but management is looking for some more pricing certainty. As the UK leaves the EU there will be a lot of volatility in financial markets.
Non-core asset sales and a successful secondary offering provided Marathon Oil Corporation with the liquidity it needed to ride out the downturn, providing a floor for its stock price. During its conference call, management noted that Marathon Oil won't need any additional secondary offerings to provide the liquidity the company needs. It does seem that Marathon Oil has other non-core divestitures planned, but the size of those deals or what may be sold isn't apparent. Investors looking to read about why Marathon Oil Corporation should do well in a $50 WTI environment should look at It's Always Darkest Before Dawn: Marathon Oil Corporation.
Disclosure: I/we have no positions in any stocks mentioned, and no plans to initiate any positions within the next 72 hours.
I wrote this article myself, and it expresses my own opinions. I am not receiving compensation for it (other than from Seeking Alpha). I have no business relationship with any company whose stock is mentioned in this article.