The proposed merger between London Stock Exchange Group (OTCPK:LNSTY) and Deutsche Boerse (OTCPK:DBOEY) is interesting for a number of reasons.
In particular, the British vote to leave the EU casts doubt over whether this deal will complete. At the time of writing in the aftermath of the referendum, both stocks have fallen considerably with LSEG down more than 8% and DB down over 6%.
The merger has been framed as an event that will bring Frankfurt and London closer but right now that outcome is much more uncertain. The aim of this note is to take a look at the two firms involved and the merger itself.
Both company names point towards stock exchange operators; however, they both derive the majority of their revenue from other business lines. Aside from the traditional capital markets divisions, both companies earn revenue from clearing, settlement & custody and information services & technology. While a number of these business lines (clearing, settlement & custody) point towards vertically integrated exchanges, both companies have developed in additional market segments in the recent past. Both now describe themselves as providers of global markets infrastructure rather than just exchanges.
The changes have in part been driven by structural factors.
A number of different regulatory initiatives including MiFID and EMIR brought (and continue to bring) opportunities and threats for LSE and DB. On the latter point, the introduction of Multilateral Trading Facilities (MTFs) under MiFID provided alternative venues for trade in equities in Europe, thereby increasing competition for the exchange operators. On the other hand, the obligations for OTC trading in derivatives contained in EMIR opened up opportunities for clearing houses such LCH.Clearnet (majority owned by LSE) and Eurex (DB owned).
In part, the companies reacted to the structural changes by carrying out acquisitions with LSE for instance, acquiring a majority stake in LCH.Clearnet in 2013. DB has also been active in this area. Eurex Clearing AG developed a central counterparty to clear OTC derivatives. Both LCH and Eurex act as central counterparties between participants in derivatives trades. The companies continue to develop in this area with services for risk and collateral management along with portfolio margining such as LCH Spider. While this business line is a growth area for both firms, it does not come without risks and needless to say, there are other actors in the market who have benefited from the structural changes. For instance, CME Group recently became the first US clearing house to be approved for clearing derivatives in Europe for instance.
Another area of opportunity is the continued rise of passive investment with financial instruments linked to indexes especially ETFs.
Both firms made significant investments in this area in recent years. LSE acquired Frank Russell in 2014 having previously taken full ownership of FTSE. This has now been combined as FTSE Russell while DB bought out its joint venture partner in Stoxx and Indexium. While this allows the proposed combination to boast well known blue chip indexes in their stable (FTSE100, Russell 2000 and the DAX for instance) along with focusing on developing new and alternate indexes, there is plenty competition from the likes of MSCI. Other companies are also active in consolidating the index space with for instance Bloomberg acquiring the Barclays index business.
How did the changes impact the company's financials?
Looking back over five sets of annual figures, LSE's numbers have changed more. Revenue (total income) grew at a 16% CAGR compared to just 3.4% for DB. As illustrated below, for LSE, the composition of the turnover figures developed considerably over the period with capital markets contributing less and post trade and information services growing in importance while the DB figures moved less.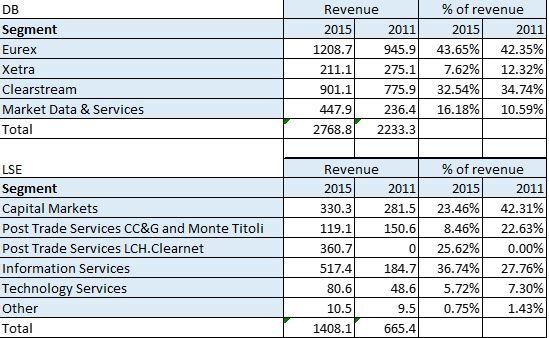 Per share dividends (excluding one extraordinary payment in 2011) for DB fell from EUR2.30 to EUR2.25 while for LSEG there was dividend growth from GBP0.268 to GBP0.36. It should be noted that the DB share count held constant over the period while as the LSEG carried out a rights issue in 2014, the overall dividend grew more impressively.
In this period, the valuation of the two companies increased. The LSEG's (trailing) P/E multiple expanded from averaging in the range 11-15 five years ago to in excess of 25. DB's P/E moved in the same period from the low to mid-teens to around 20 in the recent past.
Does the merger offer an interesting entry point or have any unusual characteristics that may lead to incorrect valuations?
In terms of mechanics, the event is structured as a scheme of arrangement for LSEG shareholders with meetings scheduled in early July seeking approval. On the DB side, a voluntary exchange of DB shares opened on the 1st of June and runs until the 12th of July.
The pro forma financials and indicative stats in the merger documentation point to the resulting company being richly valued. The figures in yellow are basic calculations of what the merger documentation implies from a valuation perspective. The closing prices on May 27th 2016 were used (when a British vote to leave was not the predicted outcome). The EPS is low due to non-recurring items.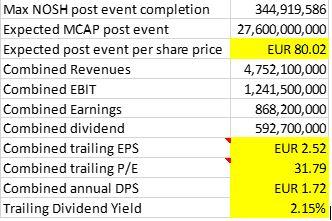 The merger documentation makes it clear that membership of leading share indices is expected. That reduces the likelihood of forced sell-offs by those tied to benchmarks. The type of selling that can occur when a reconstruction results in a less liquid stock also seems unlikely.
It's a similar story on dividends as both companies are dividend payers and as per prospectus, the combined group intends to continue this by adopting a progressive dividend policy.
Sometimes mergers can result in additional new securities that can be incorrectly valued. In this case, are there any merger securities that could be of interest? On the face of it, no. It's a straight swap of equity for equity without any unusual extras. One small potentially interesting footnote is that due to voluntary exchange on DB, acceptances trade under a separate code (see DE000A2AA253). With volatility too rising considerably, it would be worth keeping an eye on how these securities behave as they will be subject to a one for one swap assuming the event closes.
In conclusion, in the current market environment it's unlikely that the combination of two blue chips is going to leave much value on the table. Short-term volatility is moving valuations considerably but assuming the deal survives it does not look like a buying opportunity.
Disclosure: I/we have no positions in any stocks mentioned, and no plans to initiate any positions within the next 72 hours.
I wrote this article myself, and it expresses my own opinions. I am not receiving compensation for it. I have no business relationship with any company whose stock is mentioned in this article.
Editor's Note: This article discusses one or more securities that do not trade on a major U.S. exchange. Please be aware of the risks associated with these stocks.