Background
Elon Musk has frequently mentioned Tesla's (NASDAQ:TSLA) willingness to build a factory in China, the biggest car market in the world.
For example, in January 2016, he said:
"It will eventually be made in China, if it was possible to do local production in China sooner, we would, but I think it is going to be close to three years before we can achieve that outcome."
That March, Elon Musk repeated:
"If it was possible for us to do local production in China today, we would. But I think it is going to be close to 3 years before we can achieve that."
Also in March, Tesla executives visited Suzhou, a major city in the east of China near Shanghai. They met local government officials there and discussed potential plans for a factory.
But on May 22nd, Tesla's CTO told a reporter:
"It will make sense for the carmakers to build a factory in China when local demand reaches critical mass."
Establishing a local factory in China for foreign companies has never been easy. According to Chinese law, if any foreign automaker wants to build an auto factory in China, it has to create a joint venture with a local company and can have no more than 50% equity.
However, one thing is certain: Tesla is more than welcome in China due to its special attribute of sustainable development. Many local Chinese carmakers have been eager to work with Tesla. Furthermore, the governments of many provinces hope that Tesla will build a factory on their land. We believe that these governments have definitely brought some favorable proposals to the table, which Tesla has been considering.
Time Issue
Tesla's sales in China have always been good, but clearly not the best. We suspect that they are still below management's expectation. If we want to assess whether Tesla could grow sales by building a local factory, we must figure out why some Chinese customers canceled their order after paying the reservation deposit or resold their car after it was delivered.
Accordingly, we conducted a study on Tesla's customers in China. We've focused on two kinds of customers: Customers who paid a reservation deposit then canceled their order and got a refund. Customers who paid in full, but for some reason were unhappy with the car and resold it as soon as it was delivered.
Our team managed to talk to 145 Chinese customers who cancelled their order after paying the reservation deposit or resold it after it was delivered. There are many reasons for their behaviors, but the most common explanation was that the wait time was too long. About 65% of customers cancelled their order or resold the car because of it.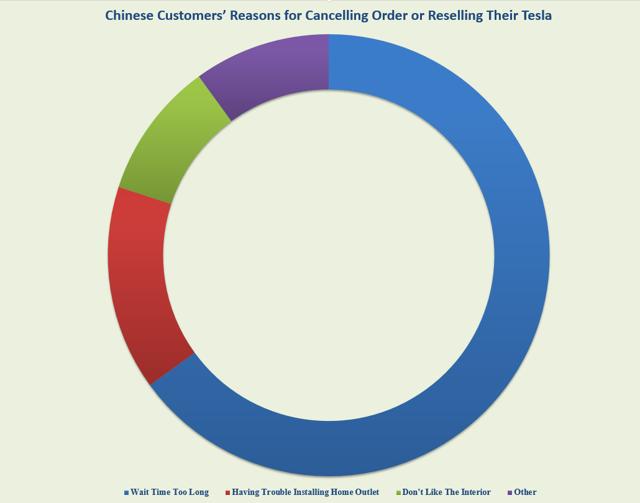 Click to enlarge
Chart made by author.
We all know that one must be patient when ordering a new car from Tesla; however, based on the normal wait time, Chinese customers typically wait 6-9 weeks longer due to the time-consuming nature of overseas shipping and clearance through customs.
Perhaps you wonder why Chinese customers are so impatient. In the cities of Beijing and Shanghai, it's not easy to register your new car. Due to the massive number of cars in these cities, the government has to control the registration of new cars in order to reduce traffic jams. Just to get your license plate, you have to participate in a vehicle lottery. It's been called a "lottery," because as of February 2016, you only have a 0.15% chance of winning a new license plate for your new car in Beijing. If you're in Shanghai, the chance raises to 4.5%, but even if you win the lottery, you still need to pay RMB 85,100 ($13,500) extra for a license plate. In other words, you just win the chance to spend your money on a license plate. But without the lottery, you wouldn't even have the right to apply for a license plate. For electric vehicles, however, you're given a winning probability of 88% in Beijing and 100% in Shanghai without spending a penny.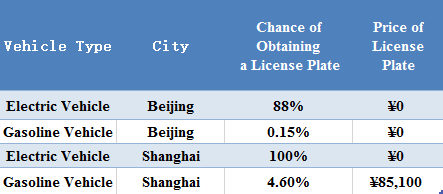 Chart made by author. All information is from local DMV.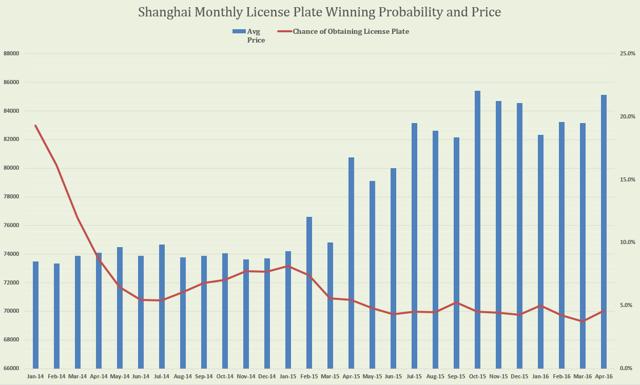 Click to enlarge
Chart made by author. All information is from local DMV.
As you can see in the chart above, it's getting harder and more expensive to obtain a Shanghai license plate for a gasoline-run vehicle. Back in January 2014, Shanghai car users had a 20% chance of winning a license plate with an average cost of RMB 73,500 ($11,300). But by April 2016, the price had risen 15.7% to RMB 85,100 ($13,500), and the probability plunged to 4.6%.
There is only one problem with getting a license plate for EV - the time limitation. You should have to obtain registration within a given time (e.g., six months in Beijing) after winning the lottery. So, if your car is not ready before the deadline, your license plate goes away, and you have to do the whole lottery all over again. Although the chances of winning are good, it's still an extremely time-consuming process.

Click to enlarge
Chart made by author.
This chart is based on the experience of one of our respondents, a typical unhappy Chinese customer. This customer paid the reservation deposit on 25th Feb. and RMB 250,000 for custom duties on 4th Mar. At that time the estimated delivery time was "late May." But unfortunately, as it turned out, the delivery time given by Tesla kept getting delayed. The most recent delivery time became 31st August, which was not good news for him. He had received the EV license plate one day before paying the reservation deposit. In Beijing, an EV license plate expires in six months if you don't use it, which means he had to use it before 24th August. As can be seen in the chart, the estimated delivery time ultimately became "after 31st August." So there was no way that he could receive his Model S before 24th August. At this point, he couldn't get a refund and was very upset. Currently, he's still communicating with Tesla. If the delivery time can't be changed, he will probably buy a BMW (BAMXY) i8 instead, in order to avoid losing the EV license plate.
Many customers who get the EV license plate pay the reservation deposit because Tesla promises that the car will be delivered on time. But due to many factors beyond its control, the delivery date most often gets delayed. If they patiently wait for their Tesla to be delivered, their EV license will become invalid. This leads many customers to cancel their order and buy cars from Tesla's competitors that manufacture in China since they can get them more quickly. Most of these customers cancel their order not because they no longer like Tesla's products, but because their license plates will expire.
In terms of time, building a local factory would definitely help the situation. It would reduce customers' wait time, especially the unpredictable wait time involved in shipping overseas.
We found that 10% of people had canceled their orders because they don't like the interior of model S, especially comparing with its competitor BMW 7-series or Mercedes-Benz S-class (OTCPK:DDAIY). In fact, 80% of them bought the Model S's competitor right after canceling their order, and 15% of customers canceled their order due to the difficulty of installing a home charging outlet.
The Price Issue
We believe price is the one of the most important reasons for building a local factory. Tesla is much more expensive in China than in most places around the world. There's a 25% import tax plus a 10% VAT for any imported car in China. If Tesla's cars could be made locally, 25% of custom duty would be avoided and Tesla would be entitled to an EV incentive from the government. In addition, there's "shipping and handling" fees for overseas buyers. All of these factors make Tesla less attractive in price for Chinese buyers.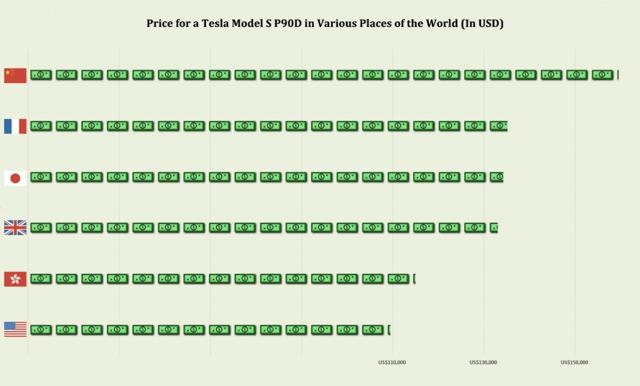 Click to enlarge
Chart made by author. All information is from Tesla's official website.
As shown in the chart above, China sells the most expensive Tesla Model S P90D. The price in Hong Kong is considerably lower compared with other countries. It is close to the price in the US due to its duty-free status.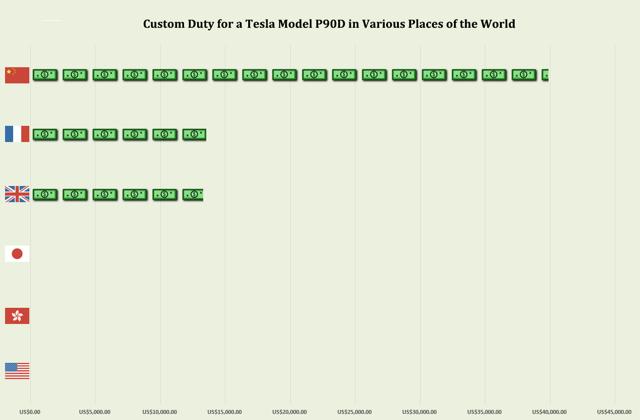 Click to enlarge
Chart made by author. All information is from Tesla's official website.
If Tesla can set up a plant soon in China, a Tesla car could possibly be 30% cheaper. With this price difference, a shorter wait time and EV incentive from the government, Tesla would definitely attract many more potential buyers and eventually achieve great sales in Chinese market.
Historical Case
BMW Brilliance is a 50-50 joint venture between BMW and Brilliance Auto. It is one of the most successful Sino-Foreign auto joint ventures. They built a factory to manufacture BMW cars in 2013.
After the factory was established and started production, annual BMW sales in the Chinese market rose 75%. We believe this is because building a plant solved the critical problems for the Chinese market. A local-made BMW car is cheaper, as there's no import tax. It's also quicker to deliver, because domestic shipping takes much less time than overseas shipping. And due to the inexpensive and massive labor force of China, production can grow at a significantly faster rate.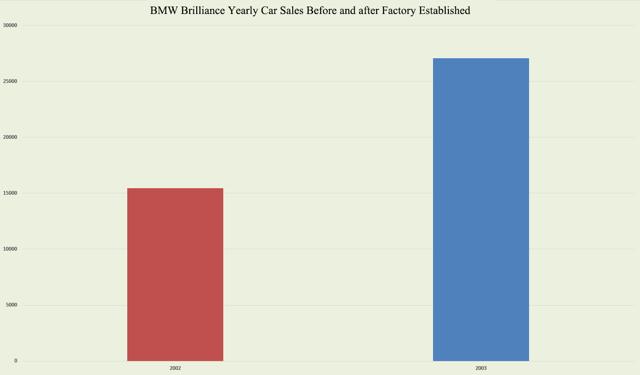 Click to enlarge
Chart made by author. All information is from company's investor relations.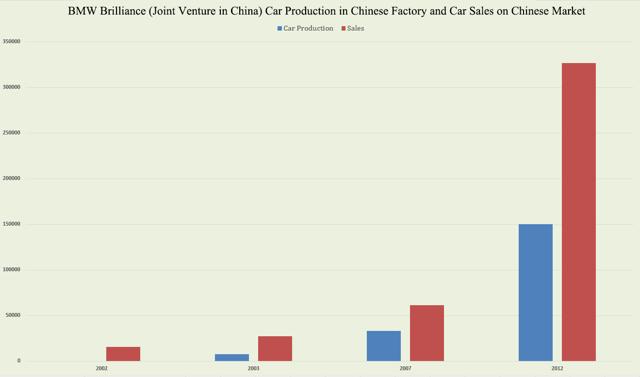 Click to enlarge
Chart made by author. All information is from company's investor relations.
Conclusion
The pros of establishing a local factory:
Cheaper price. Current price minus import tax plus EV incentive.
EV incentive. Fully supported by local governments with favorable conditions.
Quicker delivery time. Overseas shipping replaced by domestic shipping. No customs clearance. Increased production.
Tesla will not be able to solve the critical problems of the Chinese market without building a local plant. Tesla should start building local factories NOW. If it does so this year, it would be great news for investors. We will see Tesla's sales break out in China as soon as a factory is built.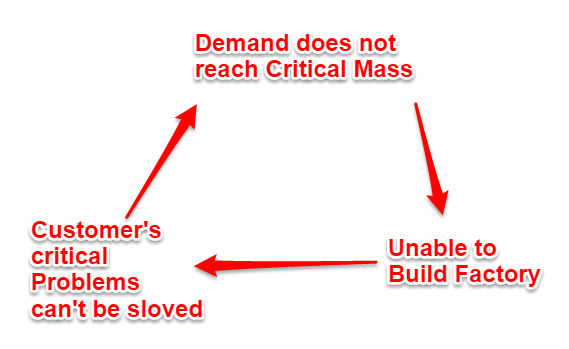 Chart made by author.
We predict Tesla will start building a local factory in China this year. Because there's no reason at all for the company to wait. If it waits for demand to hit critical mass, TSLA may lose the opportunity forever. Demand increases because you solve the customers' problems. Tesla can't solve the critical problems of Chinese customers without building a local plant. It will be like an infinite loop. We believe management definitely can see it.
Disclosure: I/we have no positions in any stocks mentioned, and no plans to initiate any positions within the next 72 hours.
I wrote this article myself, and it expresses my own opinions. I am not receiving compensation for it (other than from Seeking Alpha). I have no business relationship with any company whose stock is mentioned in this article.