Click to enlarge
MACROECONOMIC NEWS
ARGENTINA reached an agreement over the inspection of Monsanto (NYSE:MON) soy. The nation's agriculture minister said that Argentina's government will oversee the testing of soybean crops under a deal aimed at satisfying demands by U.S. seed company Monsanto that its genetically altered technology be protected.
BRAZIL's Supreme Court indicted suspended speaker of the Lower House Eduardo Cunha on charges of illegal currency dealing, corruption, and money laundering. This was the second time that charges have been accepted against Cunha in the Lava Jato corruption scheme, which could increase the chances of Cunha taking a plea deal.
CHILE Congress approved the government's proposal to gradually increase the monthly minimum wage by 26,000 pesos (around $39) to 276,000 pesos ($412) within 18 months. The minimum wage hike proposal is now ready to be signed into law.
MEXICO's In April, the monthly economic indicator, IGAE, contracted 1.2% MoM (+0.7% YoY)-weakest annual print in 29 months. Manufacturing and construction slowed down sharply versus 1Q16, driving industrial output to retreat 0.9% YoY in April-a low since September 2013. Meanwhile, services lost steam at the beginning of the second quarter, growing at a 16-month low of 2.0% YoY-down from the 3.9% annual hike averaged in 1Q16. Lastly, the primary sector expanded for the third time in the year, advancing 1.9% YoY in April (vs. +2.4% YOY in 1Q16).
MEXICO's Bi-weekly consumer prices kept marking record lows at the end of 2Q16, with the CPI (inflation proxy) climbing 0.02% MoM to an annual figure of 2.55% in mid-June-the lowest figure for a similar period ever. Among the items that implied a lower cost of living last month were mainly lemons (‐36.9% MOM), eggs (‐5.35% MoM), tomatoes (‐17.4% MOM), and onions (‐6.4% MOM). With this inflation levels, any increase in the benchmark interest rate will be driven by a further depreciation of the exchange rate and/or greater hikes by the Fed.
Latin American ETFs (June 23): Latin America (NYSEARCA:ILF) 3.27%, Argentina (NYSEARCA:ARGT) 0.95%, Brazil (NYSEARCA:EWZ) 3.94%, Chile (NYSEARCA:ECH) 1.88%, Colombia (NYSEARCA:GXG) 1.51%, Mexico (NYSEARCA:EWW) 2.30%, Peru (NYSEARCA:EPU) 1.20%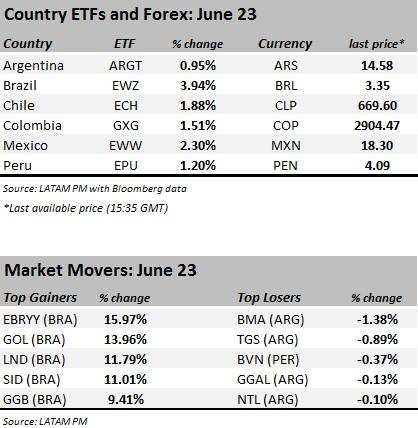 CORPORATE HIGHLIGHTS
BRAZIL's Oi (NYSE:OIBR) requested bankruptcy protection has been recognized by courts in England and Wales. Brazil's largest fixed-line phone carrier and No.4 mobile operator filed for protection from creditors on $19.3 billion of debt. On a related topic, a group representing holders of Oi SA's bonds not guaranteed by unit Telemar Norte Leste SA is growing, two sources familiar with the matter said, underscoring the challenges facing Brazil's largest fixed-line phone carrier as it enters bankruptcy protection proceedings.
BRAZIL's state-run oil company Petrobras (NYSE:PBR) said that its Petros pension fund made a loss of $6.77 billion in 2015, adding the fund must form a plan this year to reduce the deficit in future by increasing contributions.
BRAZIL's Eletrobras (OTCPK:EBRYY) has increased over 25% this week, as the positive news flow on the privatization of its DISCOs concessions continues. The government released today the provisional measure 735 that will facilitate the sale of the seven company's distributors through the submission of a recovery plan by the companies who win the bidding processes.
COLOMBIA's state-owned oil company Ecopetrol (NYSE:EC) offered 20 oil and gas blocks for auction. The company's current strategy is to cut back amid low global crude prices. 138 companies from 21 countries attended the auction launch. The fields are close to logistical facilities, making the blocks more attractive. The blocks will be sold in an electronic auction on September 30. EC has been selling assets in a bid to fund its investment plan-down by $1.8 billion this year.
MEXICO CEMEX (NYSE:CX) announced today that CEMEX USA is participating in Phase 1 of the Metro Purple Line Extension in Los Angeles, California. The extension will link the west part of the city to the region's growing rail network. CX is expected to supply at least 330,000 cubic yards of ready-mix concrete. Phase 1, expected to be completed in 2023, will provide high-speed, reliable transportation between popular areas of the city.
MEXICO Pulso Inmobiliario (a REIT) will invest US$1 billion in the development of various real estate projects. The developer plans to add 300k sq. meters in office spaces and 1,500 hotel rooms after this investment. The company is currently finishing Torre Manacar, and plans 2 more projects of office buildings with shopping malls to be completed by 2018.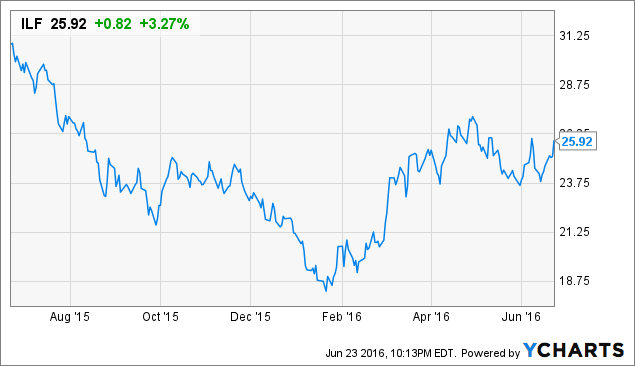 Disclosure: I/we have no positions in any stocks mentioned, and no plans to initiate any positions within the next 72 hours.
I wrote this article myself, and it expresses my own opinions. I am not receiving compensation for it (other than from Seeking Alpha). I have no business relationship with any company whose stock is mentioned in this article.
Editor's Note: This article covers one or more stocks trading at less than $1 per share and/or with less than a $100 million market cap. Please be aware of the risks associated with these stocks.