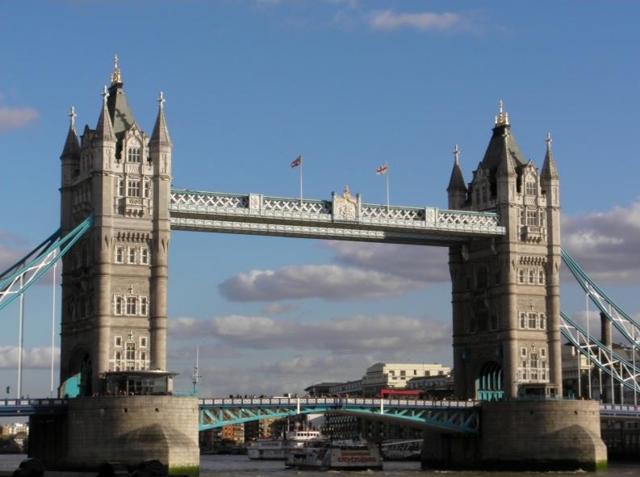 Click to enlarge
Image source: Openphoto.net
Today's headlines are being dominated by the overnight news of Britain's unexpected vote in favor of "Brexit." Financial markets are being hammered: as I write, the FTSE 100, DAX, and CAC indices are down 3.7%, 6.7%, and 8.1%, respectively. Even U.S. equities are taking a beating, with the DJIA, S&P 500, and NASDAQ down 3.4%, 3%, and 3.5% in pre-market action. The fact that all three U.S. indices rose in anticipation of a "Bremain" victory means that they are only slightly lower than they were a week ago (see figure), but there is no denying that some extreme swings are taking place, especially in the FX markets (the British pound has fallen to a 30-year low against the U.S. dollar over the last few hours).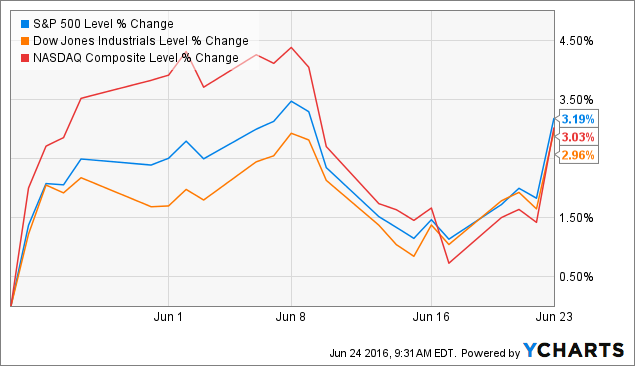 There will be no shortage of headlines in the coming days and weeks about the immediate financial implications of the Brexit vote. Will London continue to be one of the world's primary financial hubs, or will its banks and other institutions leave for countries that remain under the European Union's jurisdiction? Will Scotland initiate another vote to leave Great Britain and abandon the British pound?
Will Britain's economy tilt into recession as its European trade flows fall under the more protectionist terms of the World Trade Organization? Will other EU members belonging to the Eurozone (Britain never adopted the common currency despite being an EU member) such as France and the Netherlands follow up with their own exit referendums?
Farage and Trump versus everyone else
These are all important questions that must be asked by investors in light of yesterday's vote. My biggest takeaway regarding the vote's implications, however, regards its political implications. Of Britain's five major political parties, four (the Conservatives, Labour, Liberal Democrats, and Scottish National Party) all endorsed the Bremain vote, although several senior members of the Conservatives campaigned for Brexit (including Prime Minister David Cameron's likely replacement following his earlier resignation, Boris Johnson).
Britain's political leaders were joined by an international cast of leaders including Barack Obama, Hillary Clinton, Angela Merkel, World Bank president Jim Yong Kim, International Monetary Fund CEO Christine Legarde, and major names in the world's top banks, academic institutions, and businesses. The Bremain vote arguably had more support from the global leadership than any cause since last December's Paris Climate Accords.
The contrast between the Brexit and Bremain campaigns becomes even more stark when one considers some of the major names that supported the former. United Kingdom Independence Party [UKIP] head Nigel Farage, who has excellent taste in pints but is generally considered to be something of a fringe politician otherwise, was the only leader of the UK's main political parties to campaign for Brexit.
Brexit also had its international supporters, albeit of a very different type than the Bremain campaigners:
America is proud to stand shoulder-to-shoulder w/a free & ind UK. We stand together as friends, as allies, & as a people w/a shared history.

- Donald J. Trump (@realDonaldTrump) June 24, 2016
The leader of France's right-wing National Front party described the Brexit vote as a "victory for freedom":
Victoire de la liberté ! Comme je le demande depuis des années, il faut maintenant le même référendum en France et dans les pays de l'UE MLP

- Marine Le Pen (@MLP_officiel) June 24, 2016
Meanwhile, the founder and leader of the Dutch Party for Freedom, Geert Wilders, a man who shares both hairstyle and immigration ideology with Mr. Trump, cast the vote in Dutch terms:
Hurrah for the British! Now it is our turn. Time for a Dutch referendum! #ByeByeEUhttps://t.co/kXZ0aQtgmx

- Geert Wilders (@geertwilderspvv) June 24, 2016
The most notable aspect of the Brexit and Bremain identities isn't just the fact that the former is largely comprised of right-wing political insurgents whereas the latter is made up of the political and business establishments. The campaign planks of those few political leaders who supported Brexit have many similarities. Mr. Wilders rose to fame by decrying the rise of radical Islam in his country while highlighting the existence of a purported gulf between Dutch politicians and voters.
Ms. Le Pen has also railed against European Islamism while also supporting economic protectionism, although she split with Mr. Trump over his proposed ban on Muslim immigration. Mr. Farage went so far last year to describe British Muslims as a "fifth column," and his party's support for Brexit was largely predicated on its opposition to the EU's open immigration policies.
We have seen clear signs of the growing power of political insurgencies in recent years, of course, as mainstream political parties have fallen out of favor in Greece, Spain, and Italy. In each previous case, the shift was directly related to high national debt loads in those countries and the euro crisis, and the impact on non-PIIGS countries was limited. Unlike the PIIGS, however, Britain isn't facing a fiscal crisis, and if anything, its economy and financial markets have actually performed well since the 2008 financial crisis (see figure). The British don't exactly have a reputation for backing insurgencies either, as its Conservative and Labour parties have dominated its political scene for the better part of the last century.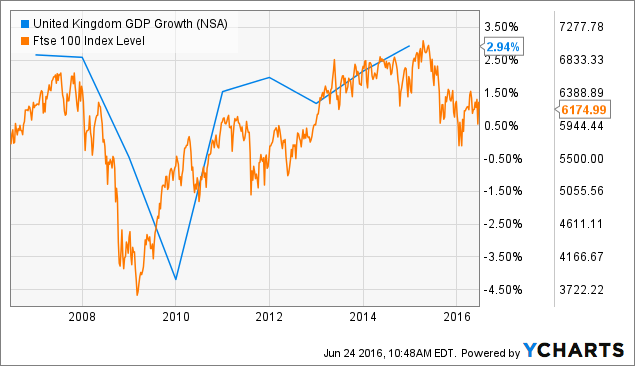 United Kingdom GDP Growth data by YCharts
The most important fact, however, is that the insurgent political movements in the PIIGS countries encountered nothing like the international opposition that the Brexit movement overcame. It took two years for the European Union to adopt an official response to the euro crisis, and even then the rest of the world largely kept its opinions to itself.
In the UK, on the other hand, the Brexit movement was largely considered a lost cause right up until the vote's result was announced. The betting markets placed the odds of a Bremain victory at 85% immediately after polling closed. Even Mr. Farage seemed to have lost hope at the time, stating that the Bremain campaign was likely to have "edged it" based on "what I know from some of my friends in the financial markets who have done some big polling."
Bad for Europe, good for investors?
The short-term implications for investors with long positions are clearly negative given the subsequent response of the financial markets. We can position ourselves to benefit from the boost that the Brexit victory will provide to political insurgencies in Europe and the United States, however. The VIX volatility index has increased by more than 50% since the beginning of June (see figure), suggesting that risk is re-entering the markets. A close presidential election race in the U.S. would do much to keep volatility high even if Mr. Trump ultimately loses given that his economic proposals would be expected to cut growth sharply while boosting unemployment.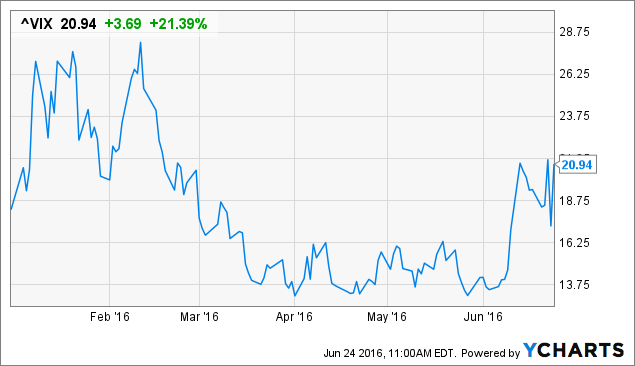 Furthermore, as the financial market's response to the Brexit victory has made clear, headline risk will only grow in importance in the coming quarters. Beyond the U.S. presidential election this November, France is due to hold its own presidential election in April or May of next year. Ms. Le Pen's party has taken the lead, according to several recent polls, as the country's Socialist party has self-destructed. A victory by the National Front would quickly lead to a "Frexit" referendum there that would in turn raise existential questions about the European Union as a whole.
The Netherlands is due to hold a general election around the same time in which Mr. Wilder's party is expected to do very well. Finally, Germany must hold a general election between August and October 2017. While Ms. Merkel's CDU party currently leads the polls, the Euroskeptic Alternative for the Germany party has pulled within striking range of the second-place Social Democratic Party.
Headline risk over the next year could create some attractive long investment opportunities for investors. Value investors in particular have struggled to maintain market discipline as the Shiller P/E ratio has moved near the top of its historical range, suggesting the presence of overvalued equity markets. I am already seeing some counterintuitive reactions just in the few hours of trading that have occurred since the Brexit vote was announced, however, that could lead to lower valuations. The price of WTI crude has fallen by more than 5%, for example, yet the share prices of refiners, downstream energy logistics, and fuel retail firms have also moved lower (see figure).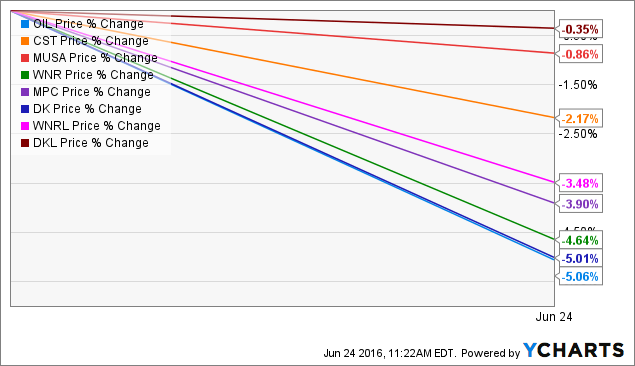 All three sectors benefit from lower input costs via higher margins. Furthermore, all of the companies listed operate within the U.S. and have little to no exposure to Europe. CST Brands (NYSE:CST) and Murphy USA (NYSE:MUSA) operate fuel convenience stores in North America, and both have reported higher margins in response to falling crude prices. Western Refining (NYSE:WNR), Marathon Petroleum (NYSE:MPC), and Delek US Holdings (NYSE:DK) are all independent U.S. refiners that have also reported margin and demand growth since the summer of 2014.
Then there are the downstream logistics firms responsible for moving refined products from the refineries to the C-stores such as Western Refining Logistics LP (NYSE:WNRL) and Delek Logistics Partners LP (NYSE:DKL). These MLPs generate revenues based on volumes rather than fuel prices, and benefit from lower energy prices via the resulting demand increases. All of these firms offer sizeable dividends in the process (see figure).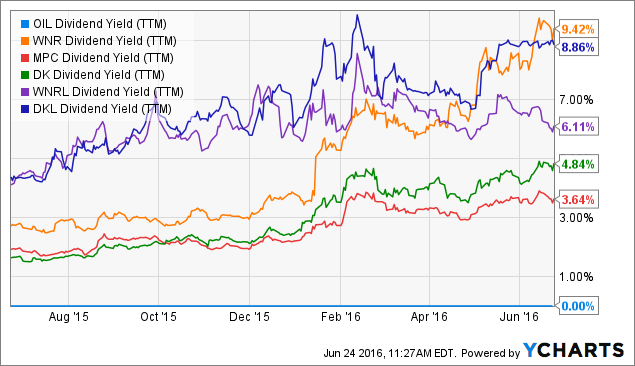 OIL Dividend Yield (TTM) data by YCharts
Finally, higher volatility provides investors with an additional value stream in the form of rising options prices. Rather than just buying shares at attractive valuations, investors should consider selling puts to open, and if and when the options are exercised, then selling covered calls on the resulting positions.
The growing backlash against the political establishment in wealthy developed countries will keep volatility high for the foreseeable future, not least due to headline risk. While it can be tempting to ignore equities when red fills your portfolio tracker, this is an excellent opportunity to begin looking for discrepancies among individual equities.
Disclosure: I am/we are long WNR.
I wrote this article myself, and it expresses my own opinions. I am not receiving compensation for it (other than from Seeking Alpha). I have no business relationship with any company whose stock is mentioned in this article.