By now it is fairly obvious to our readers that we are bearish on Lululemon Athletica (NASDAQ:LULU) as we do not believe in the story that management and the most of the sell side is telling. They are effectively assuming that store footage growth will remain steady over the next few years. It also implies that sales per square foot should inflate considerably over time through higher comps via volume point growth and incrementally higher prices (sales per square foot of $2K for Canadian stores and $1.8K for U.S. stores).
Understandably it is hard to take the other side of this trade when the comps continue to back postings of double digit revenue growth, especially with inventory cleared and gross margins being insulated. Nonetheless, we still think it will be difficult for Lululemon to maintain this growth trend given the heavy influx of competitors, bot
h large and small, who will be seeking these sales dollars aggressively. The reason is that retail in general has been performing poorly from a sales growth perspective, however the segment of athleisure has been trending very well. Now more than ever are businesses, especially department stores, pushing efforts to compete in this area for not just women but men as well. Below is the trend in historical sales growth to date: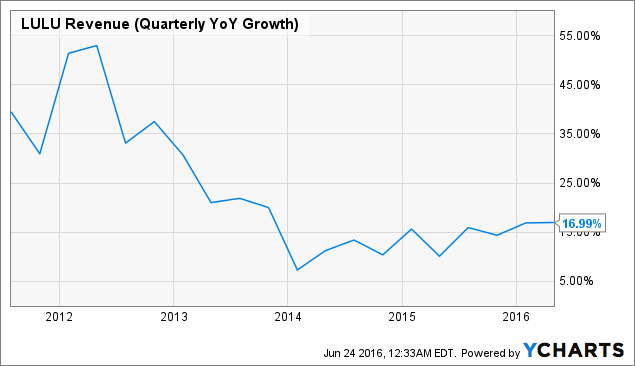 LULU Revenue (Quarterly YoY Growth) data by YCharts
ABC Exposure
LULU's "Anti-Ball-Crusher"-branded pants are essentially self-explanatory in what they do. However, while the initial reported sales by the company were fair, it turns out that the absolute consumer value to be realized can be summarized through a BusinessInsider report:
It turns out the "problem" the ABC pants are trying to solve only occurs with normal pants when a man is doing that which should not be done in normal pants.
In other words, if a person is wearing casual (non-athletic) pants, why would they engage themselves in "abnormal" physical activity in the first place? Not to paint the picture that we are regressing with our clothing, but it appears that this product sincerely lacks substance in that other apparel such as shorts, sweatpants, etc., also serve this purpose.
Furthermore, the pants themselves cost $128 each which likely does not appeal to most of the population. A limited wardrobe of 3 pants brings you to a costly total of $420 after tax. Wow. Lastly, quality assurance has been the number one reported issue in that the pants have shown to tear, fade, and so forth, which is clearly another concern from a value perspective.
Comparables
Moving back into the overall business itself, let's review the trend in same-store sales. We hate to sound like a broken record but the fact of that matter is that comps appear to capped no matter what happens going forward simply given the ongoing supply and demand dynamics here. Management continues to offer fairly conservative guidance at mid-single digits for the full year but they have been pulling figures in the area of 7-9% on average, which is pretty good compared to analyst expectations.
Interestingly enough, using Google Trends has been a reliable resource by matching interest points from previous annual periods to more recent activity. Without showing our work which would require some explanation, basically we generated categorization of data points into excel and analyzed traffic growth on an adjusted basis. In any event, we do think however despite management's conservative targets, eventually they will be met with the gradual headwind of competitors as mentioned previously.
One might call it speculation to assume this will take hold but it almost seems natural to us given the amount of ongoing investment activity in this area. When you think about it, if sales growth is high, margins are terrific, and overhead is reasonable, who wouldn't want to be in this market? It is straightforward but the longevity of this pattern is what the true underlying question is for investors.
Operating Deleverage
There are a variety of factors that are driving operating margins lower as sales increase by means of supply chain investment, additional store growth, some minor SG&A, and FX adjustments. That being said, we think this is critical for investors to consider. Yes, sales are easily the most important factor but if margins are being driven into the ground, it really makes for a questionable long term thesis. Put another way, why should investors believe that this drop is only temporary?
Most bulls believe that operating margins should transition back into the low 20% range (because that is how the market is pricing the equity). It is fairly obvious that despite the growth involved, some of these cost inputs are fairly embedded into the model and will likely be difficult to subside. For us, it seems that the only variable that will be scaled back in the future is supply chain and logistics investment (i.e. freight/air), but even still this must arise from time to time in order to keep up with leaders such as Nike (NYSE:NKE) and Under Armor (NYSE:UA).
While the back half of 2016 is expected to be the final stage of de-levering, it is a tough argument to accept by other than blindly following management and hoping they are right. The chances of it moving much lower is extremely unlikely although rebounding toward 2014 levels in perpetuity is a tough sell: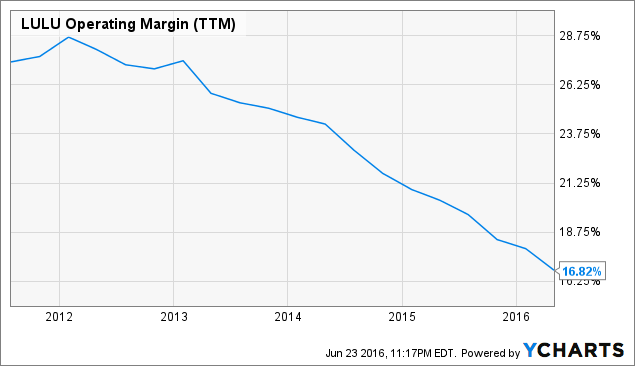 LULU Operating Margin (NYSE:TTM) data by YCharts
Year over year Q1 operating margin dropped from 16% to 11.6%, not too good.
Short Interest
An impending risk for short sellers is that they tend to beat each other up by selling all of the available shares in broker inventory. It typically results in higher borrowing costs overall which effectively creates a higher hurdle to achieve a reasonable return. Moreover, short sellers can be subject to buy-ins, margin calls, and squeezes which are the all too common issues with being short in the first place. With a short float existing at 15% and a 14 day to cover period, there is the risk of paper losses becoming real especially with a buyback program in place.
Bottom Line
The point we are trying to reach here is that a enterprise value of 9.36 billion doesn't make sense no matter how you spin the story from a conservative standpoint. One might argue that we are looking backwards and are not considering a material recovery in the growth story. While this may be a possibility, we find it fairly unlikely given the confluence of supply and demand factors we are observing. Leaving it on a cliffhanger, simply consider the fact that management has invested a ton of capital into the major metropolitan areas globally, particularly East Asia. The sunk costs are large and determining whether both penetration and sustainability is a fair assumption is opaquely concerning.
Disclosure: I/we have no positions in any stocks mentioned, but may initiate a short position in LULU over the next 72 hours.
I wrote this article myself, and it expresses my own opinions. I am not receiving compensation for it (other than from Seeking Alpha). I have no business relationship with any company whose stock is mentioned in this article.