Incyte Corporation (NASDAQ:INCY) has been a leader in the management of certain forms of myeloproliferative neoplasms, such as myelofibrosis. They have done this through the commercialization of an inhibitor of Janus kinases, ruxolitinib (Jakafi).
The drug now commands worldwide sales of $700 million based on sales for patients with myelofibrosis and polycythemia vera. To be sure, there is competition on the horizon with the successful demonstration of Geron Corp's (NASDAQ:GERN) telomerase inhibitor imetelstat, which I have gone over in a previous article.
In my opinion, Incyte's future market potential rests on two key pillars: successful results for its immunotherapy adjuvant epacadostat, and expansion of the label for ruxolitinib.
And it looks like the latter may be happening more rapidly. Back in April 2016, Incyte stated in its earnings release that ruxolitinib is now in phase 1/2 development for the management of graft vs host disease (GVHD), a condition that can arise after organ transplants, but is more common in patients who receive a certain form of stem cell transplant for blood cancer.
GVHD is a severely debilitating and eventually lethal complication of stem cell transplantation. Unfortunately, stem cell transplantation is one of the most powerful tools in the arsenal of hematologists addressing leukemia and other blood cancers. As such, GVHD is a major unmet need.
On June 23, 2016, the FDA granted ruxolitinib breakthrough designation for the management of GVHD. This, in addition to the amendment of terms with Eli Lilly (NYSE:LLY) back in March to grant Incyte the marketing rights to ruxolitinib for GVHD in the US, could signal a major coup for Incyte.
Why? Currently, there are no approved targeted therapies for GVHD. Essentially, therapy is limited to steroids in patients who can tolerate them. Even then, for acute cases, only about half of the patients gain some benefit from steroids. Even then, eventually the patients relapse with steroid-refractory GVHD.
What then? The appropriate response is unclear for clinicians. Complex techniques to deplete T cells can help under certain circumstances, but the benefit is limited. But research has uncovered that certain cytokines appear to be crucial in the development of GVHD. More importantly, Janus kinases mediate the signaling of these cytokines, which means blocking Janus kinases could help to prevent and treat GVHD.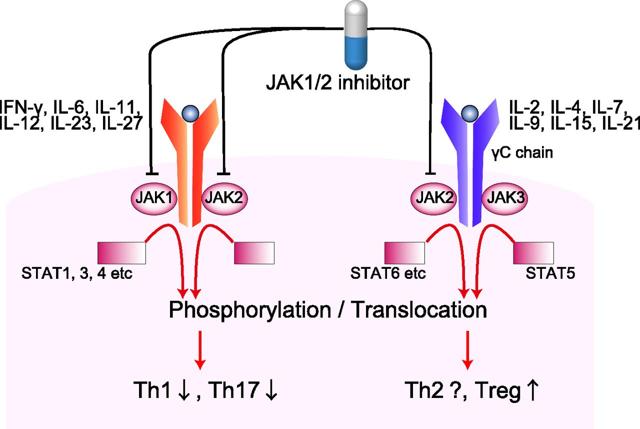 Click to enlarge
From: "JAK inhibitors: a home run for GVHD patients?"
How should you react?
Ruxolitinib is in phase 1/2 trials now for GVHD, and it has breakthrough designation. These are somewhat early days, but it cannot be overstated how big an unmet need this complication is. Potential and current investors should expect things to move very rapidly if ruxolitinib can demonstrate favorable efficacy.
What's more, the safety profile of ruxolitinib is already established and not likely to change dramatically for patients with GVHD. This may help to further speed along the integration of this agent into GHVD treatment.
The rub is that we do not yet know the results of the phase 1/2 study, so all hope could evaporate quickly if ruxolitinib does not work. This is a definite risk to investors.
However, it is worth noting the ruxolitinib has been used in the past for off-label treatment of GVHD. Last year, Leukemia published a retrospective analysis of ruxolitinib in steroid-refractory GVHD. The therapy was associated with response rates of 81.5% and 85.4% in acute and chronic GVHD, respectively. Moreover, a high percentage of patients went into complete remission.
These results must be taken with a grain of salt, as they were not part of a prospective assessment, and there was no randomization. However, it appears that ruxolitinib is a promising treatment option in a setting where patients are essentially doomed to a short life of debilitating pain.
As such, I encourage anybody interested in Incyte to keep an eye on the development of ruxolitinib in GVHD,
Disclosure: I/we have no positions in any stocks mentioned, and no plans to initiate any positions within the next 72 hours.
I wrote this article myself, and it expresses my own opinions. I am not receiving compensation for it (other than from Seeking Alpha). I have no business relationship with any company whose stock is mentioned in this article.