We are in a time when even big money-making machines can suffer difficult times. Apple (NASDAQ:AAPL) may not be an exception. For that reason, all the research we can conduct on the evolution of the company and its stock price is much needed.
Apple reported its first year-over-year revenue decline (since 2003) for the second quarter of 2016 - $50.6B vs. $58B in 2Q15. Even with the dividend increase and expansion of its share repurchase program long-term investors were unhappy.
I think Apple is spending too much money on its share repurchasing program. In fact, while it expects to spend over $175 billion by the end of March 2018 (up from the current $140 billion level), EPS is declining significantly.
With Apple's poor guidance for the third quarter we should stop and think deeply about it. Regarding my last article - with countless interesting comments whether they were based on FA or TA - it is important to note that the short-term turning points remain unsolved and can lead to serious problems in the medium and long term. Therefore, we will consider the implications of these factors for the long run.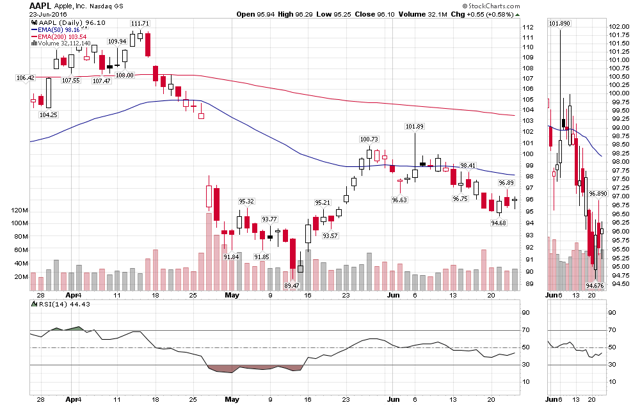 Click to enlarge
Charts courtesy of StockCharts.com
Analyzing the 3-month daily chart above we may see the price evolution since June 3 (the date when I wrote the article). One may observe easily a new failed attempt to share prices overcome the EMA(50) which led to a further decline that seems to have found support at $95.
Thus, none of the short-term turning points have materialized:
1. Apple's prices are still below the EMA(50).
2. Prices haven't yet surpassed $100.73.
3. April gap has also failed to be closed.
4. Prices are below the EMA(200) and more distant than before.
In the short term, prices are showing signs of weakness and lack of confidence.
It is worth noting now that some comments from my previous article suggested that this year Apple's lower sales were related to the huge performance of last year (upgrade cycle of the iPhone 6). Without that revenue would still proceed in an upward trend. On the other hand, other comments doubt this conclusion replying that Apple's core business fundamentals show in the long term challenges posed by other market players, changing preferences and innovation issues.
It is crucial to know what is Apple's real potential going forward. The data at my disposal leads me to doubt the optimism of the company's reports.
It would be important to understand whether the price movement indicates real problems for the long term or only economic difficulties that the company is likely to overcome quickly. If it is admissible to think that they represent long-term major problems, we should monitor this situation as if it was an open question to clarify as soon as possible. For now, we must assume that the evolution of prices we are witnessing is the right measure - regarding technical analysis stock prices discount all available information.
Thus, I will analyze the 3-year weekly chart above with great attention. While selling pressure has continued, volume has steadily decreased. RSI and Force Index indicators are weak or negative. EMA(50) and EMA(200) are closer from each other - the first pointing down, the latter almost in a horizontal position. All these signs are not favorable. At this stage, prices must perform urgently a higher high so that the long-term uptrend can still continue. The top at $131.29 - more precisely a bearish triple top pattern - may be deeply relevant if prices keep this weak pace and have no ability to climb.
Conclusion
When we take Apple's guidance, long-term investors have to be concerned. While the company expects that revenue will go down to around $42B in 3Q16 (an average decline of 17% Y-o-Y), certainly the current low stock price is a reflection of those sales expectations. All this is known, but is being increasingly internalized by the market. This is the greatest threat to the evolution of Apple's stock prices: ongoing low expectations, and no favorable news. We can only believe in the analysis of price developments, as they are the mirror of the whole situation. I hope that Apple improves again its sales with a strong penetration in the global market. But if its stock price remains vulnerable and without going up, I'll start thinking that a trend reversal is likely.
To remain bullish, a sustained stock price above $103-$104 is urgently needed. This level represents roughly Apple's daily EMA(200) and weekly EMA(50). Both moving averages should be below Apple's share price, not above.
Disclosure: I/we have no positions in any stocks mentioned, and no plans to initiate any positions within the next 72 hours.
I wrote this article myself, and it expresses my own opinions. I am not receiving compensation for it (other than from Seeking Alpha). I have no business relationship with any company whose stock is mentioned in this article.