This is a quick article to reference the events I've seen unfolding for several mortgage REITs.
The mREITs (and two ETFs)
The table is demonstrated below:
| | |
| --- | --- |
| (NYSE:NLY) | Annaly Capital Management |
| (NASDAQ:AGNC) | American Capital Agency Corp. |
| (NYSE:ARR) | ARMOUR Residential REIT |
| (NYSE:CMO) | Capstead Mortgage Corporation |
| (NYSE:CYS) | CYS Investments |
| (NYSE:DX) | Dynex Capital |
| (NASDAQ:NYMT) | New York Mortgage Trust |
| (NYSE:ORC) | Orchid Island Capital |
| (NYSE:TWO) | Two Harbors Investment Corp. |
| (NYSE:WMC) | Western Asset Mortgage Capital Corp. |
| (NYSE:MFA) | MFA Financial |
| (NYSE:EARN) | Ellington Residential Mortgage REIT |
| (NYSE:AI) | Arlington Asset Investment Corporation |
| (NYSE:ZFC) | ZAIS Financial |
| (NYSE:AMTG) | Apollo Residential Mortgage |
| (NYSE:ANH) | Anworth Mortgage Asset Corporation |
| (NASDAQ:MTGE) | American Capital Mortgage Investment |
| (NYSE:CHMI) | Cherry Hill Mortgage Investment |
| (NYSE:STWD) | Starwood Property Trust |
| (NYSE:BXMT) | Blackstone Mortgage Trust |
| (NYSE:CIM) | Chimera Investment Corporation |
| (NYSE:NRZ) | New Residential Investment Corp. |
| (NYSEARCA:REM) | iShares Mortgage Real Estate Capped ETF |
| (NYSEARCA:MORT) | VanEck Vectors Mortgage REIT Income ETF |
| | |
Rate Movements
So far in June, the five-year treasury started at 1.37%, dropped to 1.06%, and climbed back to 1.20%. A movement of about .31% in yields suggests around 1.5% movement in price from the top to the bottom. The 30YR FNMA 4.0 has a lower duration than the five-year treasury because the negative convexity of the yield curve reduces the price movement. However, the MBS started June around 106.73 and maxed out at 107.16. The price fluctuation is only about 43 basis points. It should be moving a little less than the five-year treasury, but should it have moved less than one-third as far?
Curve
The yield curve experimented with being a little flatter and a little taller at different points during the quarter, but it looks like it will be relatively unchanged over the quarter. So far it looks like treasury yields will end the quarter a little lower than they started.
Price Movements Over Five Days
The price chart for several mREITs over the last five days is a little silly: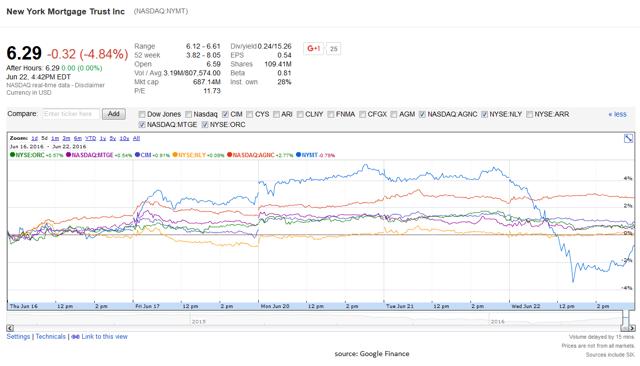 Click to enlarge
Over the first four days, NYMT was crushing all competitors, but then it cratered on 06/22/2016. One of the most ironic things about the price movement is that AGNC was the second strongest performer within that batch. The portfolio strategies could not be much more different. CIM has a closer asset mix to what NYMT is holding, so if investors really wanted the underlying assets, these price movements wouldn't make sense.
Why Prices Are Acting Strange
I believe the reason for some of the sudden price movements and irrational correlations come from an increase in the number of new investors coming into the sector. The problem with new investors flooding into the sector is that it pushes up prices and the choice of individual securities is rarely based on any sound fundamental research.
Fundamentals
The two major challenges to the mREIT sector come from the flattening of the yield curve and the emphasis on positions with extreme credit sensitivity. The flatter yield curve is offset by a solid spread between LIBOR swaps and the expected yield on agency MBS. The emphasis on credit sensitivity is fine, even great, up until the moment that the market really starts turning south again. When the market falls, those highly leveraged positions get hurt.
CIM, NYMT, and RSO are three of the mREITs with extensive risk in their portfolio. Be wary of these mREITs. While agency RMBS are up significantly and agency CMBS should be up significantly, junk bond prices are down. With MBS prices up (yields down), prepayments should be rising. Why is an mREIT packed with first loss tranches (riskier than junk bonds, in my opinion) and IO strips (Interest only strips) up .75% on the day? My best guess is just that the market remembered lower short-term rates are good for mREITs and didn't bother to ask what the mREIT actually owns. Note: The risky CMBS plus IO strip position I'm referencing is in the portfolio of NYMT.
Price Movements Following Brexit
The price movements on the morning of 6/24/2016 were very interesting. Many mortgage REITs opened lower as they were demonstrating some correlation with the S&P 500 rather than with their portfolios. The odds of an interest rate hike over the next few quarters decreased dramatically. This is a huge positive for mREITs that designed their portfolios with positive duration.
Rather than the market bidding up the mREITs with higher duration, such as ARR (long ARR) and MTGE (contemplating a long there - Update, Long MTGE), the share price on Annaly Capital Management was one of the top performers as of about 10:12AM MDT (Mountain Daylight Time). For investors used to Eastern, that means just past noon.
When there is a large movement in the market sentiment, NLY is often one of the first mREITs to react.
For an example, NLY opened down about 1% and now is up about 1.6% on the day (a reversal of 2.6%). I expect smaller mREITs with positive duration in the portfolio to outperform early next week when analysts have had enough time to look into the portfolios.
Conclusion
The yields on treasury securities have seen a fairly volatile month with a dramatic drop in yields (rally in prices) followed by a quick retreat. The price movements in mREITs do not seem to be keeping up with the changes in portfolio values.
Pitch for Subscribers
Since the Mortgage REIT Forum is a new exclusive research platform, the first 100 subscribers will be able to lock in their subscription rates at only $240/year. My investment ideas emphasize finding undervalued mortgage REITs, triple net lease REITs, and preferred shares. With the market at relatively high levels, there is also significant work on finding which securities are overvalued to protect investors from losing a chunk of their portfolio.
Disclosure: I am/we are long ARR, MTGE.
I wrote this article myself, and it expresses my own opinions. I am not receiving compensation for it (other than from Seeking Alpha). I have no business relationship with any company whose stock is mentioned in this article.
Additional disclosure: Information in this article represents the opinion of the analyst. All statements are represented as opinions, rather than facts, and should not be construed as advice to buy or sell a security. This article is prepared solely for publication on Seeking Alpha and any reproduction of it on other sites is unauthorized. Ratings of "outperform" and "underperform" reflect the analyst's estimation of a divergence between the market value for a security and the price that would be appropriate given the potential for risks and returns relative to other securities. The analyst does not know your particular objectives for returns or constraints upon investing. All investors are encouraged to do their own research before making any investment decision. Information is regularly obtained from Yahoo Finance, Google Finance, and SEC Database. If Yahoo, Google, or the SEC database contained faulty or old information it could be incorporated into my analysis.