Growth rate of China's economy plays one of the most important roles in the copper price changes since China is a major copper consumer, with a share of 40-50%. In addition, nearly one-third of global demand for copper accounted for buildings construction and the bases of demand are electrical and electronic products, which account for around 40%. China's industrial sector accounts for 42.7% of China's GDP and contains in itself construction and manufacturing industry. Thus, it has main meaning in the market determination of copper price.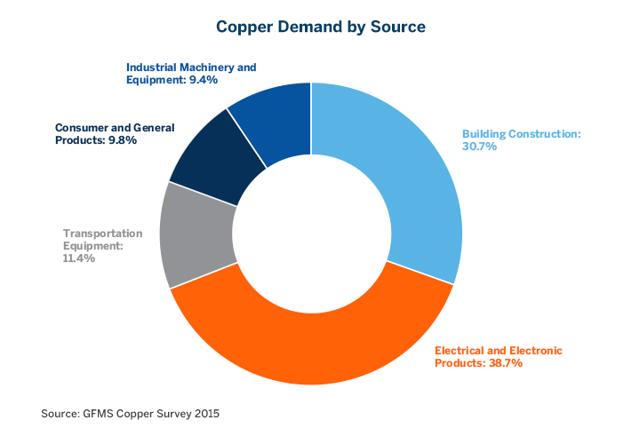 (Source: cmegroup)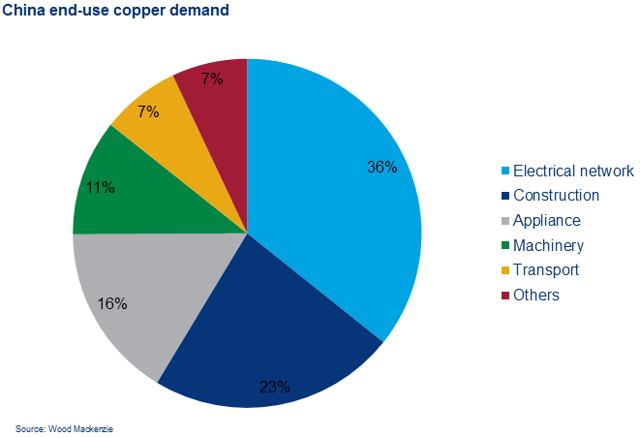 Click to enlarge
(Source: woodmac)
Chinese copper demand is growing.
Chinese warehouse stock levels of copper reached a record point of about 400,000 tons in March, and then declined to about 215,000 in May. It is important to note that stocks began to decline after the PMI value increased in March. This can be explained by an increase in production volumes (including electrical and electronic products) leads to an increase in copper consumption. Also, China's imports of copper in the first five months of 2016 increased about 22% compared to the same period in 2015. These facts point out a significant increase in the demand for copper.
I think the growth of economic activity in the construction industry has caused an increase in demand for copper. This is confirmed by the maturing of a new boom in the Chinese real estate market (as described in my article: Chinese Real Estate Will Continue Higher When Inventory Finally Drops), as well as by an increasing number of new construction projects which started in early 2016.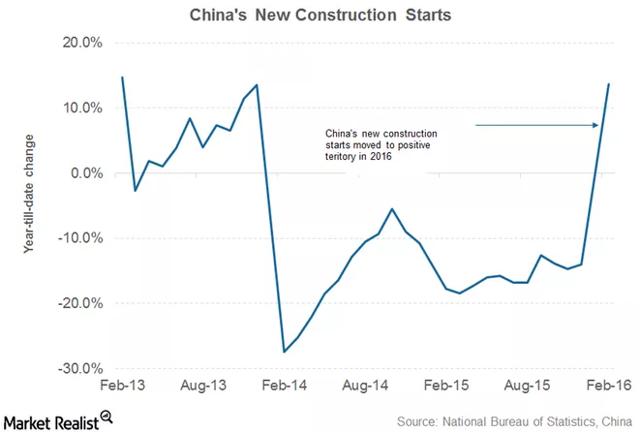 Click to enlarge
(Source: stats.gov)
Moreover, the Chinese authorities in May 2016 approved an ambitious program of transport infrastructure development during the period from 2016 to 2018. The program includes 303 different infrastructure projects to improve transport connections and infrastructure directly in the cities and among Chinese provinces. The program budget amounts to 4.7 trillion yuan ($ 725 billion).
Thus, given the fact that in 2015, the GDP from construction was 46456 CNY HML (around $ 707 billion), the above mentioned state program will allow increasing economic activity in the Chinese construction industry. Based on the value of the program budget, I think that copper consumption in the construction industry will increase significantly during the three years planned for the implementation of these projects. Recall that China's construction industry consumes 10% of global demand for copper.
Thus, I think that the above facts indicate that the copper demand in China's construction industry will increase during the second half of 2016 as well as in the manufacturing industry, which includes the production of electrical and electronic products. A significant rise in China Caixin Manufacturing PMI in the past three months confirms this since such a trend points to a further growth of goods production and consumption of copper, respectively.
Copper supply gradually decreasing and it may serve as an incentive to increase the growth rate of demand relative to supply during Q3 2016.
Global copper production is gradually decreasing from December 2015 despite the fact the total production of copper by ten major world companies is not reducing, but even increasing, occasionally.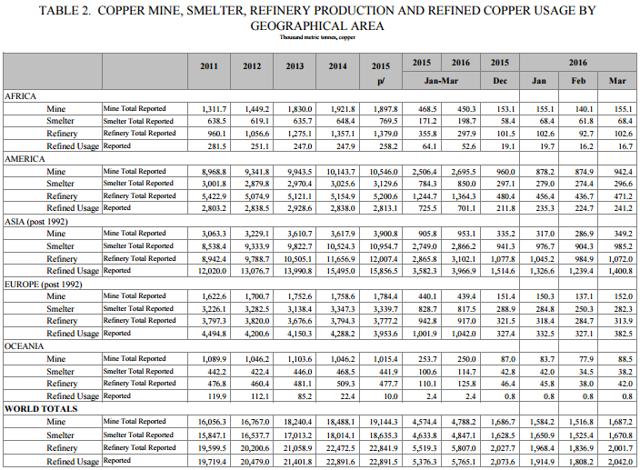 Click to enlarge
(Source: icsg)
Rather than to reduce production of copper, global copper miners cut their costs. Mainly, this indicates that they are relying on the retention or increase of the former level of global demand for copper, most of which comes from China.
Thus, I think that the drop in copper demand in the beginning of 2016 was caused solely by concerns over a slowdown in Chinese economic growth. High values of the data on Chinese copper imports in March and April could serve as a proof that the demand will grow in line with the growth of economic activity in the construction and manufacturing industry.
Conclusion
I, therefore, think the growth of China's construction industry in conjunction with lower copper production will cause a new upward momentum in copper price, which I believe will mostly rise in the third quarter of 2016. For taking part in it, now is a good time to buy futures-based copper ETFs such as JJC and CPER and CUPM. Thus, it is possible to use effectively the copper price growth by investing in copper futures through the above-mentioned funds.
Disclosure: I/we have no positions in any stocks mentioned, but may initiate a long position in JJC, CPER, CUPM over the next 72 hours.
I wrote this article myself, and it expresses my own opinions. I am not receiving compensation for it (other than from Seeking Alpha). I have no business relationship with any company whose stock is mentioned in this article.