Welcome to the latest edition of the Energy Recap. The big news this week was, of course, the Brexit vote. For a great overview of the impact on the markets and a roundup of excellent Brexit analysis from Seeking Alpha contributors, check out this article by our Managing Editor Mike Taylor.
Energy Articles of Note
"Bakken Update: Eagle Ford Hedges Could Provide Short-Term Resistance To Oil Prices Around $50/bbl" By Michael Filloon
"The Clock Is Ticking On Venezuelan Oil Production" By Jesse Moore
"Crude Oil: Is $51.67 The Top?" By Andrew Hecht
Energy Sector Bankruptcies for the Week Ended June 24, 2016
Here's a list of the most recent bankruptcy announcements in the energy sector:
- None this week.
However, note that last Friday (after the weekly recap was published), Maxus Energy - a unit of YPF Sociedad Anonima (NYSE:YPF) - filed for Chapter 11 bankruptcy protection.
Feel free to add any that we might have missed in the comments section below.
U.S. Oil Rig Count as of June 24, 2016
As per Baker Hughes, the number of active U.S. oil drilling rigs fell after three weeks of additions.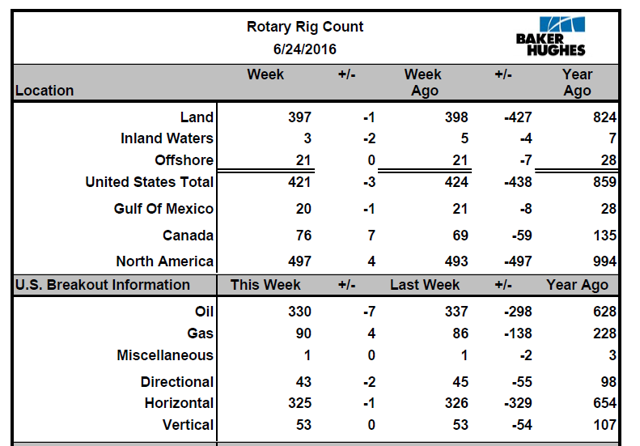 Click to enlarge
Readers, now it's your turn to discuss what's been happening in this sector. Please share your thoughts in the comments below.
As always, we encourage you to submit your own article by clicking here, if you haven't already done so.
Disclosure: I/we have no positions in any stocks mentioned, and no plans to initiate any positions within the next 72 hours.
I wrote this article myself, and it expresses my own opinions. I am not receiving compensation for it. I have no business relationship with any company whose stock is mentioned in this article.