Five Below (NASDAQ:FIVE) is a specialty value retailer and go-to destination targeting the teen and pre-teen customer with its broad range of trend-right "WOW" and high-quality merchandise priced below USD5 across a wide range of categories. Before going into the investment thesis, we will look into the economic moat that differentiates the company from its peers. Let us start with the attractiveness of the business model.
1. What is different about FIVE's demographically-focused business model?
While traditionally retailers have focused on a specific retail vertical (like clothing, health and wellness, home improvement and sporting goods), FIVE's business model revolves around its target customer base based on demography - teens and pre-teens. It is similar to that of Tractor Supply (NASDAQ:TSCO) that differentiates itself focusing more on rural American customers. Tractor Supply works to put all the needs of a rural consumer under one roof and has products across fields: from clothing, work boots to seeds for planting. Similarly, the merchant team at FIVE constantly strives to bring a broad array of fun and interesting products, which its teen and pre-teen customers would need. Its stores are ca. 7,500 square feet and are well located in community shopping centers and areas with heavy traffic base.
Each store has more than 4,000 stock keeping units (SKUs) stocked at a point in time, and the company constantly modifies to keep it fresh. Its store layout has a racetrack-like flow with clear signs to help customers identify products that are priced between USD1 and USD5. Also, it is organized into eight different categories: Now (Seasonal), Style, Room, Sports, Tech (Media), Crafts, Party and Candy.
2. What is unique about its merchandising strategy?
It provides a treasure hunt-type experience for kids who just walk-in to the stores without an idea of what to purchase. They walk around looking for cool stuff, mainly from their pocket money they get from their parents at low price points (USD1 to USD5).
FIVE has historically witnessed one of the best-in-class comp performances, which proves its strong merchandising capability. This provides the ability to bring in the right products and serve the fickle minded teen and pre-teen consumers with less volatility in sales. It is a merchandise-centric organization with 50% of its employee count working continuously with a vendor base of more than 800, scouting for fun and trend-right products. The employees cautiously work out to find new trends in social media and capitalize on the rapid popularity before others. The team proactively scouts for products that it can sell for less than USD5 with more than 50%+ gross merchandise margins. However, the management does not intend to be a trend-setter, but is quickly capitalizing on mini trends once recognized.
We believe that FIVE's kid-oriented merchandise and low price points provide its young customers a "WOW" experience and a feeling of empowerment and control shopping at the store. Though entry barriers look minimal for this business model, there is none in the market that has managed to duplicate the strategy in a meaningful way. All the credit goes to the management team's ability to source on-trend merchandise suiting the fickle core consumer base.
3. How attractive is FIVE's target customer base?
Five targets the attractive customer segment of teens and pre-teens in the age group of 5 to 19 years. There are over 63m in this age group or account for ca. 20% of the US population base. They are still reliant on their parents for their basic necessities, but are well placed to spend money on discretionary stuffs. However, we believe the actual target base is much wider. According to a 2014 survey, teen segment (age group of 13-17 years) represented ca. 10-15% with another 40% adults with kids. Also, around half of its customer base were 18 years or older without kids.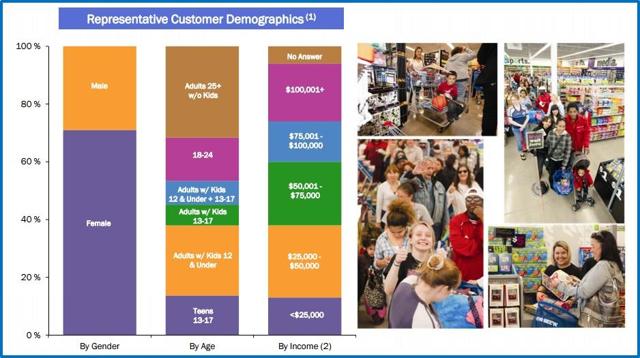 Click to enlarge
Source: Company filing
Now, let us look at FIVE's target base in terms of income group. Around 40% of its customers had an annual income less than USD50,000, which is the target market base of Dollar General (NYSE:DG) and Family Dollar (NYSE:FDO). FIVE serves a more affluent customer base with close to 60% of its customers having a median income of more than USD50,000 (vs. US median income of USD51,000). FIVE is well positioned to benefit as it's primarily focused on selling quality discretionary goods to a wide customer base at low nominal price points with a near universal appeal.
3. How Five Below differs from other dollar stores?
Five Below is being considered in the same league with other dollar stores like Dollar General, Family Dollar, Dollar Tree (NASDAQ:DLTR) and Dollarama (OTC:DLMAF), due to its low price point. While Dollar General and Family Dollar are positioned as fill-in shopping for any left-over needs after big-ticket purchases at major retailers like Target (NYSE:TGT), Wal-Mart (NYSE:WMT), or Kroger (NYSE:KR) on a monthly or quarterly basis, FIVE targets teen and pre-teen customers looking out for fun discretionary products. Lower-to-middle income strata with budget constraints use these dollar stores with small box and convenience locations to buy mainly non-discretionary items like food and paper goods in smaller package. However, FIVE has some commonalities with Dollar Tree and Dollarama given that it sells single price point (<USD1.0 and <USD3.0 respectively) and discretionary products.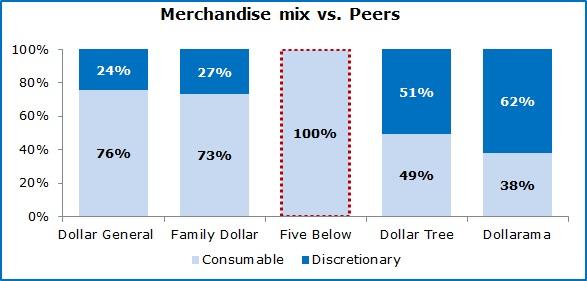 Source: Company filing
4. Strong management team with length and breadth of experience in retail venture
Five Below was started in 2002 by two entrepreneurs - David Schlessinger and Tom Vellios. The two previously worked together in Zany Brainy - a failed store started by Schlessinger in 1991 and Vellios served as the CEO. Zany Brainy went bankrupt due to unbridled expansion with ill-timed investments and the value-destructive acquisition of Noodle Kidoodle, which failed to take off after the 2001 recession. However, we believe that the founders have now come a long way, leveraging the learnings and well positioned to drive growth in their current venture.

Click to enlarge
Source: Company filing
However, currently, the founders have handed over the running of the day-to-day operations to outside talent, bringing in strong management expertise. Joel Anderson was brought in as president and CEO in mid-2014. Anderson was the CEO of Walmart.com with diverse retail background and prior experiences at Lenox Group and Toys "R" Us.
The company has hired new senior team members from outside that include: i) Mike Romanko, in charge of merchandising - a veteran with 30 years prior experience in the PE firm Patriarch Partners, helping its portfolio companies in sourcing, and ii) Eric Specter, in charge of administration (running supply chain, IT, and real estate development) with prior work stints at with Ascena Retail (NASDAQ:ASNA) and Catherines. The shift from entrepreneurial roots to professional management will be a major boost, and the new team has laid emphasis on store growth and implementation of systems and processes to improve margin and support expansion that will lay the foundation for a multi-billion-dollar enterprise.
5. How solid has been its track record of financial performance?
FIVE has accelerated revenue growth at a 29% CAGR (2010-2015) to USD832 million while its store count expanded from 192 stores to 437 stores (CAGR of ca. 23%), entering three new states, and generated average cash-on-cash returns of >150% in its first 12 months of operations. Comparable store sales averaged 5.2% annually, and net profit rose to USD35 million (CAGR of 36%).

Click to enlargeSource: Company filing
What is more interesting is that the appointment of a new CEO and chief merchant officer has already started showing early signs of success. Its renewed focus on brand building and further improving the merchandising efforts is a step in the right direction. It should be noted that following two years of dismal holiday performance (where FIVE gets more than 70% of profits), 2015 has seen strong success with the new initiatives paying off. The comps for the holiday season (4.1%) came way above the management's initial guidance range of 2% to 3%.
6. How attractive is the new store economics?
We believe that new store economics or store productivity is the single important factor for a successful compounding story and scope to generate excess economic returns related to its cost of capital. Management targets new store sales of USD2.0m and four-wall return on investment (ROI) of an average store of ca. 100% in the first 12 months of operations, implying a payback period of less than one month.
FIVE's stores have managed to generate steady sales performance of ca. USD2.1m across stores. Management had initially guided for annual EBITDA of ca. USD350,000 with an EBITDA margin of >20%. It should be noted that an average size of a FIVE store is ca. 7,500 square feet with an investment of USD300,000 to set up. According to the assumption of average four-wall EBITDA of ca. USD350,000, it implies a four-wall ROI of ca. 100% on average and payback less than one year.

Click to enlargeSource: Company filing
However, the company has exceeded expectation during the periods 2011-2015 in terms of new store productivity with an average four-wall EBITDA of USD470,000, implying an ROI of 150%+ and a payback period of eight months.

Click to enlargeSource: Company filing
Large runway for store growth at ca. 4.6x current base
FIVE has one of the attractive store growth potential in the retail space. We believe that growth-oriented investors would be interested in profitable retail business models with a successful box and scope to multiply through incremental addition of units, given the scarcity of the mature retail concepts. FIVE has a current store base of 437 units predominantly concentrated around the US East Coast. It is planning to open ca. 85 new stores in 2016, implying a 20% unit growth. According to management estimates, FIVE has an expansion potential of more than 2,000 stores, that is ca. 4.6x current levels.

Click to enlargeSource: Company filing
It is even hard to find companies that could double their store base. Even companies like CarMax (NYSE:KMX) and Tractor Supply, which can double their store count, are growing their store count at 10% and 8% on an annual basis. However, FIVE has managed to grow its store count at a 23% CAGR between 2010 and 2015, and could continue the trend for the next several years. At 20%, its store growth potential is almost 75-125% higher than the fast-growing industry names.
Currently, Five Below is present in only 27 of the 50 states mainly concentrated in the East Coast. Owing to its relatively smaller base, the company has a host of big markets to enter in the continental US.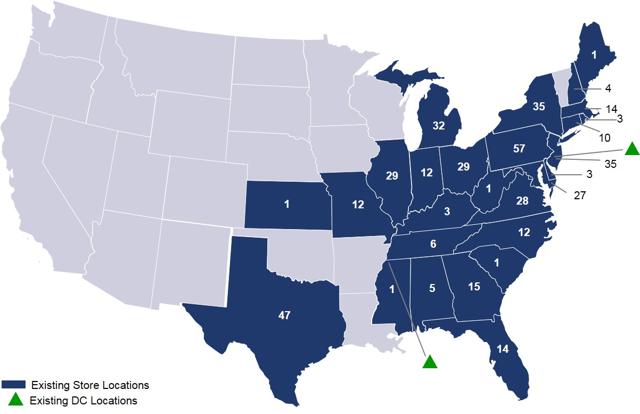 Click to enlarge
Source: Company filing
The management will start to focus more on the East Coast market over the next few years to exploit the advantages of scale at a local-market level, better leveraging distribution, and transportation and advertising costs. The recently announced expansion into the California region by 2017 came as a surprise, but has all the potential for the concept to be successful in the market.
Now let us discuss some of the concerns and other issues which investors have raised regarding an investment in FIVE's shares.
1) Is seasonal concentration of earnings a source of risk?
FIVE generates around 70% of its earnings in Q4 and is highly reliant on holiday season. The management is trying to reduce dependence on the fourth quarter by taking steps to drive sales during the other three quarters. We believe that investors should get used to high overall store productivity and view the performance on a yearly basis, something which TSCO has managed to do with its investor community.
2. Why can't FIVE witness a comp growth from its rapid store expansion?
Traditional retail store format opens at <100% sales productivity of a fully mature unit and tends to witness higher-than-average growth in comp during the initial few years till it attains maturity. What is unique about FIVE is its ability to open at full maturity with no scope for incremental comp uplift.
We believe that investors should look at it from a different perspective: i) It is not subjected to the profit drag accompanied by the relatively and less productive stores, and ii) since the stores achieve break-even at the end of first year, the cash generated from the second year could be used to compound FIVE's unit growth with internally generated capital.
3. Does e-commerce pose a major competitive threat?
E-commerce has become a major threat to traditional retailers as consumers are doing research online with lower search cost before making purchases online. What worries the investors more is e-commerce penetrating more number of categories that were once considered immune to the online onslaught.
What I really like about FIVE is the limited competition it faces from e-commerce ventures given its i) difficult-to-replicate treasure hunt browsing experience, and ii) focus on value at low price points.
4. How will the USD strengthening relative to Asian currencies help FIVE?
FIVE has increased the quantum of purchase it sources from foreign vendors, mainly Asia, to ca. 25% of its total vs. ca. 10% during the timing of the initial public offering (IPO). We believe the strength in USD relative to its Asian peers, mainly the Chinese yuan, would help reduce the product procurement cost and bring more products under the USD5 threshold.
Premium valuation justified and warranted
At the current share price of USD46.1, FIVE's shares are trading at a price to earnings (P/E) multiple of ca. 30x. We believe that this a significant premium compared to other retailers. However, the company deserves to trade at a premium with its other hard-line peers due to the following reasons and scarcity of growth stories:
Highly differentiated retail concept
Attractive new store economics with break-even period of one year
White space opportunity with potential to grow store count by ca. 4.6x
Scope to improve margins from the newly opened and highly efficient second distribution center
Net cash position with the ability to drive store expansion with internally generated positive free cash flow (FCF)
Given the management's expectation of ca. 20% unit and EBITDA growth potential, we expect it can trade at a premium valuation with ease. Though we do not expect any significant multiple expansion form hereon, we believe that share price could appreciate in line with its earnings growth at a double-digit pace.
Final thoughts
FIVE is an attractive destination store concept supported by highly productive store economics and white space opportunity. Though the stock is fairly valued in our view, we believe the premium is justified given its 20% earnings growth potential and ability to compound earnings at a faster pace.
In conclusion, I would like to again highlight that at current price levels, the potential for stock price appreciation will arise from earnings growth with less room for multiple expansion. So I would advise investing in this stock, with a long-term horizon of 3-4 years.
Disclosure: I/we have no positions in any stocks mentioned, and no plans to initiate any positions within the next 72 hours.
I wrote this article myself, and it expresses my own opinions. I am not receiving compensation for it (other than from Seeking Alpha). I have no business relationship with any company whose stock is mentioned in this article.
Editor's Note: This article discusses one or more securities that do not trade on a major U.S. exchange. Please be aware of the risks associated with these stocks.