"Fear keeps you from making as much money as you ought to." - Jesse Livermore
Earlier in the week I looked around and asked myself how in the world will I be able to put a sensible market update together given the fact that the results of the market moving Brexit results wouldn't be known until Friday.
I then realized how to proceed and follow what I have been telling myself: it really doesn't matter. The message will be the same and that message won't change until the underlying market trend has changed. If this event disrupts the market to such an extent that a change in strategy is required, it will be dealt with in due time. Keep ice water in your veins and invest without emotion.
What you won't hear from me is an opinion on the result of the British vote. It means little, and is of no value. That goes for any pundit trying to put their spin on this outcome. The cards have been dealt and now it's time to decide how to play them.
Last week's commentary revolved around the mindset of investors these days. One of rampant skepticism to outright fear. I spoke to this mindset being visible throughout this bull market. So many are caught up in the short term market gyrations making drastic changes, hedging, etc. just waiting for the next crisis to take all of their money away. Losing the fear of failure and financial ruin is the first step in realizing that it doesn't have to be that way at all.
Any well devised long term plan also has to include an exit plan. While an exit plan is usually associated with a radical change, it is also used to periodically review holdings and harvest profits along the way. Rotating money from one area of the market to another.
Now for those that are in their peak earnings years and have a long time until retirement, they only need to deal with the latter portion of that plan. A quick oversimplification of what that investor need do is simple dollar cost averaging during the peaks and troughs.
The Fear mindset has taken its toll. This past week's volatility brings that back to the forefront. Those that are concerned about capital preservation, while maintaining an income stream start to lose their focus. They begin to think about the stock market on a daily, monthly or annual basis. That can be a plus or could turn into a real negative.
If you have constructed your portfolio properly and have come this far, then I believe it's necessary to review how you got here. It isn't because of short term thinking.
Shifting your mindset from an investor's viewpoint to one that is ready to deal with making a radical change in strategy is a serious undertaking. One that needs to be done cautiously, without emotion. It is also determined by individual factors revolving around risk appetite and personal station in life. There are no set rules.
Investing presents many challenges and it's always difficult to decide when the market may be signaling that there needs to be a change in an investment approach. Recent examples are the sell-offs experienced in August 2015 and again the January/February timeframe this year.
Those examples brought excess anxiety to investors, and many decided they needed to change and turn into a short term thinker. In a zero rate interest environment with little choices available, the decision to move away from stocks becomes more difficult. Moving to an oversized cash position has consequences if done prematurely, as was the case in the aforementioned market declines.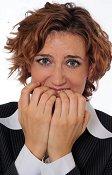 The recent vote indicating that the U.K. will now leave the EU and the negative market reaction brings the short term mentality to the forefront. Remember that the U.S. equity market has faced much worse than this event before and has survived - panic doesn't accomplish anything.
The starting point in any reassessment is a complete review of your holdings. Diversification is a must. As the old saying goes, if you have positions that you aren't very happy with lately, you probably are not diversified enough.
Along with any of the other scares the market has endured, this one should be treated the same. While it may seem necessary, there is no need for a quick decision. Only after all of the evidence is weighed and emotion is left behind should a change in positioning be considered.
One of the keys to my investment strategy resides with the technical picture that the market presents. It often casts the deciding vote in such decisions. I followed that blueprint very early in this bull market and continued to do so during the latest "scares". Each time that plan suggested no drastic action be made in portfolio positioning.
Emotions can't be avoided, they are part of our make up, and play a vital part of our everyday lives. Every investor handles these situations differently. The most successful market participants learn to deal with situations that they cannot control. At the end of the day, it's not necessarily your actions that will see you through periods of market volatility, it's your reactions.
Investors will now be severely tested given the market reaction we witnessed on Friday. Learning to control emotions is difficult, but what you can control is intelligent portfolio construction and proper risk management. It is one of the best ways to ensure that you won't overreact when these periods flare up.
Long term disciplined investing advice is typically not an all or nothing situation. It is advice more measured and relaxed in nature, but it's been time tested over and over again. In my view that is the only way to proceed in the world of investing.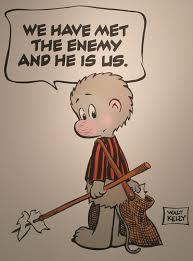 Bottom line, avoid emotion. There are plenty of "enemies" out there in the form of uncertainty and fear, don't add yourself to that list.

Economy
Scott Grannis presents an update to his "Wall of Worry" list.
Container traffic data tells us about the volume of goods being exported and imported. It's a useful barometer since the LA area ports handle about 40% of the nation's container port traffic.
Overall cargo volumes at the Port of Los Angeles increased nearly 11 percent in May compared to the same period last year, marking the busiest May in the Port's 109 year history.
Lost in the economic data reports this week, Markit Flash U.S. Manufacturing PMI came in above estimates. Manufacturing PMI hit a three month high at 51.4 up from 50.7 in May.
Atlanta Fed Median wage growth tracker is a tool that many economists now use to get a better snapshot of wage growth than just relying on average hourly earnings.
The critics like to argue their view of stagnant wage growth here in the U.S. Many of their ill fated views come with a predetermined idea that things can never change. This month's release of the median wage tracker showed further acceleration on a nominal and real basis, as well as strong internals.
In addition, the measure compares wages for employees who are in the same industry/occupation as last year, and the same employer as three months ago, versus all employees.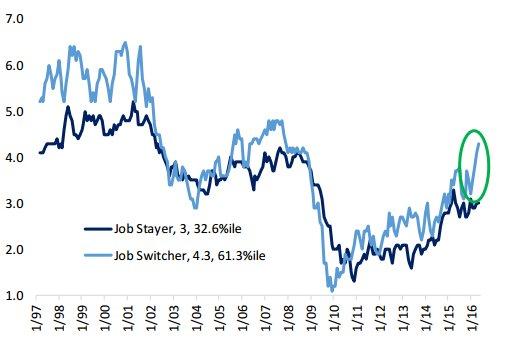 Source: Bespoke
The person that decides to switch jobs whether by firing or voluntary quits, has a dramatically higher wage growth figure than by those staying in their job. This is hardly a sign of a struggling employment scene. It douses the contentious wage growth argument with a lot of cold water.
There is plenty of controversy over the middle class in this country. Of course when that topic comes up it always seems that it inevitably ends up with the focus on the people that have to live paycheck to paycheck.
An interesting quip about how the middle class is shrinking, it's shrinking because they are becoming what is considered upper middle class or rich. The author's conclusion as stated in the article;
"I cannot bring myself to complain about 30% of Americans now living better and richer lives than their forbears did."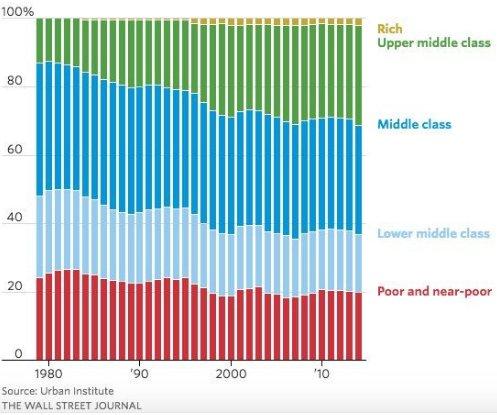 The chart above depicts the share of U.S. population in each income class, with the largest gains seen in the upper middle class. Let's talk reality. The group that wishes to live week to week and choose not to do something about it will be here until the end of time. There is no program now, or will there ever be, to cure all ills. Moaning about it won't solve the issue either.

Existing home sales were robust, increasing by 1.8% for the month of May, hitting a nine year high. Since the supply side of the equation remains low, that translates to higher home prices. The median existing home price for all housing types in May was $239,700, up 4.7 percent from May 2015 ($228,900). This number surpassed the peak median sales price set last June ($236,300), May's price increase marks the 51st consecutive month of year over year gains.
Lawrence Yun, NAR chief economist;
"This spring's sustained period of ultra low mortgage rates has certainly been a worthy incentive to buy a home, but the primary driver in the increase in sales is more homeowners realizing the equity they've accumulated in recent years and finally deciding to trade up or downsize,"

"Existing inventory remains subdued throughout much of the country and continues to lag even last year's deficient amount. While new home construction has thankfully crept higher so far this year, there's still a glaring need for even more, to help alleviate the supply pressures that are severely limiting choices and pushing prices out of reach for plenty of prospective first time buyers."
New Home sales in May 2016 came in at a seasonally adjusted annual rate of 551,000, according to estimates released by the U.S. Census Bureau and the Department of Housing and Urban Development. This is 6% below the revised April rate of 586,000, but is 8.7 percent above the May 2015 estimate of 507,000. All of that may sound a bit mixed but these results are the second highest in the past 8 years. The year over year gain is 9%.

Global Economy
Ned Davis Research states:
"China is still projected to be the second fastest growing major economy in the world and, as it accounts for 15% of global GDP, to contribute the most to global growth. The significance is twofold, any change in Chinese growth has major implications for global growth and equities, not simply emerging markets. Secondly, simple arithmetic asserts a slowdown in China is not ipso facto a driver of global contraction."
The talking point on China now is about their debt. The concern is that Chinese indebtedness has grown rapidly and now stands above the EM average. Let's not forget it is the world's No. 2 economy and largest trading partner to a host of countries.
China has a lot of room to maneuver relative to the typical EM. Its external debt is tiny relative to both total debt and the world's largest cache of foreign exchange reserves.
The year over year rate of change for the broad aggregate of Chinese debt, total social financing, is slowing as shown in the chart below.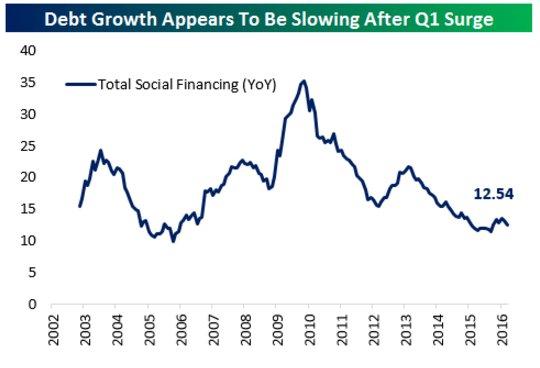 Source: Bespoke
Mario Draghi gave his introductory statement at the Hearing of the Committee on Economic and Monetary Affairs of the European Parliament earlier this week;
"As regards economic developments, the recovery of the euro area economy gained momentum at the start of the year. It is expected to proceed at a moderate but steady pace. Uncertainty remains high and downside risks are still significant due to the continued fragile state of the global economy and geopolitical developments. The ECB stands ready to act by using all the instruments available within our mandate, if necessary, to achieve our objective."

Earnings
Thomson Reuters data:
Forward 4-quarter estimate: $123.24
PE ratio: 17(x)
S&P 500 earnings yield: 5.95%
Year over year growth rate of forward estimate: +0.99%
Earnings growth is what I am expecting, realizing it has been slow to materialize. Estimates will start to roll in now from both Factset Research and Thomson Reuters, data that will need to be parsed and scrutinized.

The Political Scene
The US political system is designed in such a way that the Executive can't exert too much power at any given time, hence the balance of power.
It's no surprise that a President without Congressional support can't get much done. I also tend to believe that American businesses do well despite the policies of Washington, not because of them. The last few years have demonstrated that quite well.
Therefore, no matter what one may believe now, the stock market's performance under Trump or Clinton will likely be much more closely tied to things that either of them cannot directly control.
Ned Davis Research says;
"During the second half of election years, the Dow has gained an average of 10.1% when the incumbent party has won versus 1.2% when the incumbent has lost."
Perhaps the best description to what voters are facing was summed up by Jeff Saut Chief Investment Manager at Raymond James
"It's the very slippery Hillary Clinton versus the cringe inducing Trump"

The Fed
Fed Chair Yellen presented her semi annual monetary policy testimony to the Senate Banking Committee this past week. As expected there were no surprises in her comments.
"The pace of improvement in the labor market appears to have slowed more recently, suggesting that our cautious approach to adjusting monetary policy remains appropriate."
She mentioned that she remained optimistic but reiterated;
"Considerable uncertainty about the economic outlook remains."
She followed up with these remarks on day two of her testimony;
"So, there are mixed developments in the economy. One thing we do note is that investment spending has been unusually weak in recent months. So we have a drag from slow growth in the rest of the world, and a strong dollar that is negatively impacting trade exposed sectors.

"However, on the other hand, we do have strengths. Consumer spending is particularly strong, and growth looks to be picking up. I don't want to send a message of pessimism about the economy and where we're going."
I thought the Fed was neutered and not a factor in my commentary last week;
"Either way investors need to realize the Fed is a non event. Period, exclamation point."
The "leave" vote from Britain just added another exclamation point.
My takeaway from the testimony, Ms. Yellen's message is the same. Difficult data equates difficult decisions regarding when to raise rates. Members of Congress show their complete incompetence and misunderstanding of the issues that face the economy.

Crude Oil
The $50 resistance level that WTI encountered recently has been formidable. However, the chart presented below show a nice bounce off of its 50 day moving average.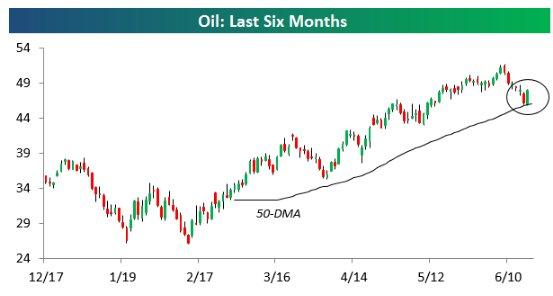 Source: Bespoke
If WTI stabilizes in the $46-$48 range and remains above that upward sloping trendline, it bodes well for higher prices down the road.
The demand side of the equation continues to get little or no attention. At the beginning of 2015 many were forecasting growth of about 1.2%. The actual came in nearly twice as high at 2.0%. Cheaper fuel helped the surge in demand. With almost half of 2016 in the rear view mirror, the same trend is in place with the upside demand surprises.
Global oil demand growth is tracking to exceed the original 2016 forecasts of 1.4% growth. In the first quarter of 2016, China posted demand growth of close to 4%. Yes that was less than last year's 6.4% growth rate, but well ahead of the 2.5-3% assumptions that were set for the year. Those tepid assumptions were all fed by global growth fears.
Led by strength in gasoline usage, U.S. demand growth is also ahead of many forecasts. Recent data from the Energy Information Agency showed continued solid growth in gasoline demand, which set a new all time high on a weekly basis at 9.815 million barrels per day. It doesn't show up in the International Energy Agency's North America total, which is being weighed down by Canada and Mexico.
Growth in European demand, which outpaced North America in 2015, is also showing the same strength. I am subscribing to the premise that global oil inventories over the next six to 12 months should draw down faster and further than we previously anticipated. That suggests stable to higher prices are ahead.
So the combination of demand combined with less drilling activity has produced a stabilizing effect. For what it's worth, The Saudi oil minister declared the oil glut over.
WTI closed at $47.63 for a loss of $0.45 for the week.
The Technical Picture
For the past two and a half months the market has been trading within a range of 2026 to 2121. This range was entered after the market had a strong 200 point rally, within one and a half months, from the S&P 1810 mid February low. That leaves investors looking at a neutral setting until this range is pierced.
The events in Britain brought support levels in play, in what seems like has been a never ending cycle of approaching resistance and testing support.
The present setup, though, it that unlike last December where the S&P 500 tested and failed to hold 2,100 in a series of lower highs and lower lows, the index was set up to test new highs within a pattern of higher highs and higher lows. Those trend lines in the chart below highlight what I am referring to. Friday's market decline has tested this trendline and may in fact break that trend line set up. It appears we would need a close above 2048 to keep that bottom trend line in place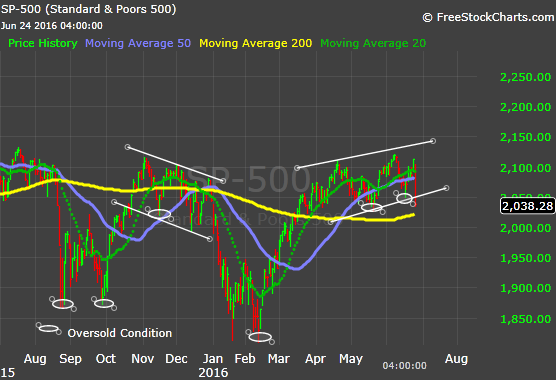 S&P Daily chart courtesy of: Freestockcharts.com
The next trading day or two should be spent looking at support levels on the major indexes and any stocks on your watchlist that may become prime for purchase. I stand by my comments of last week:
"I would look at any negative overreaction to the Brexit situation closely. If defined short term support levels hold, I would view this as an opportunity."
Volatility will rule and I look for the S&P 2020- 2026 area to be a key level on the downside. A definitive violation there flashes a yellow caution light. Keep in mind that I am not suggesting that this is a one day event, so doing a reality check from time to time is the rational way to approach the market.
With Friday's close of S&P 2037, the index is higher than it was a month ago (May 19th) when the S&P touched a low of 2025. While the Bears are roaring over the debacle on Friday, and rolling out the "I told you so" commentary, the Bulls aren't applying for food stamps just yet.

Market Skeptics
I'm going to turn the tables in this segment. Rather than lay out commentary that depicts how the naysayers view the market, I have decided to play the skeptic.
It's getting somewhat tiring to hear how wonderful the short sellers are doing in this market. The S&P rallies 17% from February, but they don't sustain losses. When the S&P sold off to the tune of 2.3% from June 9 to June 17, the chest bumping was everywhere. Accounts have doubled and tripled with wild outsized gains during all of the sell offs. Really?
Recently we saw a day where the S&P opened and remained lower by 1% for most of the trading day. Amazingly there were taunting comments about how this was a weak market. Let me get this straight, a 17% move off the lows followed by a 2.5% give back and we have a weak market that the short sellers are getting rich on.
Now if I were to sit here and spin those tales each week, reporting how this or that has worked out so great, well, it would appear incredulous and quite boring. Never mind that I have the underlying trend in my favor, while the shorts are swimming in a riptide, yet their world is just peachy. Of course we will all hear how they had it right all along, knowing the outcome of the Brexit vote and black swans, etc. beforehand. I have my shovel ready.
Perhaps we need to hear these stories backed with a tad of credibility attached. It's not like I want to ruin their fun, it's all about spinning a yarn for a novice investor to pick up and run with. Caveat emptor to anyone that picks up on these fables. These "timing" miracles don't happen in real life.

I recently had a discussion where a gentleman cited a long list of his concerns about the stock market and why he had to be in cash. Unfortunately he took that view quite some time ago. I would rather take the approach that spending an inordinate amount of time worrying about that list of issues/events is not a good way to manage my portfolio or live my life.
How many times have I heard the comment "I've seen this movie before" when referring to the market, and they finish by saying, "it doesn't end well"
Once again I will push back on these dire scenarios and look at history. The chart below presents the long term historical 30 year returns on the S&P 500. It is pretty impressive.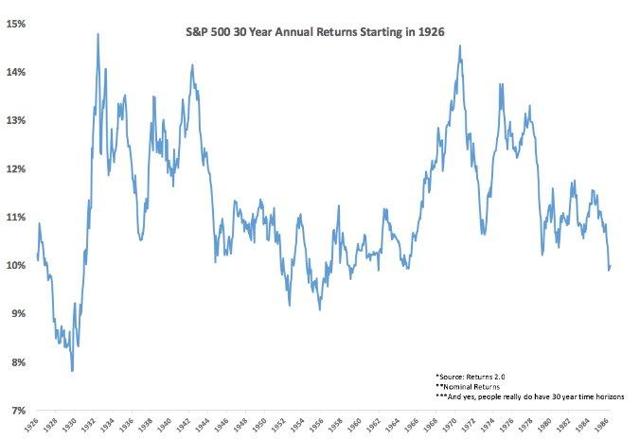 Click to enlarge
Source: Returns 2.0, Chart courtesy of Ben Carlson
The statistics presented are the rolling annual 30 year returns from the corresponding start dates. The worst 30 year return, using rolling monthly performance, occurred at the height of the market just before the Great Depression and stocks still returned almost 8% per year over the ensuing three decades.
When the data is broken down into three thirty year periods, the historical annual return results are as follows;
1926-1956: +10.77%

1956-1986: +9.63%

1986-2016: +9.99%
This data also needs to be put in context, as each one of these time frames came with their own set of market draw downs.
1926-1956: The Great Depression, a stock market crash of more than 80%, World War II, The Korean War and four recessions.

1956-1986: The Civil Rights Movement, the Vietnam War, a president was assassinated and another forced to resign, an oil price shock from the OPEC embargo, double digit inflation and interest rates and six recessions.

1986-2016: Black Monday in 1987, the Savings & Loan crisis, Desert Storm, 9/11, wars in Iraq and Afghanistan and three recessions.
Of course there are huge differences in each of these market periods that differ greatly from today. The old saying that "past performance is no guarantee of future results" will be rolled out by the skeptics. My response to that is simply, "I will take my chances with the 90 year history that was shown above."
After all, an investor is just trying to put the odds in their favor. If one takes a logical approach to the market, I believe they can see the picture being presented. Becoming a short term thinker can have its consequences.
We will now be inundated with information and advice regarding the fallout of the British vote to exit the EU, some good, some bad. Suffice to say there will be a fair share if dire warnings, apocalyptic endings and the like.
In keeping with a reasonable approach, looking at the scene some 24 hours after this decision, I prefer not to lose sight of the fact that the "leave" vote means little in the short term. For starters, no final agreements become effective until two years after they inform the EU of their decision.
During the two year period of negotiations, NOTHING changes vis a vis trade agreements, government policies, etc. Their parliament will have to work out details and this could take more time. The hurdles that the EU and the UK will have to navigate to finalize any deal are enormous. A multitude of developments can take place in that time frame.
Of course some will conclude (many already have) these developments will have to be all bad, while others will assume a sensible economic solution can prevail. My intent is not to downplay the ramifications, or the uncertainty, but to imply we aren't headed for a financial meltdown similar to 2009. This isn't a "Lehman moment" in any way shape or form.
Now let me take a moment and state what I have seen before. The same folks that continue to warn about the 'worst' won't have the strength of character to step up and pull the trigger when their predictions do finally come true.
Instead, they will be the first to run, hide and tell anyone who will listen that the only safe assets are cash and gold. They will be loath to buy equities just as they announced in late 2009 and 2010, when they were assured the financial world as we knew it was ending. They played that same soundtrack to all during the recent dips to S&P 1800.
Yes I too have seen a movie before, it is somewhat different. Sadly it has ended badly for those that took the road that was marked "worst".
Best of Luck to All!
Disclosure: I/we have no positions in any stocks mentioned, but may initiate a long position in SPY,DIA,QQQ over the next 72 hours.
I wrote this article myself, and it expresses my own opinions. I am not receiving compensation for it (other than from Seeking Alpha). I have no business relationship with any company whose stock is mentioned in this article.