Introduction
Over the past few years, Pearson (NYSE:PSO) has been shifting away from its existence as a global diversified media conglomerate. Under the leadership of Sydney Taurel, the company is narrowing its entire focus towards education services. The restructuring costs that come along, combined with cyclical adversity, have put pressure on earnings. However, by focusing the company in direction of long-term growth markets, future growth prospects are stronger than they have been in a long time. As this is not reflected in the share price, PSO provides a strong buying opportunity for both income and value investors. In essence, investors cash in the 6% dividend while waiting for the turnaround to materialize.
Simplifying the business
Less than a year ago, this would have been the point where I described Pearson as a diversified media company exploiting various media outlets, such as the Financial Times, The Economist and Mergermarket. Around £1.1 billion later, all of these assets are sold, leaving the core business of Pearson at education. Whereas this used to primarily mean textbooks, digitization has steered the product offering to a variety of products, from online learning programs to e-books and other interactive tools. Figure 1 shows the respective revenue breakdowns.

Click to enlarge
Most revenues are obtained in the school sector, where the product offering is also largest. In contrast, professional services are only a fifth of total revenues, but is growing, especially the certification part. Geographically, most revenues are obtained in the US. This causes exchange rate risk, but this is partially mitigated by a similar portion of long-term debt outstanding being dollar denominated.
Thesis Appeal
The change to focus on a core business makes a lot of sense considering the longer term outlook for the different industries. Where the paper and magazine publishing businesses are challenging at best, longer term education services - especially with the market position Pearson has - are a lot more compelling. Narrowing the focus to this potential growth market is therefore a timely, but wise decision. In addition, there are two other main qualities that strengthen the opportunity.
First, Pearson hired an experienced management team that knows what's necessary to maintain long-term health. This is illustrated by conservatism and background. Conservatism in forecasting ensures that even if the strategy delivers below expectations, safety margins are in place. For example, based on historic trends and unemployment forecasts, US enrollment should increase by 0.5%, but management forecasts flat growth. Similarly, despite multiple years of market share gains, no further gains are forecasted. Regarding qualifications, Chairman Taurel has extensive experience in business transformation as a result of his experience in the pharmaceutical industry. At the same time, Lincoln Wallen has entered the board. As CTO of Dreamworks (NASDAQ:DWA), he should be able to use his expertise in Pearson's transformation to digital. In a time where decisive action must be taken to successfully steer the company away from decline, it is comforting to see a management team that has the credentials to do the job.
Second, long-term trends in the new focus market are increasingly favorable. As figure 2 illustrates, a college education degree still has high value, with earning premiums for college educated households continuously rising.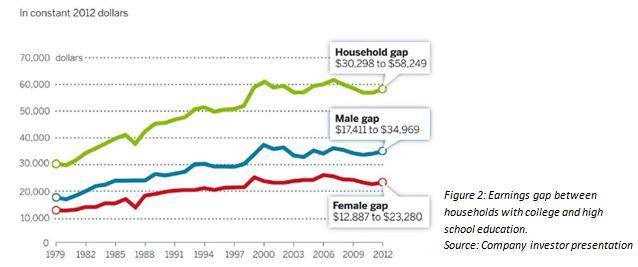 No matter how affordable and flexible the product offering, revenues have and most likely will always correlate strongly with macroeconomic conditions, more specifically unemployment. Simultaneously, the average costs for education have increased while overall funding trends the opposite way. As this gap widens, additional pressure on the affordability factor magnifies the impact of this risk. However, digitization can largely compensate for this increase. This is exactly what Pearson aims to do. The focus on lowering education costs on one side and scaling up the potential offering on the other, provides a strong strategic match with current and, more importantly, future market needs.
Risk and Competition
The most important risk to have an impact on future earnings is the political environment in key markets. Most education funding eventually comes down to government spending, which makes it a critical lever for Pearson's long-term success. As I mentioned in my contribution on Strayer education, this climate is more negative than it ideally can be. Luckily, the impact on Pearson is much lower than it is for Strayer (as Pearson is much less exposed to the for-profit education sector).
With respect to competition, there is little need to worry. Pearson is a market leader in most of its core business areas. The disposal of non-core assets in favor of a focus on these businesses will likely solidify these leading positions.
Dividend
Figure 3 shows Pearson's annual dividend payments (in pence) for the last 8 years.

As visible, Pearson has increased its dividend consistently. In fact, dividend per share has been rising for the last 11 years. During that time, dividend yields have long fluctuated between 3 and 3.5%. With the share price dropping 30% over the last year, the current yield is significantly higher at 5.8%. Given Pearson's commitment with respect to dividend growth, this provides an attractive yield on cost for the future.
Conclusion
The current multiple provides sufficient downside protection should the strategic turnaround fail to deliver. At the same time, dividend payments are safe. The current payout ratio is definitely on the higher side of the spectrum, but will come down as earnings and efficiency increase while restructuring costs decline. Meanwhile, divestments and strong cash flow generation by the underlying businesses have created a cash position of £1.7 billion. With the (non-core) stake in Penguin Random House (a publishing entity co-owned with Bertelsmann), management can create even more room, if necessary. By itself, the cash position is enough to fund dividend payments for four years. By this time, even if the earnings strategy turned out worse than expected, cost savings alone will keep the dividends affordable. Most likely, though, long-term earnings will increase with the overall market. This call option is not (yet) priced in. I therefore consider Pearson a strong buy for both income and value investors. Both can get paid a high yield and an embedded option on the potential turnaround.
Disclosure: I/we have no positions in any stocks mentioned, and no plans to initiate any positions within the next 72 hours.
I wrote this article myself, and it expresses my own opinions. I am not receiving compensation for it (other than from Seeking Alpha). I have no business relationship with any company whose stock is mentioned in this article.