Overview
There is a wealth of information regarding Brexit and the possible impacts to consider, which by the way, will be an ongoing revisit for global stock markets over the next few years. A personal favorite of mine is the BBC's The UK's EU referendum: All you need to know.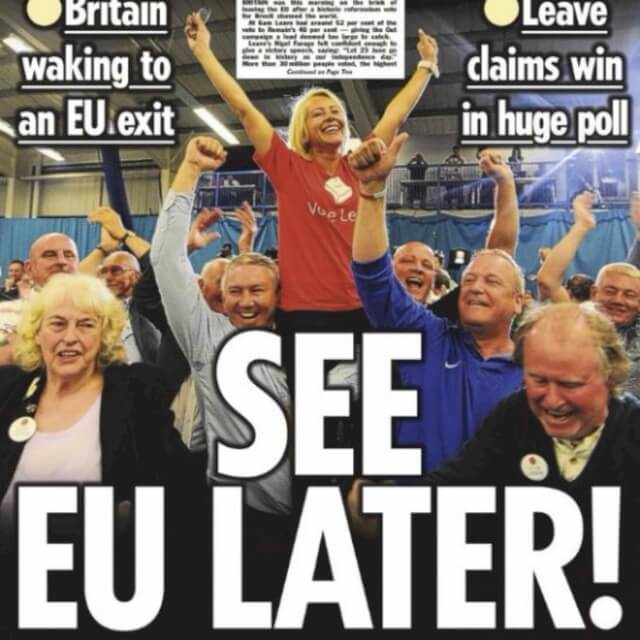 Unfortunately Friday's aftermath of the voting results did not lead to the same form of jubilation……..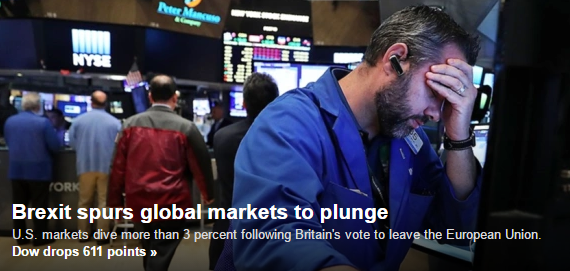 Source: Yahoo News
I think that we may see a few more of these type of pictures over the near-term, but what is priority number one for investors is to attempt to get ahead of important events as best as they can. In order for the United Kingdom ((U.K.)) to leave the European Union (EU) the U.K. must invoke an agreement entitled Article 50 of the Lisbon Treaty.
As part of this article, there is a two-year time period which is triggered once the U.K. notifies the European Council of its intention to withdraw from the EU. With David Cameron's resignation, a new Prime Minister needs to be selected prior to the U.K.'s notification. Estimates are for this transition to have occurred by October 2, 2016. So basically we are looking at a roughly two and a half year time frame if everything plays out accordingly.
But the European Council has the ability to unanimously extend the time period. Since this is uncharted territory, an extension would seem reasonable, especially since all existing treaties will remain in effect until the date of entry into force of the withdrawal agreement, or failure to meet the two-year, or extended deadline.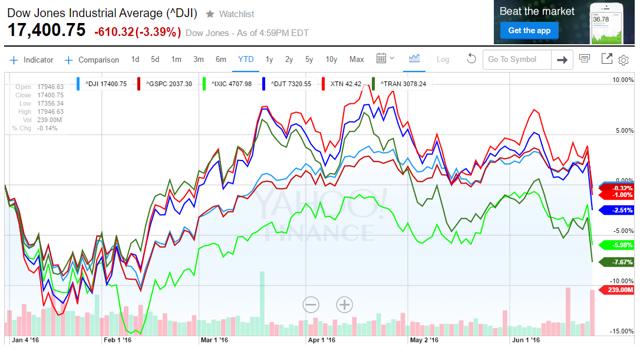 Click to enlarge
Yahoo! Finance
So to the point at hand, the chart above provides the Dow Jones Industrial Average (in blue), S&P 500 (red) and NASDAQ Composite (green) and corresponding transportation indices. Regardless of the exchange, all transportation indices underperformed during Friday's substantial decline.
For transports, there are clear companies with direct exposure to Europe, and then there are companies with much less exposure. For U.S. investors, there is an adequate amount of transports stocks with either direct exposure solely to the U.S. or with the majority contained within North America.
Now the caveat is that globalization has greatly integrated supply chains within major regions and for almost every country goods are traded across borders. The EU has many policies in place which take advantage of the free flow of goods, relating to supply chain processes. Without getting into the details, there are many risks associated with trade agreements and how the flow of goods will be impacted, not just for the U.K., but also for Europe.
To this point, there were different levels of declines for transports, granted all declined. Not one major company witnessed any positive sentiment, whether having all of its operations within the U.S., North America, or much more far reaching.
I manage two portfolios, the LLGP and LSGP, of which a significant amount of the holdings are transports. I moved cash into my accounts to be prepared for Friday's turbulence, but I decided not to take any action. The reason was based upon seeing how the markets would consider Brexit over the weekend and what next week's trading volatility would look like.
The simple approach would be to consider companies with less exposure to Europe. But on the other hand, many transports may have exposure to Europe, but also have a strong global presence in many other parts of the world. As will be seen below, companies with exposure to Europe had some of the worst declines on Friday, but may also offer some of the best risk/reward plays, especially if further volatility continues.
Since we do not yet know who the new Prime Minister will be, nor do we know what additional referendums may ensue whether for or against remaining in the EU, or how the negotiation process will be between the U.K. and EU or whether an extension will occur, it is likely that the next twelve month period will potentially allow for selective buying opportunities.
Transports Friday Performance Review

Click to enlargeSource: Seeking Alpha
For air freight and package delivery companies, the clear laggard was Deutsche Post A.G. DHL Group (OTCPK:DPSGY). The majority of other peers in this segment declined around 4.5 percent give or take a couple of percentage points. Both Atlas Air Worldwide (NASDAQ:AAWW) and Air Transport Group (NASDAQ:ATSG) lease air freighters to Deutsche Post. Proportionally, companies with greater exposure to international trade and most notably Europe, performed the worst.

Click to enlargeSource: Seeking Alpha
For contract logistics companies, companies with major exposure to Europe including both XPO Logistics (NYSEMKT:XPO) and Kuehne + Nagel International (OTCPK:KHNGY) witness very strong declines. For those who do not recall, XPO Logistics acquired Norbert Dentressangle, a European-based global provider of contract logistics. Hub Group's (NASDAQ:HUBG) declines are a result of exposure to shipping container twenty-foot equivalent units TEUs as many are converted to Hub Group's equipment and/or transported through the Hub Group network. Expeditors International's (NASDAQ:EXPD) greater exposure to air and ocean freight forwarding was also punished more versus CH Robinson's (NASDAQ:CHRW) greater exposure to the truck brokerage North America markets.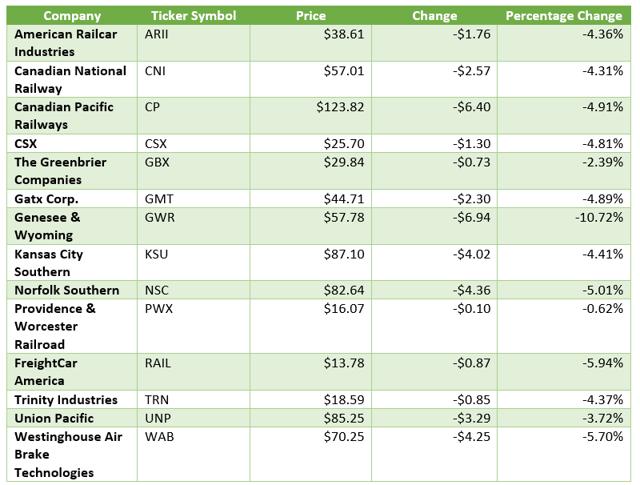 Click to enlargeSource: Seeking Alpha
The majority of Class I railroads were down between 4 to 5 percent and locomotive railcar lessors and manufacturers followed suit. Many Class I railroads have 20 percent or greater exposure to international and domestic container transportation as a percentage of total traffic, which is also a correlation to potentially impacted container shipping line trade lanes related to Europe. Providence & Worcester Railroad (NASDAQ:PWX) with no exposure to Europe witnessed minimal declines, while Genesee & Wyoming's (NYSE:GWR) recent acquisition of Freightliner Group Limited, a London-based company obviously was a driver for lagging performance.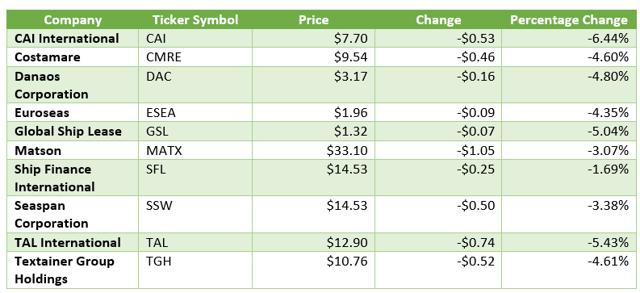 Click to enlargeSource: Seeking Alpha
For container shipping line vessel operators and charterers and container lessors, performance generally ranged between 4 and 6 percent declines. This is most likely associated with container shipping line trade lanes exposed to Europe. Exceptions included Matson (NYSE:MATX), Ship Finance International (NYSE:SFL) and Seaspan Corporation (NYSE:SSW). Matson's exposure to Europe is clearly minimal, but apparently vessel charterers with larger ships and TEU capacity outperformed smaller peers.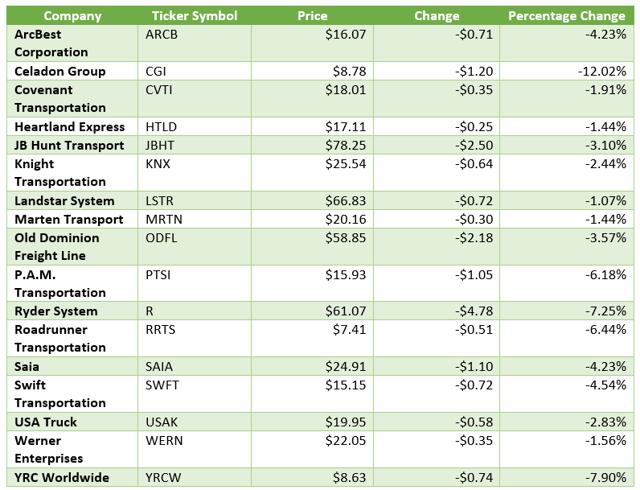 Click to enlargeSource: Seeking Alpha
For the trucking industry it may not seem appropriate that many carriers witnessed declines between 4 and 8 percent when the majority if not all of these companies operate solely within the U.S. and/or North America. Similar with Class I railroads, trucking companies whether truckload or less-than-truckload, LTL are impacted by international trade volumes, especially for retail and industrial goods.
LTL companies were down on average more than truckload peers. But Celadon Group (NYSE:CGI) witnessed the greatest decline overall. Companies with greater domestic exposure to the U.S. for the truckload segment including Heartland Express (NASDAQ:HTLD), Knight Transportation (NYSE:KNX), Marten Transport (NASDAQ:MRTN) and Werner Enterprises (NASDAQ:WERN) witnessed some of the lowest declines.
Top Picks
The top picks are arranged by industry segment and are not in any order suggesting one will definitively outperform another. I am not sure I could make such a prediction in any market trend, let alone after Brexit. These companies offer potential high risk/reward opportunities based upon Friday's price declines versus the timing of a withdrawal agreement between the U.K. and EU.
Air Freight and Package Delivery
Atlas Air Worldwide
Deutsche Post A.G. DHL Group
Contract Logistics
Keuhne + Nagel International
Hub Group
XPO Logistics
Railroads
Genesee & Wyoming
Westinghouse Air Brake Technologies (NYSE:WAB)
Container Shipping
Trucking
Investor Perspectives
While it may seem clear that companies which have been hit the hardest offer the greatest risk/reward, investors should revisit their investment strategies and risk tolerances before performing further due diligence regarding investment options.
Investors also may be interested in considering transports which displayed lower volatility on Friday and which have greater exposure to the U.S. and/or North America. Early concerns are that Brexit will have an impact on global gross domestic product, GDP growth, so there may be nowhere to completely be detached from risk. This is a major theme regarding the interconnectedness of global economies and importantly for transports, supply chains.
I am an aggressive buyer for my long-term strategies, and do not fear taking risk at perceived opportune times, but Brexit really could have a substantial impact on the global economy over the next few years, so I have transitioned cash ready to take advantages of opportunities this year, and for next year. My focus is on executing timely buys with a defensive mindset.
I personally have exposure to companies within these transports segments including Deutsche Post A.G. DHL Group, Canadian National Railway (NYSE:CNI), Matson, Seaspan Corporation, JB Hunt Transport (NASDAQ:JBHT) and YRC Worldwide. My focus will be considering next week's volatility and perspective after the markets have had a little bit of time to further digest Brexit. Any further weakness will most likely continue to highlight the top pick risk/reward opportunities.
As related to the LLGP and LSGP portfolios, Deutsche Post A.G. DHL Group and YRC Worldwide will be my top picks of focus. Additionally, Keuhne + Nagel International and XPO Logistics will be monitored as opportunities to add exposure to the contract logistics segment.
Investors should take a cautious approach with their decisions to buy from this point forward. Managing holdings and cash positions will be key. My cash remaining for 2016 is at 10 percent of both combined portfolios. Next January, this amount will increase to 30 percent, being liquid during the next few years will be very important.
Disclosure: I am/we are long DPSGY, CNI, MATX, SSW, JBHT, YRCW.
I wrote this article myself, and it expresses my own opinions. I am not receiving compensation for it (other than from Seeking Alpha). I have no business relationship with any company whose stock is mentioned in this article.
Editor's Note: This article covers one or more stocks trading at less than $1 per share and/or with less than a $100 million market cap. Please be aware of the risks associated with these stocks.