In my article last week, Sensing Less 'Headline Risk,' Crude Speculators Topple Prices, I explained how spec buying based on "headline risk" had given way to more spec selling, causing a price decline. In the week ending June 21st (to coincide with the positions data below), crude prices inched 1% higher.
But then on Friday, a different kind of headline risk (the Brexit vote result) caused crude prices to plunge 5%. No doubt this was a knee-jerk response to soaring volatility in financial markets on Friday, as well as the rising dollar, though I recently explained why, on balance, changes in oil prices lead changes in the value of the dollar.
Calm Before the Storm
To understand how traders were positioned before the market-shaking developments Friday, I analyzed the Commodity Futures Trading Commission (CFTC) reports the Commitment of Traders (COT). It provides some insight into how each of the four groups I follow are thinking: Hedgers (Producer/Processor/User); Longs and Shorts, and Speculators (Managed Money); Longs and Shorts. These groups are defined below.
Producer/Merchant/Processor/User
A "producer/merchant/processor/user" is an entity that predominantly engages in the production, processing, packing or handling of a physical commodity and uses the futures markets to manage or hedge risks associated with those activities.
Money Manager
A "money manager," for the purpose of this report, is a registered commodity trading advisor (CTA), a registered commodity pool operator (CPO) or an unregistered fund identified by CFTC. These traders are engaged in managing and conducting organized futures trading on behalf of clients.
Findings
In summary, for the week ending June 21st (Tuesday), speculators were buyers, nudging the price higher because hedge buying and selling virtually offset one another.
Spec - shorts bought 9.9 million barrels (mmb), reducing their net short position to 86.7 million barrels. This net short position is still over 100 mmb smaller than it had been earlier this year. As a result, there is a lot of pent-up selling potential should this group decide, as it may have begun to on Friday, that prices are headed south.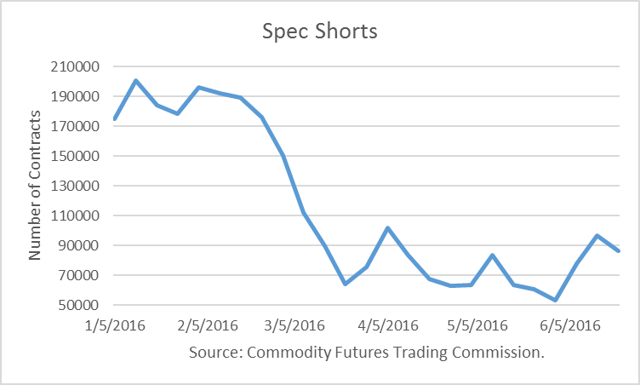 Click to enlarge
Spec - longs acted with a lot less conviction, lengthening their position by just 1.9 mmb to 290 mmb. This position is about 23 mmb lower than in mid-April, when there had been ongoing headlines of the "freeze" followed by new production outages around the world.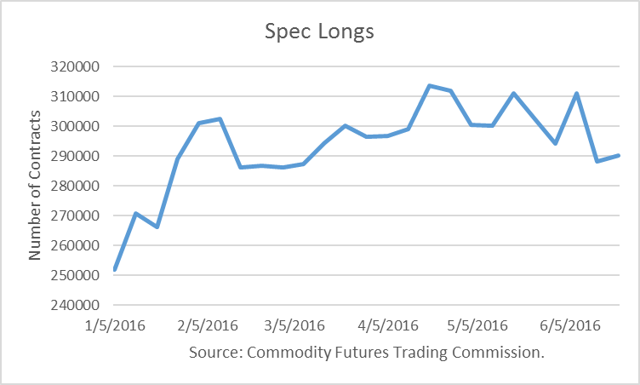 Click to enlarge
Short hedgers (oil producers) reduced (bought) their short positions by 11.1 mmb. Their net short positions of 504.5 mmb are about 45 mmb lower than they were in mid-May when the nearby crude futures contract price was about $4 per barrel lower. If Spec - shorts continue building a larger net short position, driving prices lower, I expect this group to hedge more as prices fall, fearing they are missing their hedge opportunity. Over long periods of time, hedge sellers tend to see more as prices fall, as opposed to selling more as prices rise.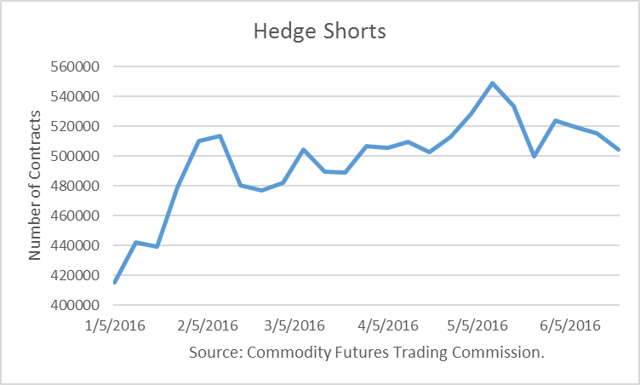 Click to enlarge
Long hedgers directly offset the market impact of the hedge sellers, selling 11.2 mmb. Their net long position of 238 mmb is about 30 mmb lower than it had been in mid-May.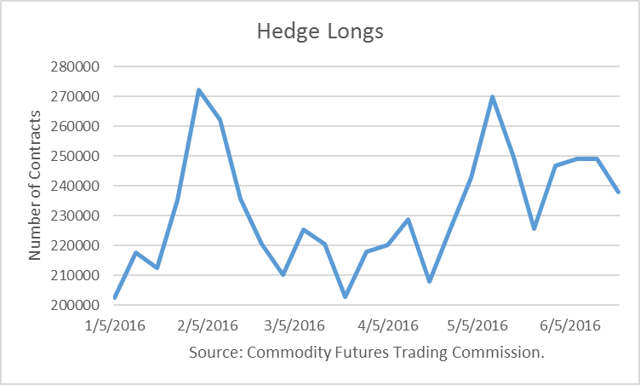 Click to enlarge
Conclusions
Given the Brexit "earthquake," it seems almost certain that financial markets worldwide will continue to shake in the near future. I suspect we will learn in a week that spec shorts have been rebuilding their short position, pushing prices lower. Based on hedge sellers' behavior, they are likely to join-in, increasing their short positions if prices are dropping.
Disclosure: I/we have no positions in any stocks mentioned, and no plans to initiate any positions within the next 72 hours.
I wrote this article myself, and it expresses my own opinions. I am not receiving compensation for it (other than from Seeking Alpha). I have no business relationship with any company whose stock is mentioned in this article.