Considering artificially low rates by central banks around the world, income investors are often drawn to REITS because of their big dividends and low volatility. This Friday was no different, as Brexit news roiled the markets (the S&P 500 was down 3.6%), and REITS proved to be a safe haven. The following table highlights the 1-day performance of many of the best and worst high-yield securities, and not surprisingly there are many top-performing REITS.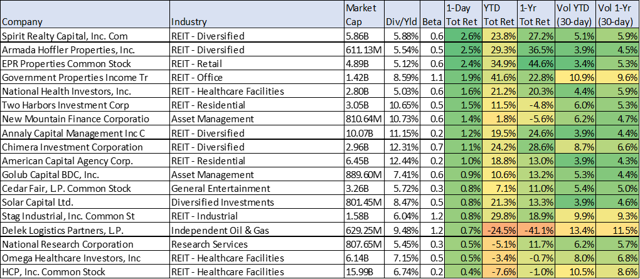 Click to enlarge

Click to enlarge
(data source: Yahoo Finance)
More specifically, the table includes the results of a screen requiring at least 5% yield, $500 in million market cap, and $100 million in revenues. It also shows longer term performance and volatility. And worth noting, REITS have exhibited some of the lowest volatility among the high-yield investments.
For reference, here is the complete list of 50 REITS that passed the screen, organized by industry: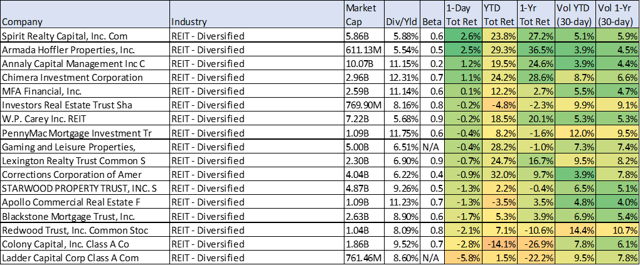 Click to enlarge

Click to enlarge

Click to enlarge
Interestingly, most high-dividend REITS significantly outperformed the S&P 500 on Friday and over the last 1-year period (with the exception of Hotel/Motel REITS, which underperformed). This begs the question: Can REITS continue to outperform as a safe haven trade, or have so many investors piled into REITS that they're now overvalued and due for a sell-off? Rather than trying to answer the big macroeconomic questions directly, we'll instead start from the bottom-up by focusing on three specific REITS that we believe can deliver strong future returns regardless of what happens to their peers.
EPR Properties (5.1% Yield)
EPR Properties (NYSE:EPR) was one of the single best performing high-yield investments on Friday (+2.4%), and we believe it has the continued ability to remain a safe haven, high-yield, low-volatility investment for many months and years to come. If you don't know, EPR invests in entertainment, recreation and educational properties such as megaplex theaters, TopGolf recreation centers, and public charter schools. Despite its very strong performance over the last year, its price to funds from operations ratio is still compelling if you factor in the company's expected future growth. Plus, it has the financial wherewithal to keep increasing its big monthly dividend payments.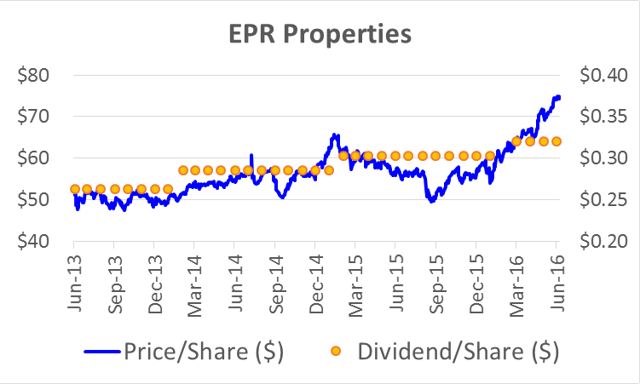 Click to enlarge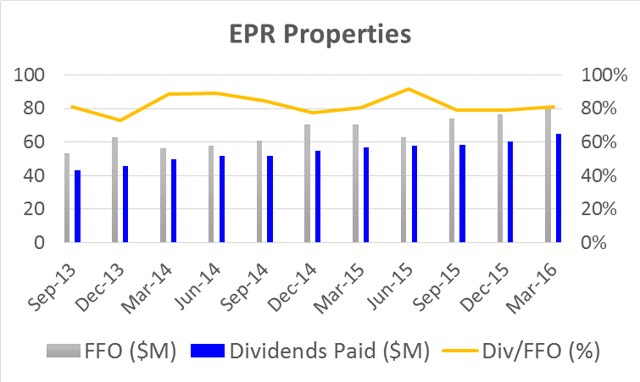 Click to enlarge
HCP, Inc. (6.7% Yield)
HCP, Inc. (NYSE:HCP) is another high-yield, low-volatility REIT that was up on Friday (+0.4). However, unlike EPR, HCP's stock price has declined significantly this year (-7.6%) as the company has faced challenges related to its HCR ManorCare investment. HCP's overall portfolio consists of investments in various healthcare segments including senior housing, post-acute/skilled nursing, life science, medical office and hospital. In our view, HCP's decision to spin-off HCR ManorCare (into a separate publicly traded company during the second half of this year) is smart because it will allow the legacy HCP company to maintain its "dividend aristocrat" status (i.e. it has increased its dividend for over 25 years in a row) and unlock value by appealing to a larger investor base via its new "SpinCo." If you are an income-focused investor, HCP is worth considering.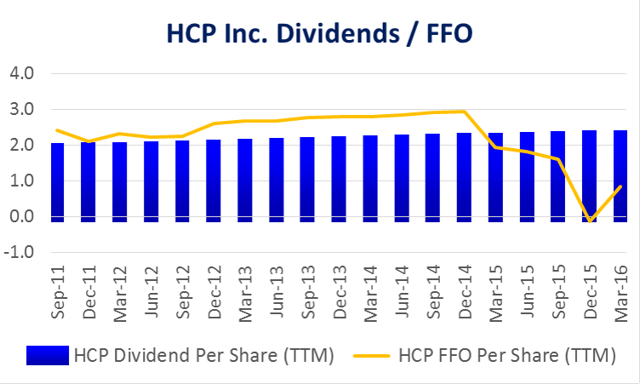 Click to enlarge
American Capital Agency (12.4% Yield)
American Capital Agency (NASDAQ:AGNC) is a REIT that invests on a leveraged basis in agency mortgage-backed securities. However, unlike many other very high-yield companies (i.e. >8%) that declined on Friday, American Capital actually increased (+1.0%). This is a good sign that the market believes in the safety and stability of the company and its dividend. American Capital currently trades for less than its book value, and we agree with management's view of "lower for longer" interest rates. Barring any extreme market events (such as another housing crisis or a rapid rise in interest rates), we believe American Capital is a big dividend REIT worth considering.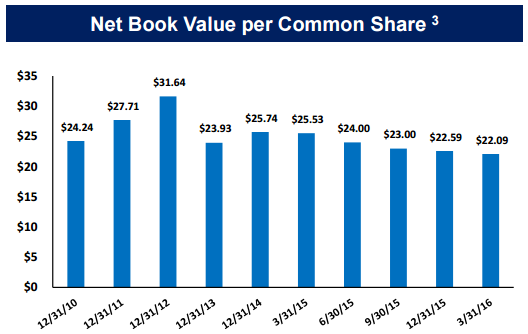 (source: Investor presentation).
Conclusion:
REITS acted as a safe haven on Friday, and they have generally exhibited very strong performance over the last year. However, it's important to understand the individual security specifics before simply chasing after anything labeled "REIT." For example, detailed reports for each of the three specific REITs mentioned in this article can be accessed in our recent report: Seven Big Dividend REITS Worth Considering. And if you are an income-focused investor, frustrated with low rates, remember that just because a certain broad category of securities has outperformed in the past, doesn't mean it'll continue to do so in the future.
Disclosure: I/we have no positions in any stocks mentioned, and no plans to initiate any positions within the next 72 hours.
I wrote this article myself, and it expresses my own opinions. I am not receiving compensation for it. I have no business relationship with any company whose stock is mentioned in this article.