On June 24th, 2016, Britain voted to leave the EU. The immediate reaction was an 8% plunge in the Nikkei, financials dropped between 10-30%, negative bond yields went even more negative and gold surged 8%. George Soros predicted that we would have a 20% drop in the pound and he is pretty right on that. These are large moves and this is my take on what investors should be doing next.
What strikes me is that both the Eurozone and the U.K. were affected by Brexit. Peripheral countries in the Eurozone were the hardest hit with stock markets in Greece, Spain and Italy dropping 16%. Non-peripheral countries like Belgium, France, the U.K. dropped 10%.
These numbers all point to a significant deterioration in the economy. In fact, it is a disaster for the U.K. as inflation will skyrocket (note that the British pound dropped 15% against gold in one day) and incomes could drop 2.3% according to a report issued by the Centre for Economic Performance at the London School of Economics. Here is a graph on the effect of Brexit on the living standards of EU countries.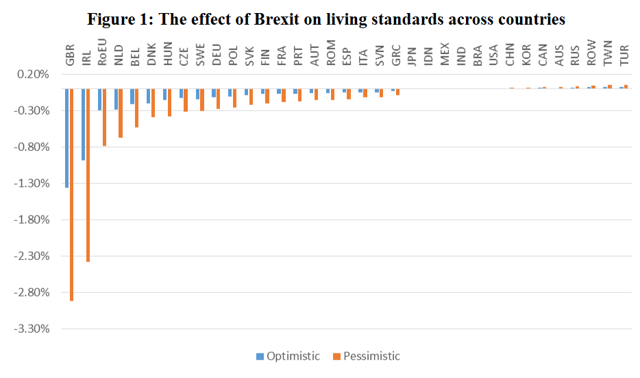 Click to enlarge
On top of that, the U.K. real estate market dropped 20% in one day. You will see a lot of money leaving this country and its real estate market. There are many reasons for this. Among one of those reasons is that a lot of people working in the U.K. are foreigners without a valid passport. For example, there are 850000 Poles in the U.K., if they all were to leave the country, that would have a lot of implications. The economy would slow down, a lower population will inherently lower real estate prices.
The U.K. could also witness a lot of job losses, especially in the banking sector. There is a so called passporting system which allows financial services operators, legally established in one Member State, to establish/provide their services in other Member States without further authorisation requirements. This was all part of the Financial Services Action Plan (FSAP) which was designed to open up a single market for financial services in the EU. Begun in 1999, it comprises 42 measures designed to harmonise the member states' rules on securities, banking, insurance, mortgages, pensions and all other forms of financial transaction. It allowed Britain (as part of the EU) to export financial services worth more than £20bn, or 1.1% of GDP, to the EU. Now that the U.K. leaves the EU, banks like Goldman Sachs, Morgan Stanley, HSBC need to move their operations outside the EU. So we are seeing huge consequences just in the financial sector alone already. Exports from EU countries to the U.K. will be affected, especially in the auto industry, due to the lower British pound (e.g. Peugeot, Renault dropped more than 20%).
The IMF predicts that the U.K. could lose 5.5% in GDP and this will trigger a recession. A lower GDP will lead to lower stock prices, so investors should pull their money out of the stock markets while they still can. This is not only about the U.K., we are living in a globalized economy and stock markets go up and down in tandem. Not only the U.S. and Europe will react to this referendum, but also Asia will be affected due to contagion. According to Nomura, the Asian countries that are highest correlated with the U.K. and Europe are: Australia, Hong Kong, Taiwan, Singapore, Japan, China, Korea and India. What is desirable in a low growth economy are bonds, so investors will be safer in those assets.
To make matters worse, some other countries like the Netherlands, Italy, France and Denmark all call for a referendum now. Nomura estimated the fair value of several currencies in the Eurozone a few years ago. What we see here is that a break-up of the Eurozone is ultimately bad for the currency of most of the countries in the Eurozone. Especially Greece, Italy, Spain, Ireland and Belgium are affected.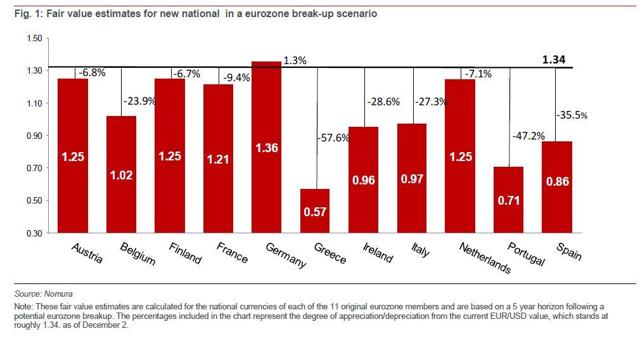 Click to enlarge
To make it short, Brexit is a return to inefficiency, trade wars and will spike inflation throughout the whole world. It will trigger a rise in unemployment mainly in Europe, but will also hurt the rest of the world through contagion. Stocks, real estate, currencies in the Eurozone are undesirable investments, while precious metals and bonds will do well.
Disclosure: I/we have no positions in any stocks mentioned, and no plans to initiate any positions within the next 72 hours.
I wrote this article myself, and it expresses my own opinions. I am not receiving compensation for it (other than from Seeking Alpha). I have no business relationship with any company whose stock is mentioned in this article.