The oil price rally and asset optimization moves have led to an impressive rally in shares of Pioneer Natural Resources (NYSE:PXD) in recent months. In fact, around five months ago, I had written an article advising investors to buy Pioneer shares, and since then, the stock has shot up almost 35%.
Now, as the price of oil has risen close to 30% in 2016, it is highly-likely that Pioneer will get stronger and post better results owing to its low costs, which are primarily driven by the deployment of longer laterals at its assets. So, in this article, we will take a closer look at two strategies being deployed by Pioneer to reduce costs and see why they will allow it to post better results going forward.
Longer laterals are enhancing productivity at lower costs
The key factor that has helped Pioneer drive down costs is the use of longer laterals at its wells. The reason why Pioneer has been focused on the deployment of longer laterals is because they result in an increase in production and lower the cost per foot of developing a well at the same time. The advantage that a longer frac has over a shorter frac is that the driller can afford to pack in more frac stages, thereby leading to an increase in the injection of proppant, water, and other fracking fluids.
Due to higher injections, the pressure created inside the well increases, which results in the extraction of more hydrocarbons and oil. Another factor that leads to the extraction of more oil using longer laterals is that the contact of the lateral with the reservoir increases, which allows Pioneer to tap into more high pressure zones of a well.
As a result, the production using longer lateral wells increases at lower costs since the pumping equipment used is the same. The good part is that Pioneer has successfully used this method to lower costs and enhance productivity, and now it is testing even longer laterals.
For instance, Pioneer Natural Resources' optimization programs and longer lateral lengths have improved well productivity across its Spraberry and the Wolfcamp assets. For instance, last quarter, Pioneer placed a couple of its longest laterals on production in this area, which range between 11,000 and 13,000 lateral feet. The early production from these wells are very encouraging, with the 24-hour initial production rate coming in at 3,050 BOEPD.
This is higher than the 24-hour initial production of 2,100 to 2,500 BOEPD from average lateral lengths of 7,000 to 9,000 feet seen in the preceding quarter. The following chart clearly shows how Pioneer's decision to increase lateral lengths has impacted its production profile: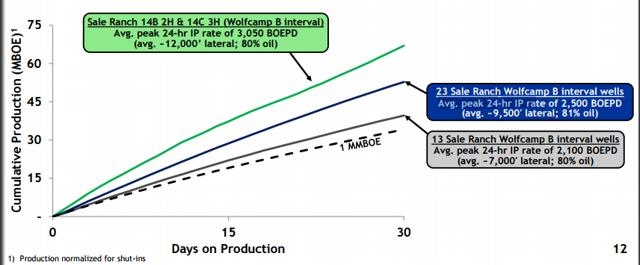 Click to enlarge
Source: Pioneer Natural Resources
Tighter cluster spacing and higher proppant usage are noteworthy
Apart from increasing the lateral lengths, Pioneer has been completing its wells with higher near well bore rock stimulation, which has led to tighter cluster spacings.
As a result of this technique, Pioneer's frac fleet efficiency has increased nearly 50% this year. For instance, its optimization program version 2.0 uses 1,400 lbs/ft proppant, 36 bbls/ft of fluid, a 30-ft cluster spacing, and 150-ft stage spacing, leading to savings of $0.5 million per well as compared to the original frac design. Currently, Pioneer is testing Version 3.0, which is anticipated to further lower cluster spacings that will lead to more cost savings per well. This is shown below: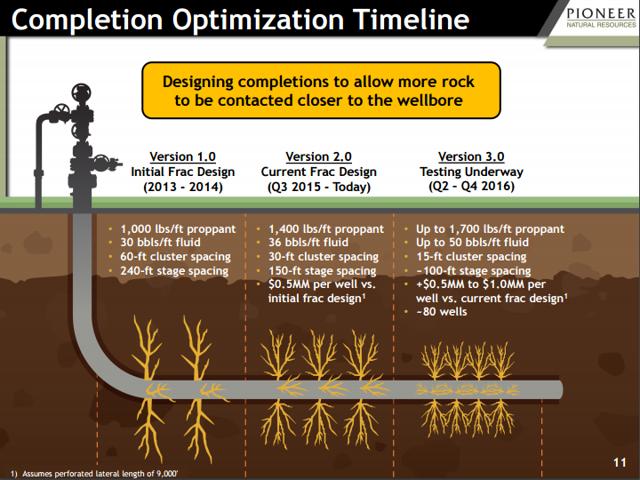 Click to enlarge
Source: Pioneer Natural Resources
As shown above, in the third version, Pioneer will be using 1,700 pounds per feet of proppant as compared to 1,400 pounds per feet of proppant in the current version. Now, using a higher amount of proppant is an inexpensive way to drive production. According to a report by Halliburton Services:
"There are several advantages to using high concentrations of proppant. For example, increasing the concentration in the fracture promotes greater fracture flow capacity, lessens sand crushing, and increases the proppant system's tolerance to fines. High flow capacity proppant systems may also result in longer sustained production increases."
In fact, it has been estimated that an increase in proppant concentration could lead to production gains of as much as 50% in a couple of months, while concurrently reducing water injection, fluid additives, and stage pumping time. Thus, it is not surprising to see that Pioneer has been able to lower its drilling and completion costs due to longer laterals and higher proppant usage.
For instance, Pioneer's drilling and completion cost per perforated lateral foot came in at $890 last quarter, with an average lateral length of 8,500 feet and 24 wells. This is lower than the drilling and completion cost per perforated lateral foot of $905 seen in the preceding quarter, which was achieved with a lateral length of 8,400 feet and a well count of 24. The following chart shows the impressive reduction achieved by Pioneer as far as drilling and completion costs per perforated lateral foot are concerned.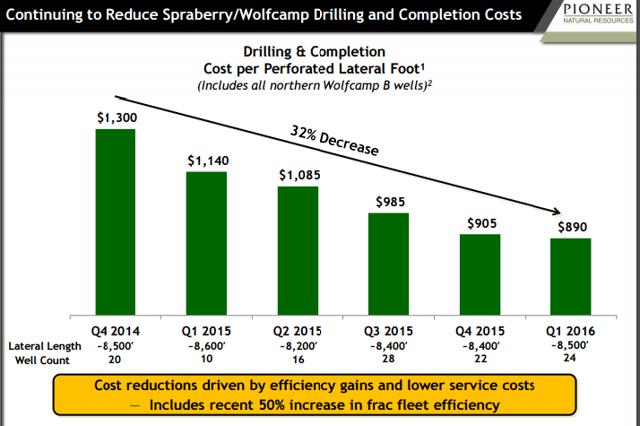 Click to enlarge
Source: Pioneer Natural Resources
Thus, as seen above, higher frac fleet efficiency has brought down Pioneer's drilling and completion costs in an impressive manner, leading to a sequential drop of 17% in production costs last quarter. Moreover, Pioneer has been able to lower its lease operating expenses by 20% on the back of efficiency gains from the Spraberry/Wolfcamp assets.
Conclusion
Pioneer Natural Resources has delivered strong gains on the market this year as oil prices have improved. Given the company's low-cost asset base and improving production efficiency, Pioneer should be able to bump up its financial performance going forward on the back of higher oil pricing. So, it makes sense to continue holding shares of Pioneer Natural Resources as it is on track to rise further.
Disclosure: I/we have no positions in any stocks mentioned, and no plans to initiate any positions within the next 72 hours.
I wrote this article myself, and it expresses my own opinions. I am not receiving compensation for it (other than from Seeking Alpha). I have no business relationship with any company whose stock is mentioned in this article.