Brexit has caused an upheaval in the financial markets all across the globe. All known assets classes have been affected, and nobody is quite sure whether the turmoil is over or not. The broader action suggests that the market is convinced that Brexit will do more harm than good to the global economy.
U.S. indices have been trading near all-time highs even as other world markets were off their peak levels by significant margins. DAX, FTSE, CAC, Nikkei, Hang Seng, Nifty 50, and others were at least 10 percent lower than their recent tops, before Friday's carnage. It was only the U.S. indices - S&P 500 (NYSEARCA: SPY), DOW JONES (NYSEARCA: DIA), and NASDAQ ( QQQ) - which continued to defy gravity against all odds. Now, may be the time when U.S. stocks match their global peers.
S&P 500 - On Crucial Support
For the S&P 500 analysis, I have used the daily price chart taken from TradingView. For roughly three months now, the index has repeatedly respected the support lent by 2040. Even on May 19, when the market looked just like it was going to break down, the support from 2040 saw renewed buying interest and took the market within a sniffing distance of the all-time high. But, Brexit has brought the market to close at a fresh 12-week low of 2037.41.

Click to enlarge
Source: TradingView
S&P 500 is on a crucial support, below which we may witness another 5-7 percent drop. I will wait for another decisive weekly close below this support to confirm a breakdown. The cut will pull down S&P 500 from highly overbought levels to less-overbought levels. For a simple and precise read on why the index is overbought, please visit S&P 500: A Crash All The Way Down To 1300?
The breach of this support will also reveal a lot of insight into the investors' mindsets. The 3-month support had emboldened the bulls to take on more risks as there are (supposedly) no hindrances to the market's upward journey. But, below 2040 would indicate that the market has become vulnerable to the near-term downside, and will switch to risk-off mode.
Similar patterns can also been seen in NASDAQ and DOW INDUSTRIALS.
In the case of NASDAQ, the support is near 4680. The technology index had touched a low of 4698 on Friday. If the buyers do not enter now or near 4680, and the selling pressure increases, we may see a plunge to near 4380-4400 levels. This would bring the index closer to its Feb lows.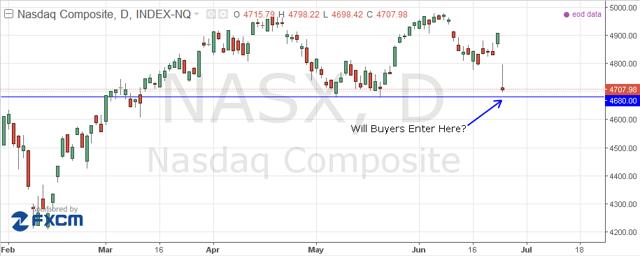 Click to enlarge
Source: TradingView
Dow Industrials is also standing on its immediate floor, which if cracks, could throw the market down to 16,750 - 16,800 range.

Click to enlarge
Source: TradingView
So, the weakness may inflict on all sectors in the coming weeks if these supports are violated. Investors have been caught off-guard on Brexit reaction, and are nervous right now. But, risk-off in the market was always required considering the overheated valuations.
Disclosure: I/we have no positions in any stocks mentioned, and no plans to initiate any positions within the next 72 hours.
I wrote this article myself, and it expresses my own opinions. I am not receiving compensation for it (other than from Seeking Alpha). I have no business relationship with any company whose stock is mentioned in this article.
Additional disclosure: Hi Readers, Thank you for giving this short read your time and patience. I welcome your participation in the comments section below. If you liked anything you read here, then please consider sharing this. Also, you can stay connected with me via the Follow button. Many thanks,