Well the Brits have gone and done it. I felt that global equity markets were too complacent, but I didn't think the British people would actually vote to leave. So now that it's happened, what does it mean? Is it the end of western civilization as we know it? No. Does it assure a Trump presidency? Nope. I wouldn't read that much into it. As an investor, I look for actionable information but spend the vast majority of my time researching my investment theses and waiting for investment opportunities to pop up. Regular readers of IncomeSurfer.com know that I often lament all the waiting, but it has served me well over the long term. The British people voting to leave the European Union has given me another reminder to keep my watch/wish list up to date, though I should remind everyone that it was a non-binding referendum. That being said, the long and annoying divorce proceedings will begin in the coming months. Long term investors are left to ask themselves if there are any quality companies that have been (or may be) unduly punished by the current market turmoil. I think I have identified a potential investment in Diageo PLC (NYSE:DEO). I took a brief look at the company before, but thought it was far too expensive at that time.
Yahoo Finance profiles Diageo as:
"Diageo plc produces, markets, and sells alcoholic beverages worldwide. It offers scotch and Irish whiskey, gin, vodka, rum, beer and spirits, Irish cream liqueurs, wine, Raki, tequila, Canadian and American whiskey, Cachaça, and brandy, as well as adult beverages and ready to drink products. The company's premium brands comprise Johnnie Walker, Smirnoff, Captain Morgan, Baileys, Tanqueray, and Guinness. Its reserve brands include Johnnie Walker Blue Label, Johnnie Walker Green Label, Johnnie Walker Gold Label 18 year old, Johnnie Walker Gold Label Reserve, Johnnie Walker Platinum Label 18 year old, John Walker & Sons Collection, Johnnie Walker The Gold Route, Johnnie Walker The Royal Route, and other Johnnie Walker super premium brands; The Singleton, Cardhu, Talisker, Lagavulin, and other malt brands; Buchanan's Special Reserve and Buchanan's Red Seal; Bulleit Bourbon and Bulleit Rye; Tanqueray No. TEN and Tanqueray Malacca; Cîroc and Ketel One vodka; and Don Julio, Zacapa, Bundaberg SDlx, Shui Jing Fang, Haig Club whisky, and DeLeón Tequila. The company was founded in 1886 and is headquartered in London, the United Kingdom"
In simple terms, this long and storied company owns many of the most recognized beer and liquor brands in the world. You can see the list above for yourself, but these exactly the kind of companies that have a loyal following by global consumers.....who are willing to pay a premium for the taste the know and love. Strong brand and pricing power are often hallmarks of the kind of companies I want to buy for the long term side of our portfolio. With that in mind, let's take a deeper look at Diageo.
The company's revenue and earnings have been in an uptrend over the last 10 years. The top and bottom line growth isn't amazing because this is a mature business, but both held up very well......even through the 2008 financial crisis. That is a characteristic of a great business. Brand loyalty and some pricing power.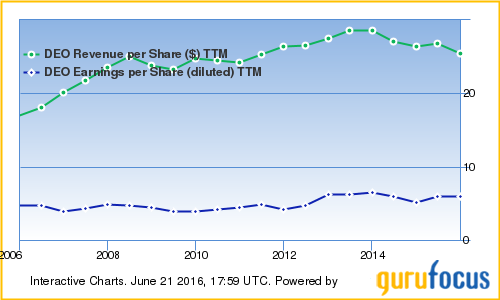 The chart below also shows that margins have been fairly consistent over the years, which is another characteristic of a solid business. Diageo's management didn't need to reduce profit margins in order to buy marketshare, in order to achieve the revenue growth we saw above. Instead they just kept on making, marketing, and distributing great products to the consumers that wanted to buy them.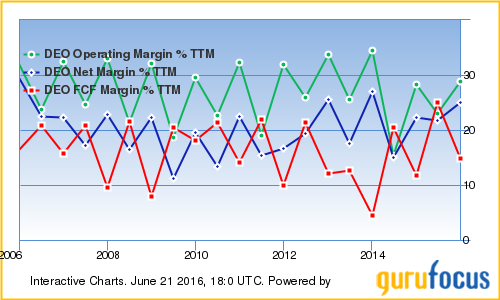 The Gurufocus graphic below further reinforces that stability. Sure I would like to see less debt, but am pleased that management has elected to pay down nearly $3 billion in debt over the last 3 years. Additionally, management has been a net buyer of shares each of the last 5 years. Unfortunately, many of those purchases were at higher prices than the shares trade today. Take a look at the 5 year chart below. Shares are down 25% from the recent high at the end of 2013. Are they cheap enough to buy, yet?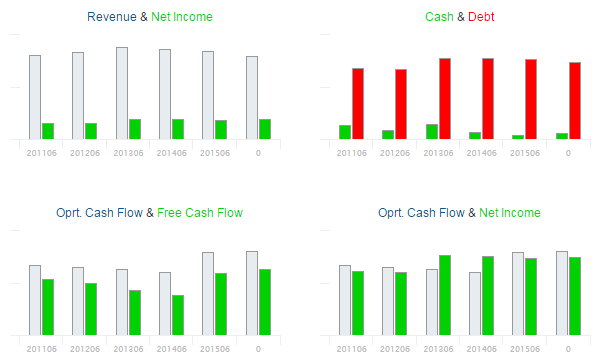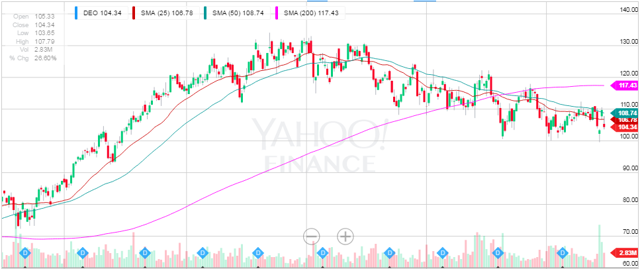 Click to enlarge
For that discussion, lets look at some valuation metrics. The table below is as of Friday's market close, so it does reflect Friday's market selloff. You can see that Diageo is trading at a lower ratios (price-to-earnings, price-to-book, and price-to-cash flow) than the company's own 5 year average. The dividend yield of 3.3%, and payout ratio of 56%, also seem attractive in this market.

The real question will be.....how will Diageo's business be affected if the British do eventually leave the European Union? In the short run it may hurt sales a little and raise costs (taxes and tariffs), but I don't think the company will significantly affected in the long run. I personally don't think the company's business prospects will be permanently impaired by Thursday's referendum. I also think the company will do a good job of weathering the next global recession, whether is arrives next month or next year. With those ideas in mind, the next question is when to buy?
If it wasn't for the uncertainty surrounding the British exit, and corresponding currency impacts, I would use a discounted cash flow model to help value the company. Given those concerns and how the model is greatly impacted by near term fluctuations however, I don't think the exercise would be constructive. The stock price has hit $100 per share a few times in the last year, and rallied nicely off those levels. My problem is that if we assume that earnings will be flat in 2016, that $100 price point yields a price-to-earnings ration just below 17. That is better than the company's five year average, but leaves little margin of safety. Instead, I will break my intended purchase into three parts....and buy the first slug of shares around $93. That area is a level of support for the company, and it also gives a price-to-earnings ratio of 15.5. That seems reasonable, and would allow me time and dry powder to reassess the company's business prospects in the coming quarters. If they look favorable, I will buy additional slugs of stock. Provided the stock price falls further and the earnings stay strong, I may get to buy at even better entry points in the future. Either way, Diageo is a company that I would like to own for the long term.
Disclosure: I have no position in DEO. This article is for informational purposes only and should not be considered a recommendation for anyone to buy, sell, or hold any equities. I am not a financial professional. The information above is provided by Yahoo Finance, GuruFocus.com, and Morningstar.com.
Disclosure: I/we have no positions in any stocks mentioned, and no plans to initiate any positions within the next 72 hours.
I wrote this article myself, and it expresses my own opinions. I am not receiving compensation for it (other than from Seeking Alpha). I have no business relationship with any company whose stock is mentioned in this article.