"Being a bank director is like being a pilot of an aircraft-it's years of boredom and seconds of terror." - Unknown wag.
Digital payments processor PayPal (NASDAQ:PYPL) has had a pretty good year. First quarter earnings per share of $.30 grew by 43% year on year. Annual results were even more impressive, since 2015 earnings per share of $1.00 increased by almost 200% from 2014 values of $.34.
However, all was not well last year. PayPal had to shell out $25 million as sanctions imposed by the Consumer Finance Protection Bureau because of misleading advertising and mishandling of credit disputes. It was alleged that PayPal had signed up consumers for its online credit program, Bill Me Later without their permission. As well, Apple (NASDAQ:AAPL) will initiate Apple Pay integrated into the Safari Mac web browser. It is unclear how this will impact on PayPal. But the sanctions imposed last year should send up some warning signals about PayPal's future, since, while it is not a bank, as determined by the FDIC, it is still subject to the same forces washing over the banking sector.
The question is whether PayPal's strong situation depends on how one classifies it. Does it matter what we call it? I think it does.
Strong 2015 results based on growth in fundamentals.
Since PayPal was spun off from eBay (NASDAQ:EBAY), its stock market performance has been relatively decent, as the following graph shows. On average, the stock posted a return of 7.5% over the period.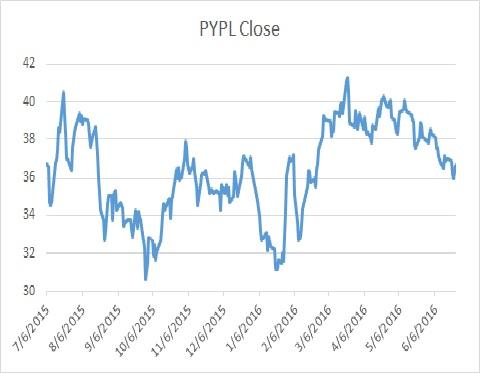 Source:finance.yahoo.com
On other news, PayPal posted other positives in its 2015 annual report, from 2014 values. Base revenues for PayPal originate from transaction fees charged to consumers and merchants. Gains and losses are also recognized in these base revenues. The other revenues include revenues derived from PayPal's credit loans, as well as interest earned on PayPal's customer account balances (more on that later). The following table highlights some very strong trends in PayPal between 2014 and 2015 in both kinds of transactions. It should be noted that for PayPal, "TPV" or "Total payment volume" represents a base line for its revenues. Net revenues increased by 15% between 2014 and 2015. Looking at the decomposition of the increase in revenues, one notes that one of the important drivers is an increase in the number of payment transactions-indicating PayPal users were using their accounts more actively.
| | | | | | |
| --- | --- | --- | --- | --- | --- |
| Change in percentage between 2014 and 2015 | Transaction revenues | Other revenues | Active customer accounts | Number of payment transactions | Total TPV |
| PYPL | 14% | 22% | 11% | 24% | 20% |
Source: PayPal's 2015 results.
And yet, and yet, what about its banking ratios?
PayPal has been deemed not to be a bank, by the FDIC, but rather a "deposit broker" in a 2008 ruling. A "deposit broker", is defined, by the FDIC as any institution which is engaged in "placing deposits" belonging to others at a depository institution. Section 29 of the FDI act requires any institution that accepts brokered deposits to be sufficiently capitalized. PayPal holds its customer deposits in a corporate bank account that pays interest. For instance, deposit funds owed to customers was reported at $12.2 billion, or 82% of total liabilities. Loans and interest receivable, presumably from the placement of said deposits totaled $4.2 billion, or a 34% ratio of funds deposited. In the U.S., PayPal is licensed as a "money transmitter" and is under state regulations, but in Europe, PayPal Europe is subject to regulations as a bank in Luxembourg. Thus, it is worthwhile examining some banking ratios for PayPal, or more specifically the change in such ratios. The efficiency ratio, unchanged at 84% is quite high. On the other hand, problem loans, defined as loans with a FICO score less than 680, constitute only 4% of the total loan portfolio, which means that PayPal can skate on thin capitalization. One can't quite calculate PayPal's Tier 1 capital, but the ratio of capital to short-term assets is adequate at 66%. Its return on assets declined 12% from 2014 values of 37%. And its proportion of liquid assets to total assets declined by 11% from 2014 values of 80%. On the whole, even if PayPal were to be considered a bank, it seems to be adequately capitalized, and its ratios seem sound.
PayPal's adventure with Bitcoin provides a cautionary twist to its future prospects.
On the whole, despite myself, I found that PayPal seems to be looking to the future on relatively solid ground. The fact that its prudential ratios seem to be good means that if ever it were to be considered a bank, it could get away with this designation probably better than some real banks. However, one other consideration that future investors should consider is a future partnership that PayPal has launched with Coinbase, a bitcoin exchange. So far, PayPal users can cash in on any bitcoin balances from Coinbase into their PayPal account but not the reverse.
However, such a venture might increase the risk of cyber-attacks to PayPal. Finally, as the recent experience with Brexit, PayPal, which lost $37 million last year in currency translation effects may be more sensitive to currency exposure than the average bank. These two factors should be taken into account by any investor interested in cashing in on PayPal.
Disclosure: I/we have no positions in any stocks mentioned, and no plans to initiate any positions within the next 72 hours.
I wrote this article myself, and it expresses my own opinions. I am not receiving compensation for it (other than from Seeking Alpha). I have no business relationship with any company whose stock is mentioned in this article.