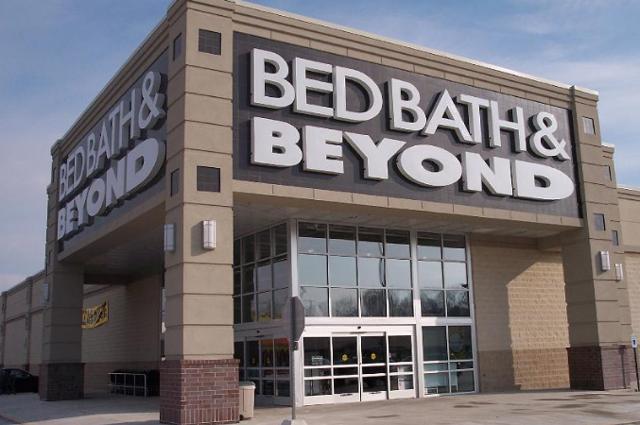 Click to enlarge
Bed Bath & Beyond (NASDAQ:BBBY) has had a very hard time in the past couple of years. The company's niche within home goods retail has been totally upended by the switch to more focus on e-commerce for consumers and among other issues, it has sent shares plummeting to multi-year lows. BBBY has had rough patches before and I've argued in the past that its balance sheet and willingness to buy back shares were fair reasons to own it but thus far, buyers simply haven't stepped in. After a lackluster Q1 result, BBBY actually showed some relative strength but is at its lows once again. Is it finally time to buy BBBY?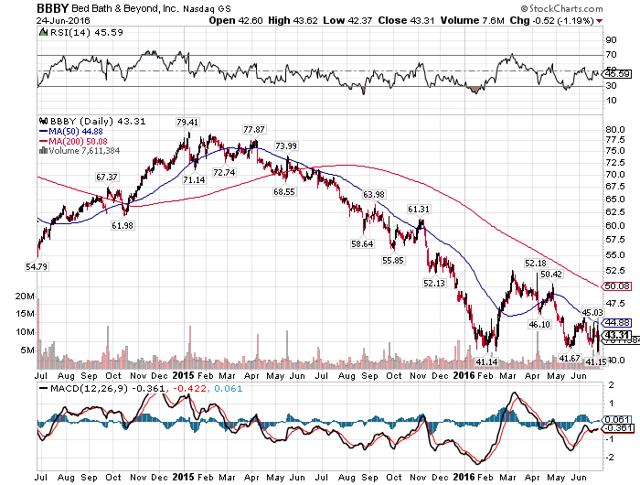 Click to enlarge
This time last year BBBY shares were still trading in the $60 to $70 range but to be fair, its results were much better. Last year's Q1 comp sales increase was 2.2% but in the most recent quarter, BBBY posted a decline of 50bps. This is an exacerbation of a terrible trend for BBBY's comp sales and given that 2015's results weren't bad - they weren't great either - I think BBBY is going to have a hard time comparing against it. That's a problem not only because it means sales are still weakening - we don't know where the bottom is yet - but it also will make BBBY's comp sales numbers look even worse. That's a big problem and certainly a big reason why shares have been decimated the way they have.
In addition, BBBY has had a hard time with margins during this period. That is predictable as flagging sales almost always lead to lower margins as dead inventory is worked through and the vast majority of management teams try to salvage comp sales by discounting and promoting. For BBBY, that problem is particularly pronounced because its margins aren't that good in the first place so ceding even a moderate amount can be devastating for profitability. In Q1, we saw margins fall 70bps to just 37.4%. This is also a continuation of an unfavorable trend for BBBY and at a time when sales are weak, this is the last thing it needs.
On the plus side, BBBY is using its balance sheet to fund significant buybacks and in Q1, it spent $178 million. It has $2.1 billion remaining on its current authorization against a market cap of just $6.7 billion and it has guided to complete those repurchases by the end of fiscal 2019 or thereabouts. That means BBBY is set to repurchase 7% of the float or so in very rough terms every year for the next four years. That is a tremendous tailwind to EPS growth and as we'll see now, BBBY desperately needs it.
This is a chart of what analysts think BBBY will do in terms of net profit for the next few years; take note of the very flat slope.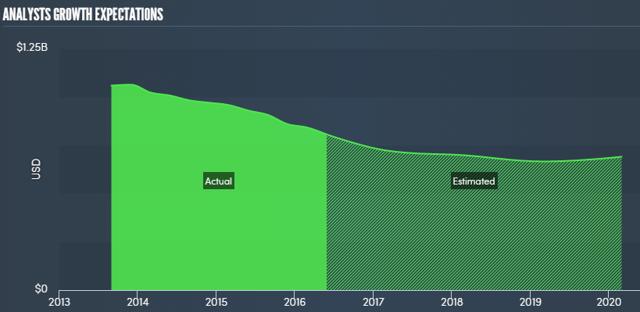 Click to enlarge
Source: Simply Wall St.
This is pretty ugly and it shows why BBBY shares are having such a hard time; this company isn't expected to show any actual earnings growth for at least another three or four years and current levels of profits are well below even very recent highs. This isn't pretty and this is how you get investors to cut a stock price in half.
But if we look at EPS estimates, the picture is rather different indeed.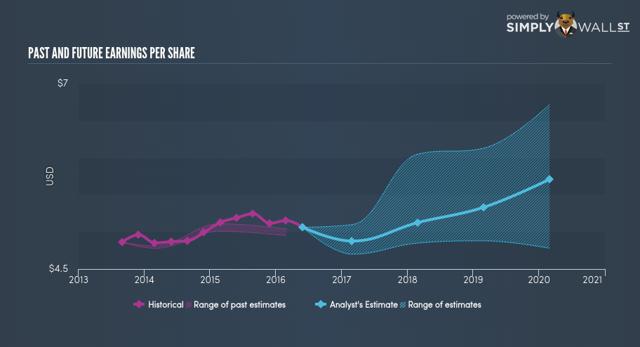 Click to enlarge
Source: Simply Wall St.
This is the power of the buyback and while you can see that the range of estimates is absolutely enormous, most estimates put BBBY at some level of growth over the next couple of years. That means that despite the fact that the business is weak right now, shares may be a better bargain than the fundamentals would suggest.
Margins are of tremendous concern to me and we don't yet know where the bottom is for sales. However, with the buyback removing a mid- to high single digit level of shares each year for the foreseeable future and with the stock trading for just 8.9 times this year's earnings, BBBY certainly still looks cheap. At this valuation the real question is whether or not there is material downside risk to estimates and for me, the answer is probably not. BBBY's weakness isn't new so analysts have had ample time to build in lower earnings. In addition, estimates have continued to fall for some time now so recent revisions have been relatively light. In other words, BBBY would really have to muck it up in order to surprise people given the protracted weakness we've seen in its fundamentals in the last few quarters so it would seem things can't get much worse.
With BBBY now paying a dividend it could potentially attract some income seekers if it raises the payout materially in the coming quarters and the buyback is certainly central to any bull argument. I think this one will be a slow grind higher if it does move that direction because BBBY has lost credibility with investors; shares don't get to less than nine times earnings if people still believe in the company. The buyback is the only catalyst for a move higher right now but on the bright side, if BBBY sees sales bottom and even move higher (imagine that), there is terrific opportunity for multiple expansion. That's the bull case so if you believe BBBY's sales will bottom soon, surely you're chomping at the bit to buy shares. For me, I think the risk is firmly to the upside but BBBY is not out of the woods yet.
Disclosure: I/we have no positions in any stocks mentioned, and no plans to initiate any positions within the next 72 hours.
I wrote this article myself, and it expresses my own opinions. I am not receiving compensation for it (other than from Seeking Alpha). I have no business relationship with any company whose stock is mentioned in this article.