The WisdomTree Japan Hedged Equity ETF (NYSEARCA:DXJ) tracks the WisdomTree Japan Hedged Equity Index, which is both dividend weighted and also tilted towards exporter companies (companies that derive 80% or more of their revenue from Japan are excluded). DXJ was once the darling of WisdomTree Investments (NASDAQ:WETF), as Japanese equities took flight while the yen floundered, thanks to Abenomics. With a +41.86% performance in 2013 compared to only +26.48% for the unhedged iShares MSCI Japan ETF (NYSEARCA:EWJ), DXJ raked in billions of dollars of assets and propelled WETF to a mind-boggling +174% gain that year. DXJ even won ETF.com's "ETF of the Year" award for 2013.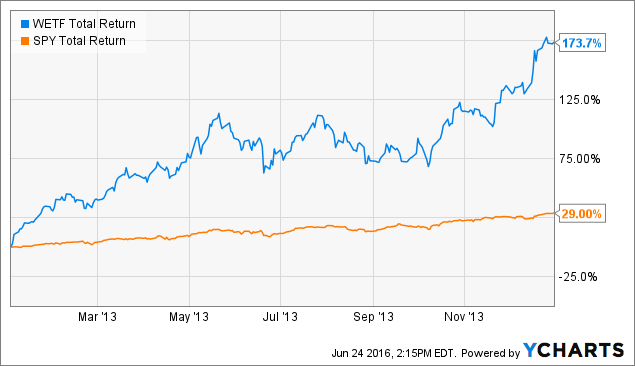 WETF Total Return Price data by YCharts
Better unhedged
Oh, but how the winds of fortune have changed. Over the past 1 year, DXJ has massively underperformed EWJ as can be seen from the chart below. Another yen-hedged Japanese ETF, the Deutsche X-trackers MSCI Japan Hedged Equity ETF (NYSEARCA:DBJP), is also shown for comparison.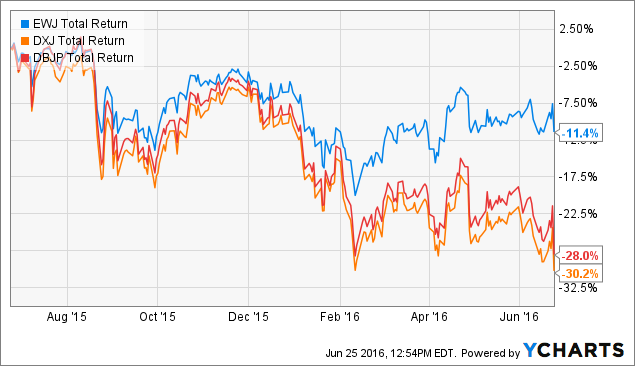 EWJ Total Return Price data by YCharts
The simple reason that DWJ has underperformed is that the yen, as a "safe haven" currency, had been quietly strengthening over the past year. Since reaching a high of about 125 to the dollar in mid-2015, the yen has now slid to a 2-year low of 104, even slipping briefly below the 100 mark as the Brexit news first hit last Friday.
US Dollar to Japanese Yen Exchange Rate data by YCharts
Consequently, and in contrast to 2013, it is the unhedged EWJ investors who have done better over the past year. Investors in the hedged DXJ would have obtained similar performance to a Japanese investor, investing in yen, in the Nikkei (1-year return: -27%). On the other hand, the unhedged EWJ investors benefited from a strengthening yen - the higher value of yen-denominated securities when converted back to dollars buffered the notional decline of the stock.
So, to hedge, or not to hedge? This Morningstar video says that in the long-run, investors may benefit from being in an unhedged fund, which typically has lower expense ratios, doesn't have the added cost of currency hedging, and has a lower correlation with U.S. stocks funds, which makes it a better portfolio diversifier.
No longer WisdomTree's darling
As described previously, the tremendous success of DXJ in 2013 was an important factor that propelled WisdomTree's stock to new heights. As can be seen from the chart below (source: WisdomTree), DXJ's assets under management [AUM] ramped up from about $1.2B at the start of 2013 to over $10B in May of that year. AUM peaked at over $18.7B in mid-2015, but has tumbled to its current value of only $6.5B. Given that DXJ charges 0.48% in expense ratio, this means that the annual revenue due to DXJ has fallen from a peak of $90M to only $31M now, for a decrease of $59M. This is no paltry sum since WETF's net income (ttm as of Mar. 31, 2016) was only $80M!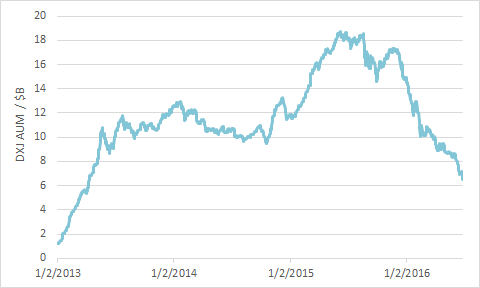 How much was the decline in DXJ's AUM due to a fall in the underlying holdings, and how much was due to redemptions? To tease out this relationship, I calculated the shares outstanding for DXJ at each date by dividing the reported AUM by the share price of the fund on the same day. We can see from the chart below that DXJ's peak in popularity (though not in AUM) of 403M shares was reached near the end of 2013. The share count nearly reached that peak again in mid-2015, but has declined to its present value of only 169M shares today.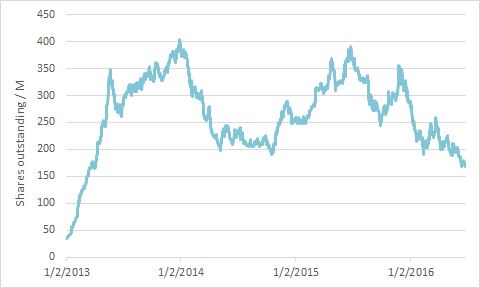 The monthly net fund flow for DXJ tells a similar story. 10 out of the last 12 months have seen net outflows in the ETF. Additionally, the pace of redemptions has accelerated in recent months, with at least $0.5B per month being withdrawn from the fund for the past 7 months.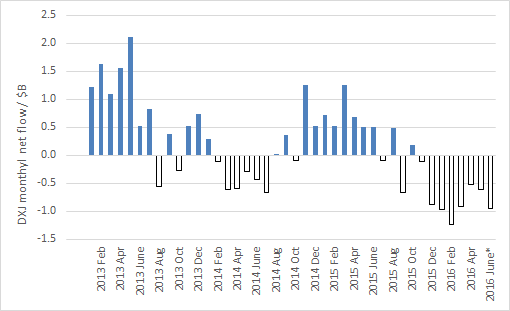 (*to Jun. 24, 2016)
The final chart shows the percentage of DXJ's AUM to WisdomTree's total AUM of its entire ETF lineup (99 by my count). We can see that at its peak, DXJ's AUM amazingly represented 37% of WisdomTree's total AUM! However, the current value is only 17%.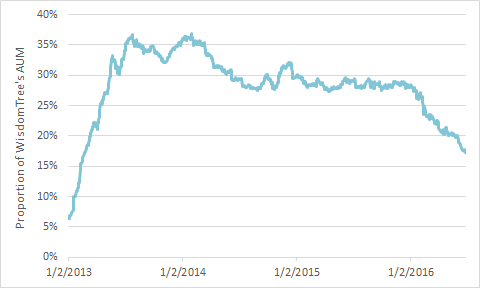 Summary and outlook
DXJ was a star performer in 2013, as it insulated U.S. investors in the Japanese stock market from the depreciating yen. DXJ was awarded ETF.com's "ETF of the Year" in 2013, and its success helped propel WETF to new highs.
However, WisdomTree stock has fallen on harder times recently, and one reason could be the massive drop in AUM of its star performer DXJ, leading to a significant cut in WETF's earnings.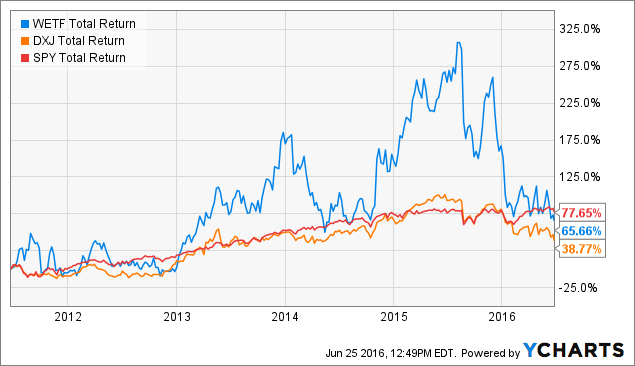 WETF Total Return Price data by YCharts
The reliance of WisdomTree on DXJ is made apparent when one considers the 2-year correlation between WETF, DXJ and the U.S. stock market (NYSEARCA:SPY) (source: InvestSpy). Notably, WETF's correlation with DXJ (+0.64) over the past two years was even greater than its correlation to SPY (+0.61). In contrast, BlackRock (NYSE:BLK), issuer of the iShares suite of ETFs, had a much higher correlation to SPY (+0.74) compared to WETF.
Going forward, one might expect this dependence to fade given that DXJ now accounts for a lower percentage of WisdomTree's AUM (and hence, earnings), than before. However, one thing is for sure: DXJ is no longer WETF's darling.
Author's note
I have just recently launched the Cambridge Income Laboratory, a Seeking Alpha marketplace offering focused on high yield ETFs and CEFs. If you have found my articles useful in the past, please consider subscribing to this newsletter to receive my best trade ideas (including ETF/CEF arbitrage) in advance, request ETF/CEF analysis, and receive alerts on possible fund misbehavior (e.g. alleged "frontrunning").
Disclosure: I/we have no positions in any stocks mentioned, and no plans to initiate any positions within the next 72 hours.
I wrote this article myself, and it expresses my own opinions. I am not receiving compensation for it (other than from Seeking Alpha). I have no business relationship with any company whose stock is mentioned in this article.