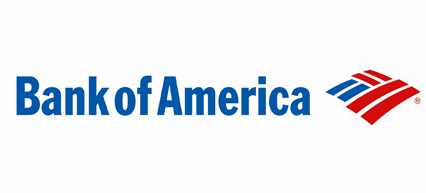 Just at the beginning of last week the financial world was fairly in order. Sure there were some concerns over the upcoming Brexit referendum, but the financial markets, for the most part, did not expect it. The heavy sell-off on Friday after British voters decided it was time to go it alone (that is, without the European Union) is proof that investors got it wrong, and that they did not fully understood the British electorate. Interestingly, the same sentiment that propelled the victory of the 'leave' camp in Britain in last week's referendum is the same kind of sentiment that has fueled the rise of Donald Trump in America.
So, Is The Meltdown Contained?
Inevitably, investors are now asking the question if markets are only going to sell off for a couple of days before investors regain their exposure and start buying again, or if we are in for a larger and longer correction.
That's a difficult question to answer, but I think it is safe to say that financial markets and investors will not be able to just shrug the Brexit off. Importantly, if political opportunists in other European countries also push for their countries to leave the European Union, the EU project could quickly show some serious cracks...and that would certainly not help investor confidence with respect to stocks or currencies.
As a result, I think markets are in for choppy ride over the short haul. What the Brexit has surely accomplished was that it has set off a period of heightened market volatility that could make cheap stocks even cheaper, including Bank of America (NYSE:BAC).
Just before the Brexit referendum last week I put an article out, titled "Bank Of America: Putting In A Buy Limit Order At $12?", in which I cited the bank's already very low market price relative to its accounting book value. I further contended on June 22, 2016:
Looking at the polls, a Brexit is NOT a sure thing at all, but investors surely need to brace themselves for a move to the downside. Financial companies, which profit the most from free trade and free capital flows, may get particularly hard.

All considered, increased market volatility may wash up more bargains for cash-rich buyers in the days and weeks ahead.
Investors, in fact, rushed to the exits on Friday, selling stocks rather indiscriminately after referendum results were made public. Bank of America was expectedly hit hard, slumping 7.41 percent.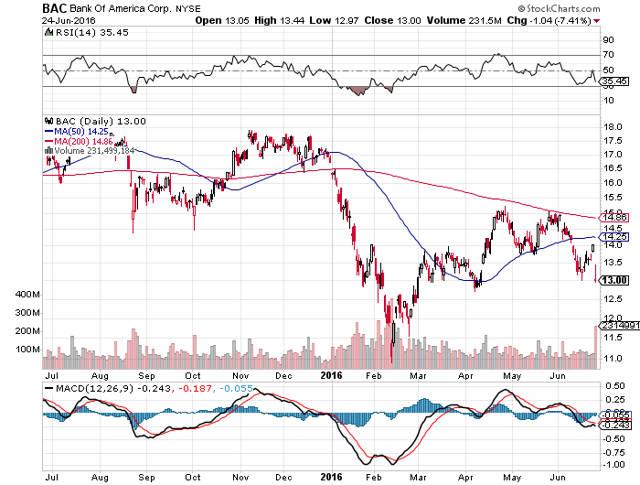 Click to enlarge
So, What To Do After Friday's Stock Market Massacre?
Don't do what most investors and pundits did on Friday: Panic.
The stock market has overcome worse crises than a country leaving a trading bloc. Higher market volatility will likely persist for a while longer until investors have digested the Brexit, but big financial companies including Bank of America should be doing fine over the long run.
Bank of America has been kicked into the bargain bin on Friday...the bank's shares are now selling for 56 cents on the dollar, which is almost a 50 percent discount (!!) to Bank of America's latest reported accounting book value. A buy looks compelling at this valuation level, and Bank of America's positive interest sensitivity is another reason to consider the bank on the market meltdown.
Your Takeaway
Investors got the Brexit royally wrong. Markets and valuations crashed on Friday, but there is a large emotional element embedded in the meltdown because investors don't know how to evaluate the economic consequences of the Brexit just yet. Bank of America's accounting book value discount is approaching 50 percent again, a STEEP margin of safety. I still think shares might head a little lower in the next few days, and I plan on gobbling up more shares of Bank of America at ~$12. Buy for capital appreciation.
Disclosure: I am/we are long BAC.
I wrote this article myself, and it expresses my own opinions. I am not receiving compensation for it (other than from Seeking Alpha). I have no business relationship with any company whose stock is mentioned in this article.