"To expect the unexpected shows a thoroughly modern intellect."
Oscar Wilde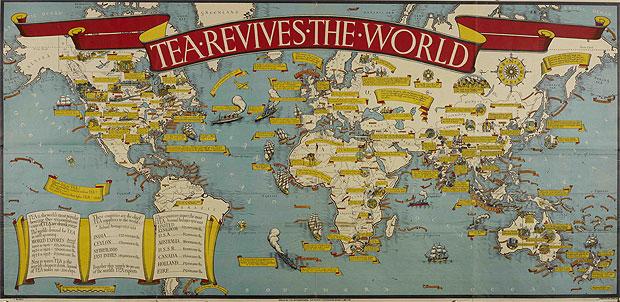 Introduction
There is an old saying that says something along the lines that, "The sun never sets on the British Empire". With the news that British voters have elected to leave the European Union, is Britain once again trailblazing a course that other European nations will attempt to replicate?
That fear was paramount in financial markets on Friday, June 25 th, 2016, with exaggerated reactions in currencies, bond markets, and stocks markets to the news that Britain seeks to reclaim a portion of its independence. While it is easy to get caught up in the panic, investors should ask themselves, what has really changed?
The end result of the British referendum is that, more than ever, the financial markets status quo, which is directed by an unelected group of central bankers, is expected to stay in place. In layman's terms, this means central bankers will continue to provide an overabundance of liquidity, and asset prices will struggle to find their market clearing points, independent of central bank intervention.
Thus, it is my opinion, that investors should take Rolf Dobelli's advice, and avoid the news. After the "Brexit" news cycle passes, the new market leaders, which have taken the baton of leadership with a historic reversal in 2016, are likely to continue their ascent as market participants reluctantly realize that the investment landscape, which existed from 2011-2015, has changed. Building on this, opportunistic investors are likely to find bargains in the market volatility over the coming days and weeks.
Thesis
The market turmoil caused by Britain's exit from the European Union is a buying opportunity.
The System Is Broken
Central bankers across the world have cut global interest rates to historically low levels, and the Bank of England has been no exception. In the wake of the "Brexit" vote, analysts are now anticipating another interest rate cut by August of 2016, with U.K. rates now expected to decline from 0.50% to 0.05%.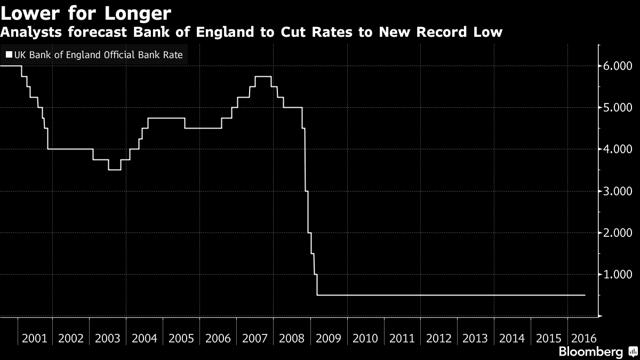 Click to enlarge
With Mark Carney already pledging 250 billion pounds ($345 billion) of additional liquidity, when will the central banks of the world realize that liquidity is not the problem?
Sovereign Bonds Make New Lows
After sovereign bond yields rallied the past two weeks from record lows, interest rates dropped precipitously on Friday. 10-Year Treasury Yields in Germany, and the United Kingdom made new multi-decade lows, with Germany further into negative territory with a negative 0.05% annual yield on its sovereign ten-year bond.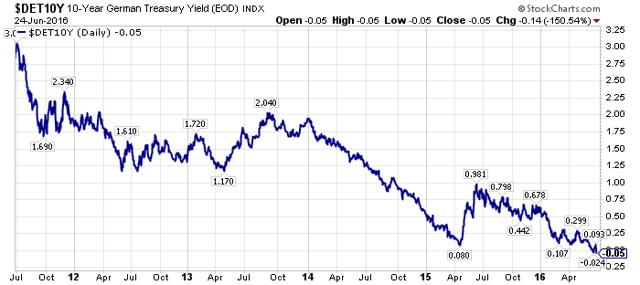 Click to enlarge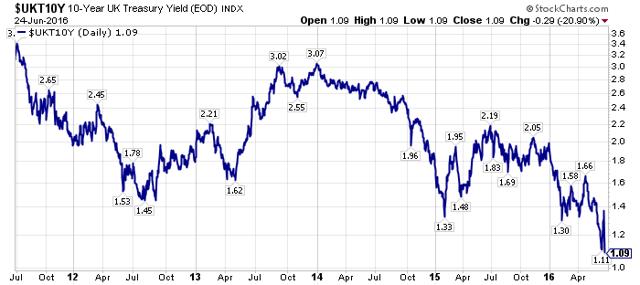 Click to enlarge
As investors sought the safety of government bonds in Europe, 10-Year Treasury Yields went further into negative territory in Japan, though Japan's 10-Year Treasury yields are slightly above their recent lows.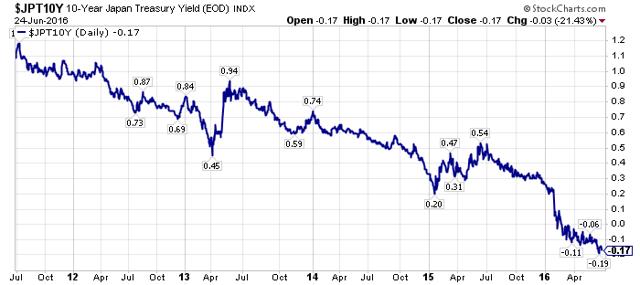 Click to enlarge
In the United States, both 2-Year and 10-Year U.S. Treasury Yields dropped sharply. Despite this decline, U.S. Treasury yields remain above their 2012 lows. This positive divergence is much more pronounced on the short-end of the curve, as yields are much higher today than they were in 2012, even with the recent decline.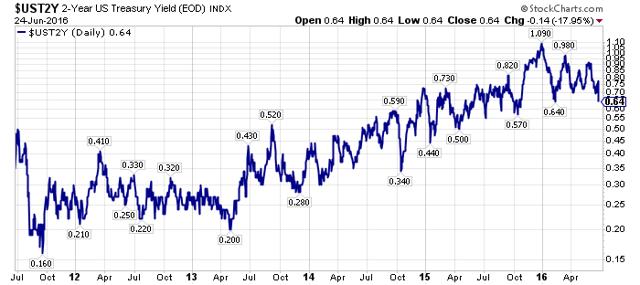 Click to enlarge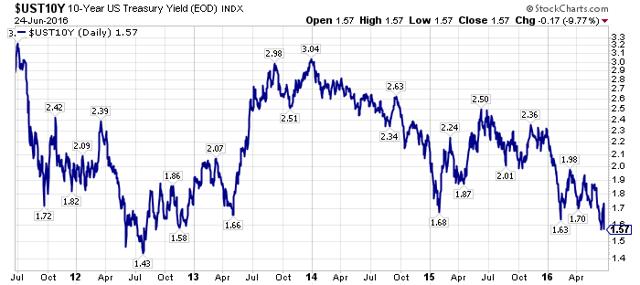 Click to enlarge
The iShares 20+ Year Treasury Bond ETF (NYSEARCA:TLT) traded twice more than twice its average trading volume on Friday, as long-term Treasury bonds have remained surprisingly resilient through the course of the current equity bull market.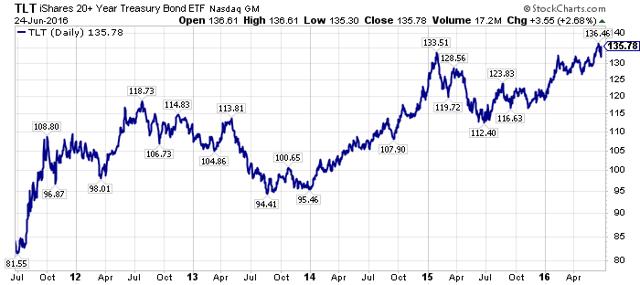 Click to enlarge
Dollar Spikes, But It Is Still Materially Below Its Highs
Perhaps more than the stock, bond, and commodity markets, the currency market was upended by the surprise "Brexit" vote. The U.S. Dollar surged higher by over 2% during Friday's trading session. Even with this move, the U.S. Dollar Index remains materially below its 2015 highs.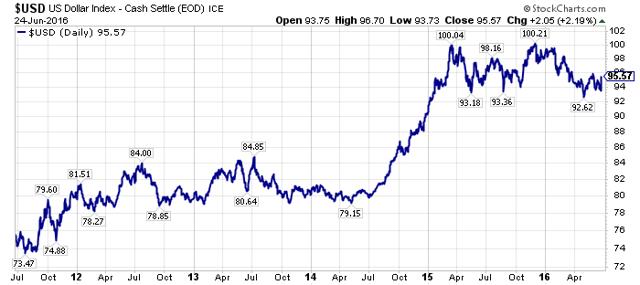 Click to enlarge
The British Pound, as measured by the Currency Shares British Pound Sterling Trust (NYSEARCA:FXB), fell by over 8%, a huge move in the foreign currency market, stirring up echoes of George Soros's infamous bet against the British Pound.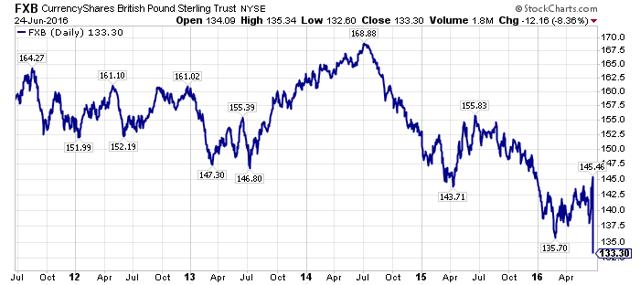 Click to enlarge
The Japanese Yen, as measured by the Currency Shares Japanese Yen Trust (NYSEARCA:FXY), advanced strongly, closing higher by roughly 3.6%. The gain in the Yen has erased nearly the entire decline that began in 2014, though the Yen has a long way to go to reach its 2012 highs.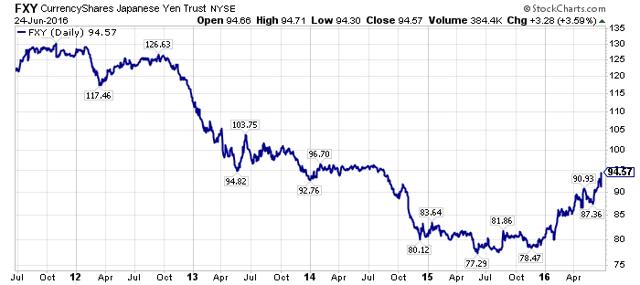 Click to enlarge
To summarize the extraordinary movement in the currency markets, there was a definitive move towards safe-haven currencies, yet the Yen, and the U.S. Dollar remain materially below their five-year highs.
Reaction In The Stock Market
As you might expect, global equities moved sharply lower once the news of the surprise leave vote broke. Stocks in the United Kingdom experienced the heaviest losses, with the iShares MSCI United Kingdom ETF (NYSEARCA:EWU), down nearly 12%.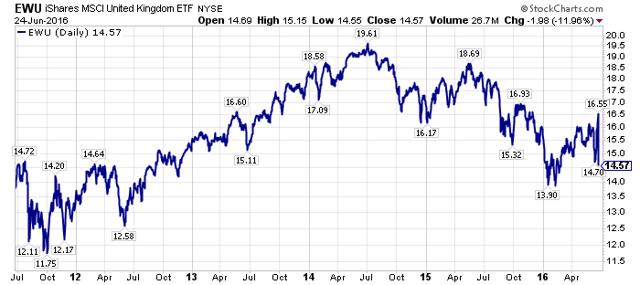 Click to enlarge
With interest rates falling, financial stocks (NYSEARCA:XLF) sold off across the board. Barclays (NYSE:BCS), the British banking giant that was one of the banks that bought the remains of Lehman Brothers, along with Nomura Holdings (NYSE:NMR), had the unfortunate distinction of being both a bank, and a British stock, and it declined by over 20% during Friday's trading session.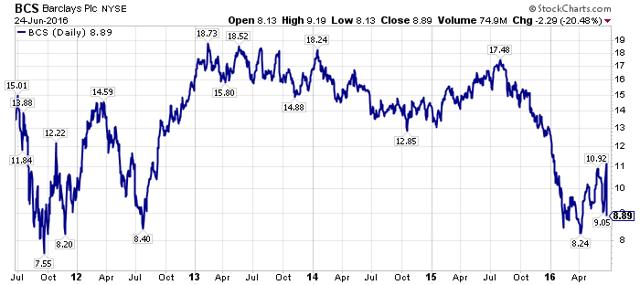 Click to enlarge
Large capitalization stocks across Europe, as measured by the SPDR EURO STOXX 50 ETF (NYSEARCA:FEZ), also experienced heavy selling pressure, falling roughly 12%.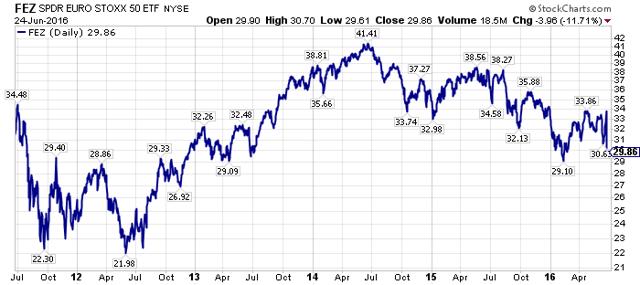 Click to enlarge
Outside of Europe, the reaction was more muted, with Japanese equities, as measured by the iShares MSCI Japan ETF (NYSEARCA:EWJ), falling 4.1%.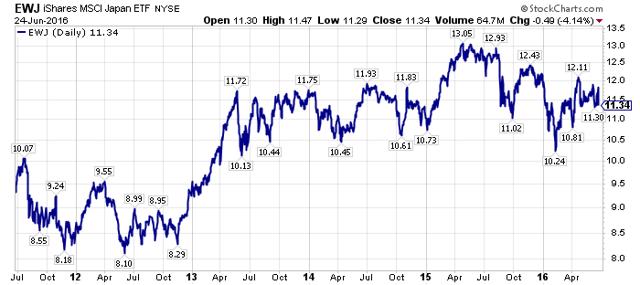 Click to enlarge
The S&P 500 Index, as measured by the SPDR S&P 500 ETF (NYSEARCA:SPY), held up the best, falling only 3.6%, reemphasizing the role of U.S. equities as a safe-haven in a disinflationary/deflationary environment.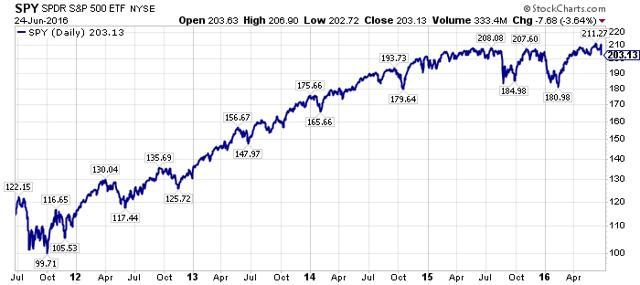 Click to enlarge
Ignore The Noise, The Story Remains The Same
In February of 2016, when a majority of global equities were in a confirmed bear market, a surprising reversal began. The most crowded trades at the time, including long the U.S. Dollar, short emerging markets, and short commodities, all started to unwind, and as a result, stock market leadership experienced a decisive metamorphosis.
The year-to-date performance of the VanEck Vectors Gold Miners ETF (NYSEARCA:GDX), the VanEck Vectors Junior Gold Miners ETF (NYSEARCA:GDXJ), the SPDR S&P Metals and Mining ETF (NYSEARCA:XME), and the Energy Select Sector SPDR ETF (NYSEARCA:XLE), relative to SPY, clearly shows the outperformance of out-of-favor inflationary assets in 2016, after these assets massively underperformed from 2011-2015.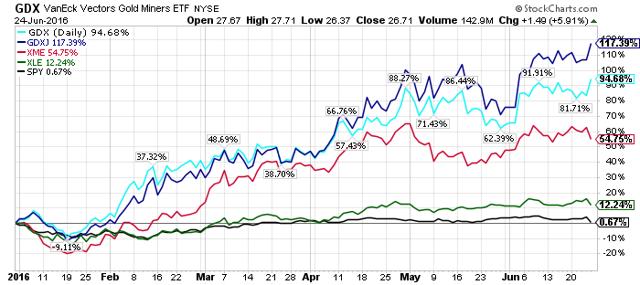 Click to enlarge
Individual stocks like Barrick Gold (NYSE:ABX), U.S. Steel (NYSE:X), Exxon Mobil (NYSE:XOM), and Freeport-McMoRan (NYSE:FCX), which have appreciated 178%, 102%, 56%, and 17% in 2016, have been the recipient of investor money flows, as value investing has come back into style.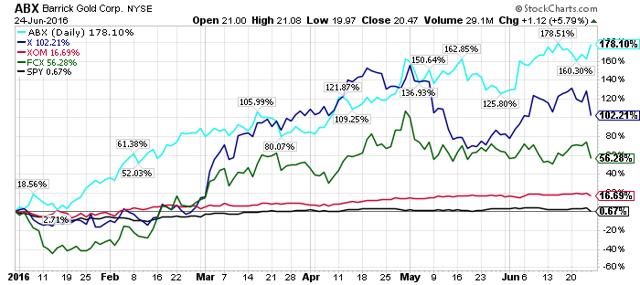 Click to enlarge
Benefit From Macro and Micro Research
Within "The Contrarian", my premium research service on Seeking Alpha, subscribers have benefited from this change in market leadership. The most aggressive portfolio within The Contrarian, the "Bet The Farm" Portfolio, an options focused portfolio, increased 228% in value in 2016, through Friday, June 17th, 2016 as the performance table below illustrates.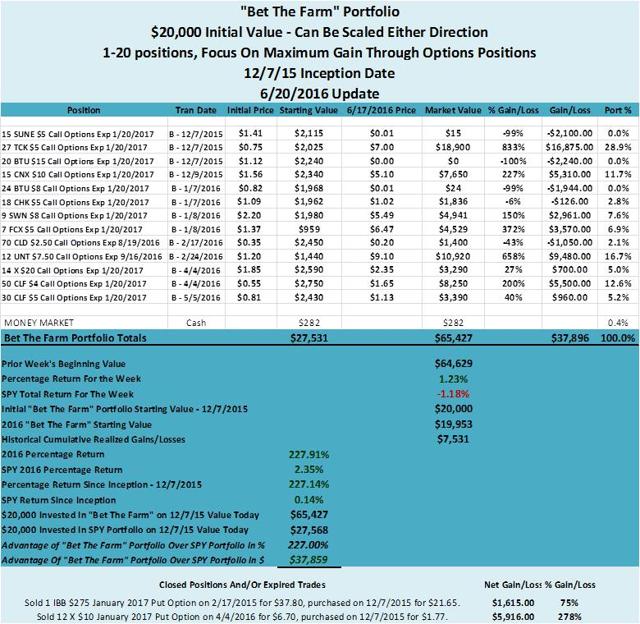 Click to enlarge
For investors that are not well versed in options, and prefer a straight equity approach, the "Best Ideas" Portfolio, a concentrated equity portfolio, has risen 42% in 2016, through Friday, June 17th.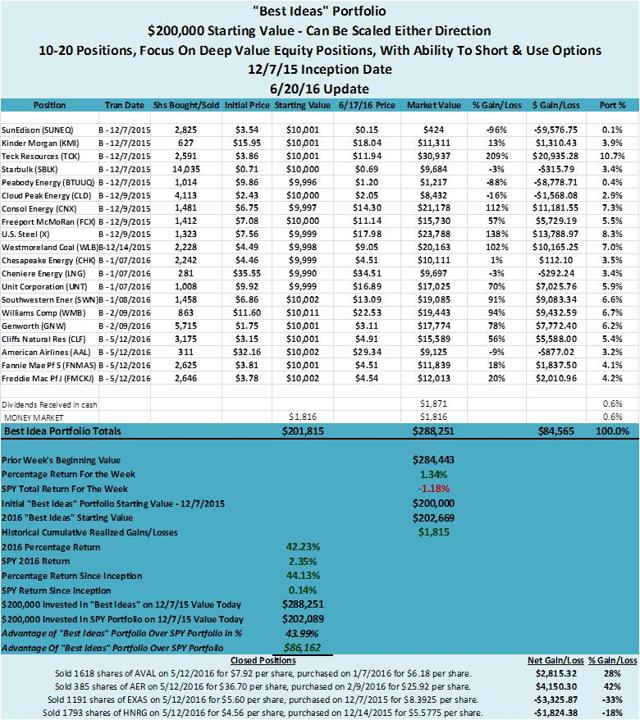 Click to enlarge
While both above the above portfolios saw declines this past week, there is a whole new slate of investment opportunities that I am excited to begin implementing in the weeks ahead, and I plan on initiating some new positions Monday. Additionally, subscribers can look over the entire history of these portfolios, to see what worked, and what has not at this juncture.
Conclusion - Stay The Course
Since 1995 I have been actively investing, speculating, and contemplating portfolio construction. At heart, I consider myself a fundamental, value investor, but fundamentals can often be misleading, as shareholders of the most highly rated companies in 2008, including American International Group (NYSE:AIG), Fannie Mae (OTCQB:FNMA), Freddie Mac (OTCQB:FMCC), General Electric (NYSE:GE), and Morgan Stanley (NYSE:MS) found out the hard way.
There have been many learning lessons along this investing journey. Two of the most important that stand out, have been to recognize when you are wrong, which I got horribly wrong with coal and commodities from 2013-2015, and to exit when the trend is against you. The second is to stay the course when the trend remains in your favor.
The hard part of staying the course with any investment philosophy is ignoring the news, and that is particularly difficult in today's market environment, as companies like Alphabet (NASDAQ:GOOGL), (NASDAQ:GOOG), Apple (NASDAQ:AAPL), Facebook (NASDAQ:FB), Microsoft (NASDAQ:MSFT), and Twitter (NYSE:TWTR) make information so readily available to any investor with an internet connection, whether at home or through their mobile phones.
In this era of an overabundance of information, it is easy to get caught up in one piece of information like a Fed decision, or a referendum on Britain's right to remain as part of the European Union. Even Alan Greenspan, who can take more credit, and blame, for modern central bank intervention than any other central banker, in my opinion, has gotten caught up in the hyperbole.
To close, while both the stock market and the bond market remain historically overvalued, and certain strategies like dividend growth investing remain over popularized, there is a credible case that can be made for a further stock market rally, from these already lofty levels, in my opinion. Bull markets are notorious for climbing a wall of worry, and the bond market is as pessimistic as it has ever been. If a rally were to develop in the aftermath of the "Brexit", investors should expect out-of-favor assets, value investments, and alternative investment strategies to retain their market leadership in the final innings of a mature bull market.
Disclosure: I am/we are long ABX, FCX, X, NMR, AND SHORT SPY.
I wrote this article myself, and it expresses my own opinions. I am not receiving compensation for it (other than from Seeking Alpha). I have no business relationship with any company whose stock is mentioned in this article.
Additional disclosure: Every investor's situation is different. Positions can change at any time without warning. Please do your own due diligence and consult with your financial advisor, if you have one, before making any investment decisions. The author is not acting in an investment adviser capacity. The author's opinions expressed herein address only select aspects of potential investment in securities of the companies mentioned and cannot be a substitute for comprehensive investment analysis. The author recommends that potential and existing investors conduct thorough investment research of their own, including detailed review of the companies' SEC filings. Any opinions or estimates constitute the author's best judgment as of the date of publication, and are subject to change without notice.
Editor's Note: This article discusses one or more securities that do not trade on a major U.S. exchange. Please be aware of the risks associated with these stocks.