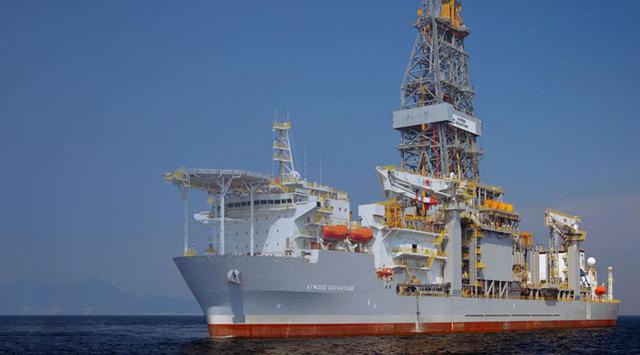 Click to enlarge
Source: Atwood Advantage - ATW website
This article is an update of my preceding article on Atwood Oceanics (NYSE:ATW) published on May 8, 2016.
On June 24, 2016, Atwood Oceanics announced the following:
Commencement of a modified "Dutch Auction" tender offer (the "Offer") for up to $150,000,000 aggregate principal amount (the "Tender Cap") of its outstanding 6.50% Senior Notes due 2020 (the "Notes"). The terms and conditions of the Offer are described in an Offer to Purchase dated June 24, 2016 (as may be amended or supplemented from time to time, the "Offer to Purchase") and the related Letter of Transmittal dated June 24, 2016 (as may be amended or supplemented from time to time, the "Letter of Transmittal"). A summary of the Offer is outlined below:
Title of Security

CUSIP
Number

Principal
Amount
Outstanding (1)

Tender Cap

Early
Tender Payment ("1")

Total
Consideration
Acceptable
Range ("2") ("3")

6.50% Senior Notes due 2020
050095AM0
$490,666,000
$150,000,000
$50.00
$650.00 to $750.00
(1) Aggregate principal amount outstanding as of June 24, 2016.
(2) Per $1,000 principal amount of Notes accepted for purchase and excluding accrued and unpaid interest, which will be paid in addition to the Total Consideration or the Tender Offer Consideration, as applicable.
(3) Includes the Early Tender Payment.
1 - what is a "dutch auction"?
Dutch Auction Tender Offers
In a "Dutch auction" tender offer, the bondholders effectively determine the bond purchase price rather than the bidder. In a "pure" Dutch auction, the bidder invites the bondholders to tender their bonds within a specified price range and tenders are accepted, beginning with those for which the lowest price has been specified, until the bidder has purchased the desired number of bonds, with the result that bonds are purchased at multiple prices.

In a "modified" Dutch auction, the bond purchase price is determined based on the lowest price that allows the bidder to buy the number of bonds sought in the offer and the bidder pays that price to all bondholders that tendered at or below that price on a pro rata basis. The type of Dutch auction that may be utilized will depend on the type of bond that is the subject of the tender offer and the jurisdictions into which the tender offer is to be extended. A Dutch auction tender offer may be attractive to bidder's that need to repurchase bonds quickly because it avoids potential time delays resulting from the need for the bidder to determine an acceptable purchaser price.
2 - let's have a look at the recent balance sheet.
Atwood Q2 2016 Results - May 5, 2016
Q2 2016
Q1 2015
Q4 2015
Q3 2015
Q2 2015
Q1 2015

Revenue in

$ Million

296.351
307.819
363.18
330.56
350.387
351.7

Net Income

$ Million

122.437
39.081
150.69
112.99
122.669
46.2

Earnings per share

in $/share

1.89
0.60
2.32
1.73
1.89
0.71

Operating income

$ Million

145.121
46.076
178.63
134.20
147.808
70.79

Shares Outstanding basic

In million

64.781
64.765
64.654
64.653
64.644
64.405

Cash and Cash equivalent

in $ Million

226.812
115.669
113.983
74.50
90.23
121.8

Long-term Debt

$ Billion

1.5950
1.6084
1.6783
1.65
1.63
1.74

Drilling cost

in $ Million

99.041
139.78
127
143
140
-
Dividend
Canceled
0.25
0.25
0.25
0.25
0.25
EBITDA $ Million ("TTM") per Yahoo
741
777
786
691
615
561
Net Debt/EBITDA
1.84
1.92
1.99
2.28
2.50
2.89
Capital expenditure $ Million
44.7
131.5
448.02/1Y
241
177.13/6m
-
Long-term debt is $1.595 billion.
On April 20, 2016, we learned that S&P downgraded ATW to B+.
Atwood's credit fell since S&P expects Atwood's credit measures to deteriorate significantly in 2017 and 2018 due to depressed industry conditions. S&P also expects the oversupply of new rigs and low commodity prices to increase competition and, consequently, re-contracting risk over the next two years. This change would result in downward pressure on day rates and utilization levels. With lower utilization and reduced day rates, S&P also expects Atwood's cash to deteriorate significantly over the next two years.

Click to enlarge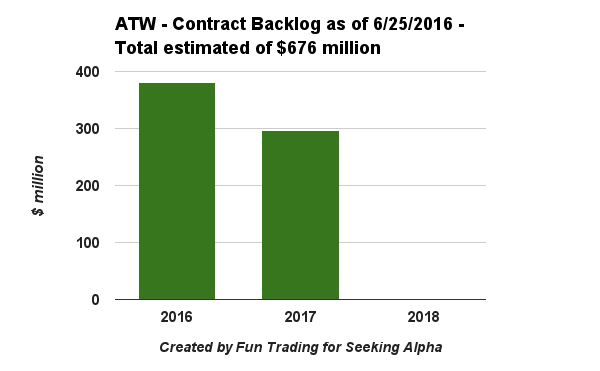 Mr. Saltiel, CEO, recognized during the last earning results, that buying back the debt at a large discount is a priority for the company, and I am glad that ATW is true to its words.
I have often commented that it is imperative that offshore driller companies use the market to their benefit, and one huge benefit is to buy the debt at a discount. In this segment, Ocean Rig (NASDAQ:ORIG) has done an excellent job until now. Others, such as Noble (NYSE:NE) and Ensco (NYSE:ESV) are also interested. M. Saltiel said in the conference call:
We ultimately concluded that open market repurchases of our bonds would be the most favorable avenue, given the low execution risk and low cost relative to alternative de-levering options that we considered. Through transactions in February and April, we retired more than $154 million of face-value bonds for a cash outlay of approximately $97 million for an average of $0.63 on the dollar.
I agree with M. Saltiel and I believe that taking advantage of a significant discount to reduce debt is ultimately the best use of the extra-cash that the company can afford to spend now.
Based on the $150 million cap, the company could eventually pay approximately $100-$105 million cash, which will lower the long-term debt to $1.445 billion.
This is a positive and a few other offshore companies should consider the same move. I am thinking particularly at Ocean Rig UDW (NASDAQ:ORIG) and the 2017/2019 notes.
On a side note, Atwood Oceanics has been very silent about the negotiation still ongoing with Petrobras (NYSE:PBR) for the under-construction drillship Atwood Admiral, and I wonder what the company means when it said "expects to conclude something in a not so distant future?"
Finally, we continue to progress our opportunity for the Atwood Admiral to drill for a consortium of operators in Brazil. This has admittedly been a longer process than we had hoped, due primarily to the difficult market conditions, but we still expect to bring this important contract to closure.
This process has taken too long already, and it would be good if the company takes the time to explain what is going on and what are the real and honest chances of getting a contract before the end of 2016?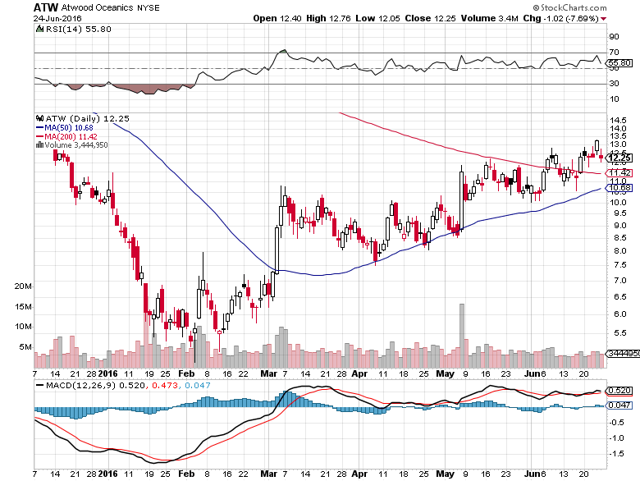 Click to enlarge
ATW is now up over 50% since early February, and the trend is strong. Technically the stock price may well continue its upside, around $14-$15, if the "golden cross" is confirmed.
The situation is not totally clear so, especially, after the recent Brexit impact on oil prices. On the downside, I see potentially a strong support around $11.
Personally, I believe the "Brexit effect" will not have a huge lasting impact on the oil prices, and ATW will continue to rise, if oil prices can definitely turn up and breach the $55 per barrel in a strong display of strength.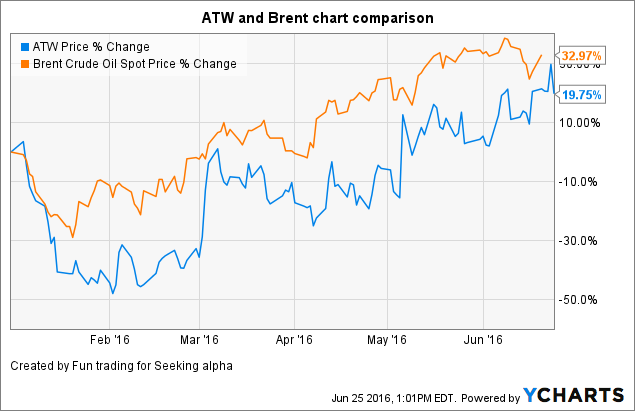 Still, it is hard to recommend a buy or a sell at this point. I am more tempted to advise a cautious wait and let the market decides what will be the next move for oil, which ultimately will indicate when we can expect an offshore drilling recovery? The diminishing backlog is a lingering concern with ATW and most of its peers, right now.
Disclosure: I/we have no positions in any stocks mentioned, and no plans to initiate any positions within the next 72 hours.
I wrote this article myself, and it expresses my own opinions. I am not receiving compensation for it (other than from Seeking Alpha). I have no business relationship with any company whose stock is mentioned in this article.
Additional disclosure: I trade ATW