Natural gas futures prices posted their fifth consecutive weekly gain. The July futures contract for the week ending June 21st (to coincide with the data below) rose by 6% to $2.77. From its low point in mid-March, futures prices have staged an amazing 69% gain, most of it in the past four weeks.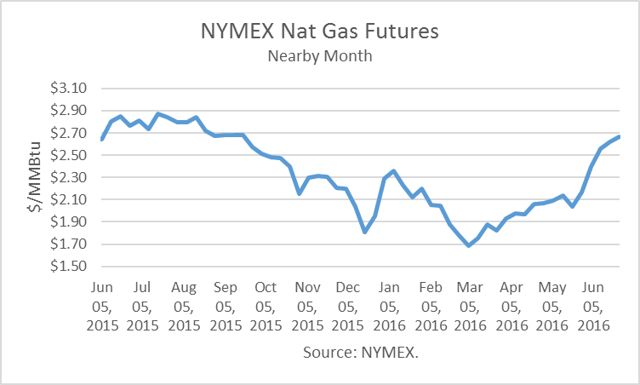 Click to enlarge
As I commented last week, "the meteoric trajectory of natural gas prices was due to short speculators covering their bets (buying)…don't expect them to push harder without more proof than forecasts of heat." Late Friday, a monster heat wave was developing unexpectedly over Southern California, creating broiling conditions throughout the Southwest. This drove cooling-degree-days (CDDs) way above normal, further supporting prices.
The impact on CDDs seemed to be confusing to some who think that most natural gas consumption in on the East Coast. While that is true for heating degree days (HDDs), it is not true for CDDs. The graph below shows the relative weights by use in each state for HDDs and CDDs.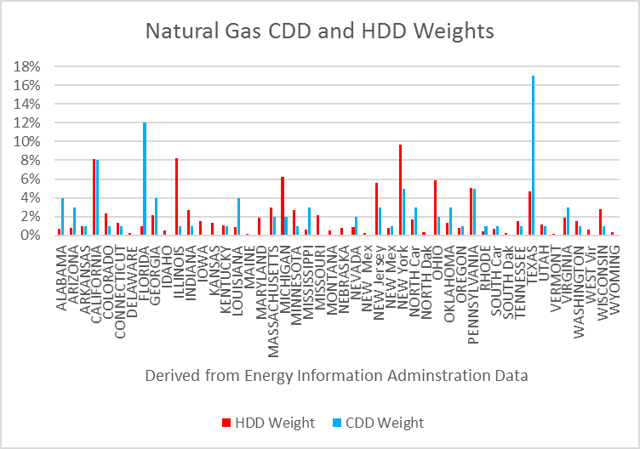 Click to enlarge
The largest state differences between HDDs and CDDs are Texas, Florida and New York. While Texas and Florida are very important for CDDs, they contribute much less demand for HDDs, being in the south. The opposite is true for New York and some other northern states, which use a lot more gas for heating v. cooling.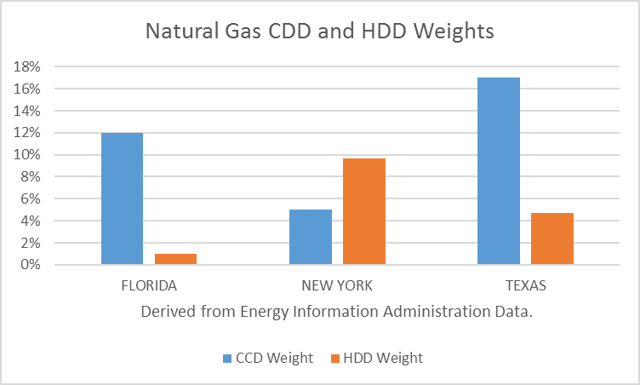 Click to enlarge
I pointed out that natural gas demand as a fuel for electric utilities powering air conditioners was about 45% of the U.S. total in the states experiencing the heat wave.
Commitments of Traders
Utilizing the Commodity Futures Trading Commission (CFTC) Commitments of Traders (NYSE:COT) reports for natural gas, I was able to assess how traders were re-positioning last week.
As a result of this surge in CDDs-related demand, there was additional short-covering (buying) by Spec and Hedge Shorts. Speculators also increased long bets. The four groups I follow - Hedgers (Producer/Merchant/Processor/User) Longs and Shorts, and Speculators (Money Managers) Longs and Shorts - are defined below:
Hedgers: A "producer/merchant/processor/user" is an entity that predominantly engages in the production, processing, packing or handling of a physical commodity and uses the futures markets to manage or hedge risks associated with those activities.
Speculators: A "money manager," for the purpose of this report, is a registered commodity trading advisor (CTA), a registered commodity pool operator (CPO) or an unregistered fund identified by CFTC. These traders are engaged in managing and conducting organized futures trading on behalf of clients.
The latest data are for the week ending June 21 st and include data for both options and futures combined for the New York Mercantile Exchange (NYMEX). All comments below pertain to each group as a whole, on balance, noting there are exceptions among individuals.
Findings
The Spec - Short group reversed (bought) 6,694 of its short contracts, reducing the total to 266,900. Since the end of May, this group has been primarily responsible for the vast majority of buying, propelling prices higher. It stands to reason they would close more because the fundamentals justified higher consumption than had been expected.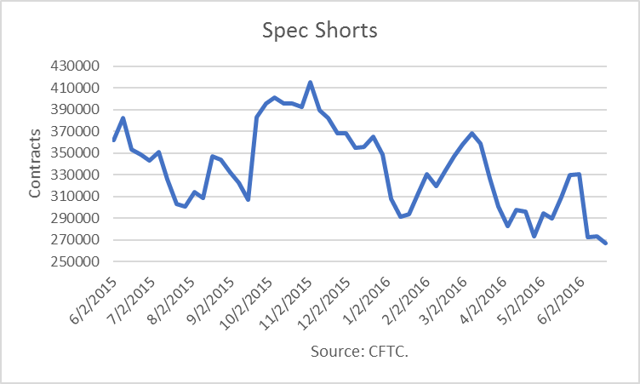 Click to enlarge
The Spec - Long group increased their bets. They bought 5,938 contracts, lengthening their positions to 236,380 lots. As I had indicated last week, this group has started to increase its length after the large price rise and so this group could be expected to sell to limit losses should prices retreat much.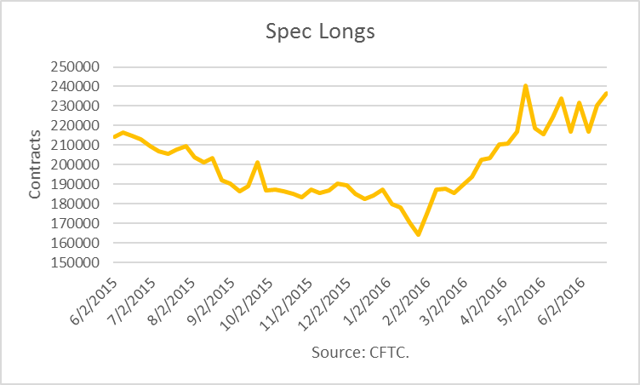 Click to enlarge
Long-Hedge buyers sold 5,651 contracts. They ended the week at 142,928 contracts. This shows that industry longs are thinking that prices may have risen enough for now and prefer to take profits.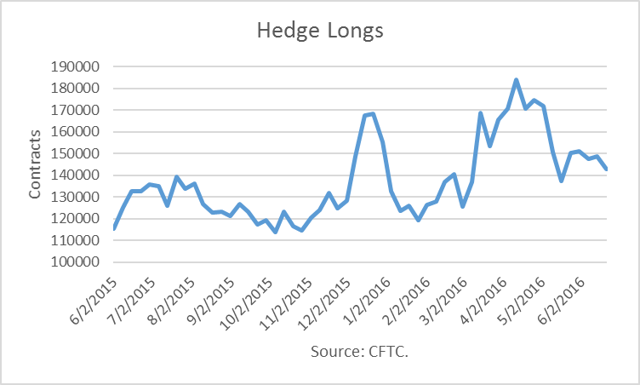 Click to enlarge
Finally, Short - Hedge operators reduced their hedges (buying) by 1,847 contracts. They had 136,790 contracts in place. They have covered more than 50,000 contracts since late April, which helped prices rise.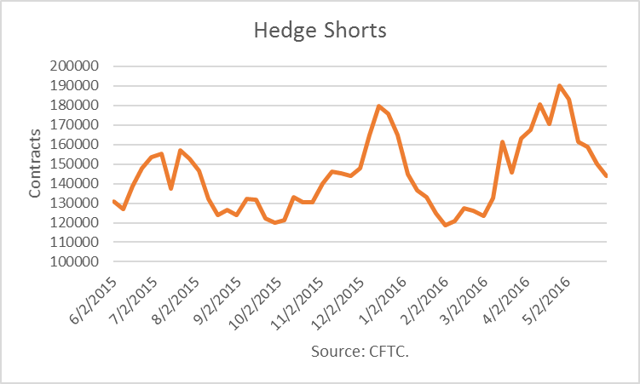 Click to enlarge
Conclusions
More heat pushed prices higher again last week. But as temperatures subsided, so did prices.
Unlike crude oil, natural gas prices will probably be less impacted by general financial market conditions since it responds to its own set of primarily domestic supply/demand fundamentals, as well as trader behavior, as noted above. At this juncture, any respite from higher than normal CDDs will probably cause the shorts to stop covering. And as noted, a drop in price would cause the recent spec longs losses, and probably turn them into sellers.
Disclosure: I/we have no positions in any stocks mentioned, and no plans to initiate any positions within the next 72 hours.
I wrote this article myself, and it expresses my own opinions. I am not receiving compensation for it (other than from Seeking Alpha). I have no business relationship with any company whose stock is mentioned in this article.