Click to enlarge
Source: New Senior Investment Group
After my first article on Omega Healthcare Investors (NYSE:OHI), many readers asked why the REIT, with its wonderful profitability, great business model, and fast growing dividend, was trading so cheaply. The answer has a lot to do with the greatest risk to Omega's investment thesis, one that nearly destroyed it in the past, and could potentially do so again in the future. Read on to find out what we can learn from Omega's painful history. More importantly, find out about one higher-yielding, faster growing, little known competitor who is actually immune from this risk.
The dark side of rising healthcare costs, and an aging population
Back in the late 1990's federal government spending on senior nursing facilities, or SNFs, was growing at 30% a year. This was because, prior to a change in how Medicare reimbursement policy, Medicare spending on SNFs was based on reported costs of care, which were growing rapidly. To put a stop to this alarming trend in 1997 Congress switched to a prospective payment, or PPS system, which provided for predetermined, fixed reimbursement. To help ease the industry into the new compensation regime, Congress added a temporary add-on payment, which was to last for five years.
However, the issues that had raised SNF operator costs continued and in October of 2002, when the Medicare add-on payment provision was set to expire, the industry had been experiencing years of falling profit margins.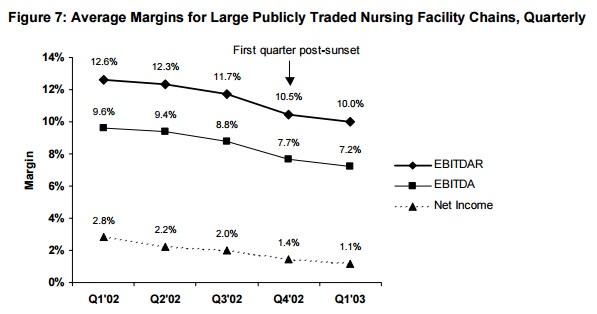 Source: Center for Medicare & Medicaid Service 2003 Market Update
In fact, between Q1 2002, and Q1 2003, thanks to this lower government spending on SNFs, as well as rising payroll and liability costs, profit margins in the industry shrank 60.7%, from 2.8%, to 1.1%. This set in motion a wave of SNF operator bankruptcies that threatened all medical REITs who relied on rents from such companies to generate stable adjusted funds from operations, or AFFO.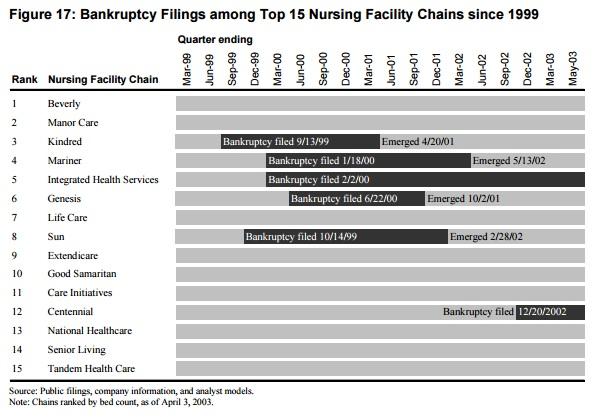 Source: Source: Center for Medicare & Medicaid Service 2003 Market Update
Part of the problem was with the differences between how Medicare and Medicaid operate in regards to SNFs. For example, Medicare reimbursement rates are generally higher than Medicaid but only covers the first 100 days of treatment. After that Medicaid, which is run by the states, takes over. However, unlike the Federal government, which is able to run deficits, many states have balanced budget requirements written into their constitutions. Thus when a recession hits, such as after the NASDAQ crash, states can be forced to slash Medicaid spending, including to SNF companies.
Because the industry is highly capital intensive its operators have to heavily rely on debt and equity markets to fund their growth. Due to their declining profits and the dire outlook for government SNF spending going forward, these capital markets slammed shut, turning a mere downturn into an crisis that led to the bankruptcies of some of the industry's largest companies.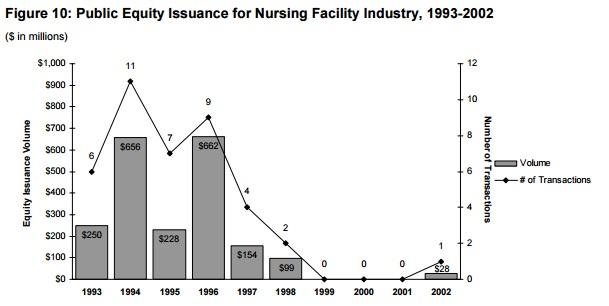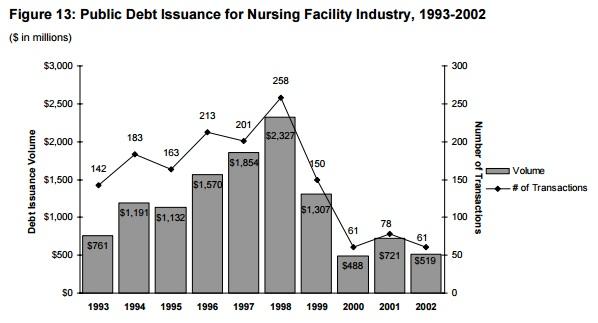 Source: Source: Center for Medicare & Medicaid Service 2003 Market Update
This included Genesis Healthcare (NYSE:GEN), which remains Omega's third largest customer today, responsible for 6.7% of its rent in Q1 2016.
Effects on Omega were devastating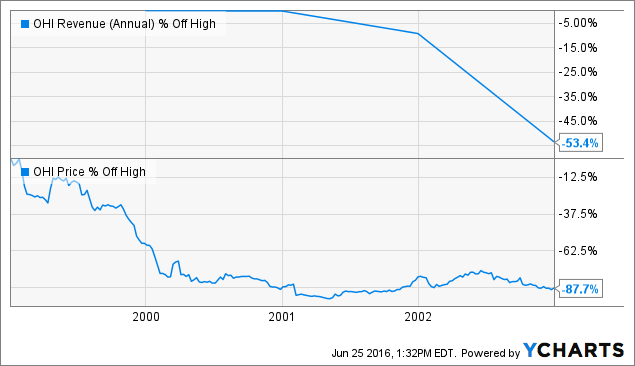 OHI Revenue (Annual) data by YCharts
As you can see Omega Investors faced terrible losses during these dark days in the SNF industry. Plunging revenues led to a 64% decline in its dividend between October 1999 and October 2000, before the payout was suspended entirely. It wasn't until October of 2003 that the dividend was reinstated, and even then at only 21.4% of its former high.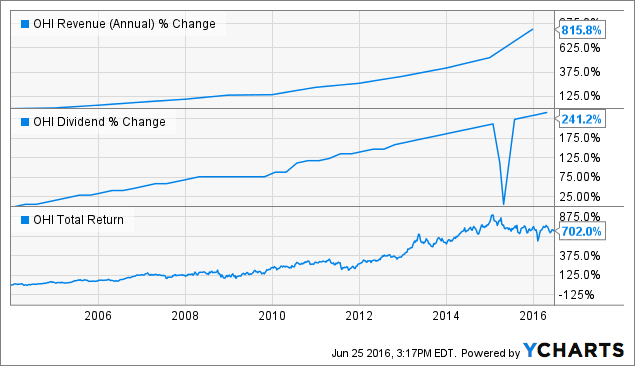 OHI Revenue (Annual) data by YCharts
Since those dark days the SNF Industry has recovered, having adapted to the new Medicare/Medicaid payment regime, which allowed Omega to grow its dividend by an impressive 11% CAGR. However, the fact is that, even Omega's most recent $0.58 per share quarterly dividend is still 17% lower than its 1999 high of $0.70 per share.
This shows the kind of long-term pain that SNF investors must potentially prepare for and explains why Omega's yield is so much higher than that of competitors such as Welltower (NYSE:HCN) and Ventas (NYSE:VTR), which are far less reliant on SNF customers for their cash flows.
The state of government funding of SNFs today
Anytime government healthcare spending programs undergo large changes the SNF industry faces the potential risk of falling margins. While not nearly as threatening as what happened in 2002, today the ACA and rise of Medicare Advantage still threatens the profitability of the industry. For example, according to the Agency for Research Care and Quality the average SNF stay paid for under Medicare Advantage is 26% shorter and results in 14% less revenue for SNF operators.
Those aren't the only issues facing the industry. For example, the ACA is currently running pilot programs to reduce SNF spending further, and the Department of Justice is investigating several SNF operators in regards to overcharging the government. This includes ManorCare, the major operator of HCP's (NYSE:HCP) SNF facilities, which is a major reason that medical REIT has decided to cut its losses and jettison its SNF portfolio in the form of a spin off.
According to the Fitch rating agency, these challenges are likely to continue indefinitely, and provide large growth challenges to some of the largest SNF managers. For instance, in Q1 Genesis Healthcare reported a 19% year-over-year decline in adjusted EBITDA and reduced guidance for the year by 21%.
Which is why SNF focused REITs such as Omega Healthcare have spent the years since the 2002-2003 crisis growing and diversifying their customer bases. However, given the likely challenges and threats facing the entire industry, Omega Investors need to realize that broad diversification can only do so much to protect cash flows. Which explains why the entire SNF REIT industry is trading at such attractive yields, especially relative to other REIT sectors.
Which brings me to a great potential long-term opportunity for dividend investors to consider. A SNF REIT whose cash flows are largely immune to the risks of shifting government healthcare spending.
A potentially great opportunity to avoid government funding risk
New Senior Investment Group (NYSE:SNR), is a new SNF focused REIT who derives 91% of its rent from private pay sources, and thus has minimal exposure to the vagaries of government healthcare policy. What's more New Senior Investment also offers the potential for fantastic current income, dividend growth, and total returns over the coming years.
| | | | | |
| --- | --- | --- | --- | --- |
| REIT | Yield | Q1 2016 AFFO Payout Ratio | 10 Year Projected Dividend Growth Rate | 10 Year Projected Total Return |
| New Senior Investment Group | 10.0% | 89.7% | 6.3% | 16.3% |
| Omega Health | 7.1% | 77.3% | 4.5% | 11.6% |
| Ventas | 4.2% | 77.7% | 3.6% | 7.8% |
| S&P 500 | 2.1% | 37.9% | 5.8% | 9.1% |
While long-term dividend growth forecasts should never be the primary reason for investing in a company (they are educated guesstimates at best), there are several reasons to be optimistic about New Senior's dividend prospects.
First, they are quickly growing their assets, having completed $1.3 billion in acquisitions in 2015. This included the $640 million purchase of 3,298 units from Holiday Retirement, which is 100% private pay. Better yet management has another $1.2 billion in properties in its potential growth pipeline.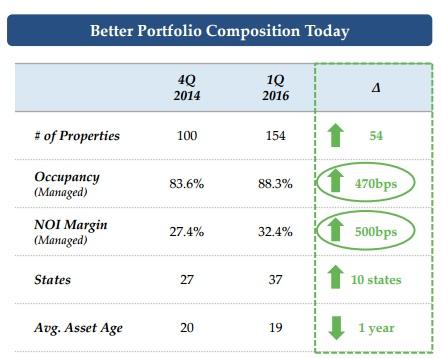 Source: New Senior Investment Group
Another beneficial factor is rising occupancy across its properties. Since its Q4 2014 IPO New Senior has seen occupancy rates rise 4.7%, including 0.9% in Q1 of 2016. This combination of property growth and rising rents led impressive AFFO per share growth of 32% year-over-year in the last quarter.
Finally, due to its low share price management has been using some of its cash flow to buy back shares, $30 million in January alone. In total management's $40 million in share repurchases have resulted in about $0.05 per share in AFFO accretion, which will help secure the current dividend, and potentially set the stage for strong payout growth going forward.
Risks to consider
When it comes to Omega Healthcare investors need to be aware that Medicare/Medicaid spending policy will always act as a major political risk. While management has done a lot in recent years to minimize this risk to its cash flow, the fact is that the REIT business model will always have a heavy reliance on external debt and equity markets. That in turn means that the potential for a liquidity crisis that threatens both Omega's growth prospects and short to medium-term dividend security is something you need to keep in mind.
| | | | | |
| --- | --- | --- | --- | --- |
| REIT | Debt/EBITDA | EBITDA/Interest | Debt/Equity | Average Debt Cost |
| New Senior Investment Group | 12.43 | 2.11 | 3.1 | 3.81% |
| Omega Healthcare | 6.20 | 3.73 | 1.14 | 4.27% |
| Ventas | 6.48 | 4.47 | 1.17 | 3.45% |
As for New Senior Investment Group the sky-high yield reflects some risks that result from the REIT's youth. For example, as you can see its balance sheet is much weaker than that of either more established SNF REITs like Omega, or medical REITs that have little SNF exposure, such as Ventas.
| | | | | | |
| --- | --- | --- | --- | --- | --- |
| REIT | Operating Margin | Net Margin | ROA | ROE | ROIC |
| New Senior Investment Group | 1.9% | -19.2% | -3.2% | -12.6% | -0.16% |
| Omega Healthcare | 51.3% | 28.8% | 3.6% | 8.7% | 6.77% |
| Ventas | 14.5% | 13.4% | 1.9% | 4.3% | 3.64% |
| Industry Average | 26.9% | 13.7% | 2.0% | 2.0% | NA |
In addition, because New Senior is still a small cap, with only 154 properties, it has much worse profitability than its larger peers, due to a lack of economies of scale enjoyed by larger competitors. Investors will want to ensure that these profitability metrics improve going forward to verify that New Senior's management has the talent to justify entrusting their hard, earned money.
Bottom line: The past doesn't always repeat itself but it often rhymes
Don't get me wrong, I remain incredibly bullish on Omega Healthcare's long-term future. In fact, I own it in my own portfolio with plans to add to my position in the coming months. However, investors need to know both the history of the SNF industry, and realize that there is good reason why Wall Street is offering its shares at such attractive yields; especially in such a low interest rate environment.
As for New Senior Investment Group, with its: strong growth prospects, high-yield, and little exposure to potentially volatile and changing government medical spending policy, it offers high risk income investors potentially some of the highest future total returns in the medical REIT industry. That being said, it comes with its own risks that investors need to be aware of.
Disclosure: I am/we are long OHI.
I wrote this article myself, and it expresses my own opinions. I am not receiving compensation for it (other than from Seeking Alpha). I have no business relationship with any company whose stock is mentioned in this article.