The week of June 27 marks a turnaround in the fortunes of Advanced Micro Devices (NYSE:AMD). The company is releasing its AMD RX 480 graphics card in US stores. In targeting the mainstream market, it should avoid Nvidia's (NASDAQ:NVDA) high-end graphics card user base. Although the stock already reflects a successful launch, chances are good AMD will exceed expectations.
RX 480 widely available
AMD will supply the Polaris card at 25 times that of Nvidia's GTX 1080, according to industry sources. Whereas Nvidia may claim it sold out of the Maxwell GTX, AMD will gain market share if consumers snap up the cheaper card. AMD's Polaris card is officially available on June 29. If chip reviewers and a few lucky consumers get the card before that, it might create even more buzz and boost pre-orders. Making the new GPU widely available contrasts to Nvidia's different, more profitable (per unit) approach. The company released a "founder's edition" of the GTX 1080 at prices costing at least $100 more. Nvidia had such limited supply that the lowest price for the GTX started at $859.
In the last few weeks, consumers caught wind that retailers were taking pre-orders for AMD's new card. The strong response led to AMD stocking a meaningful numbers at launch. Instead of gouging consumers, AMD is choosing instead to grow its market share. The more computers in the market powered by Polaris for graphics the higher the return for AMD investing more in the platform. AMD will have a strong rationale for fixing the inevitable bugs and instability issues that come with new product launches. Releasing updates to its graphics driver software quickly will benefit gamers and game developers alike. Providing support quickly for its platform will benefit everyone. This, in turn, will stoke higher the demand for AMD's graphics card.
Risks
Targeting the mainstream market is not without risk for AMD. The low price will attract a wider market and help AMD gain market share this year. GPUs are price sensitive. It makes little sense to buy a $600 graphics card to "future proof" the purchase, when a $200 card would suffice for today's PC games. If it turns out the $200 - $350 range is the sweet spot for pricing, AMD will benefit.
Technical improvements by AMD
AMD's RX 480 brings consumers a higher class in performance. Its last generation 390/390X card ran at a higher TDP and generated more heat. Consumers will not know what actual performance numbers for the RX 480 until the NDA (non-disclosure agreement) on media is lifted on June 29. Even if Polaris performed the same as a 390 card, sales will still grow due to the low price. Graphics driver updates will also lead to an improvement in performance.
AMD connects directly with consumers
On June 29, AMD will host an AMA ("Ask Me Anything") on Reddit. The first-ever giveaway and Q&A with the community is a turning point for AMD. Users may ask Robert Hallock, AMD's head of global technical marketing, questions of any kind. Anyone participating automatically gets entered in a contest to win a Polaris card. Given the reddit group has 584,300 members, AMD gets substantially strong marketing at very little cost.
Valuation and takeaway
AMD more than tripled this year. At a price / sales of one times, the stock is still cheaper than Nvidia's (where the P/S is 4.8 times).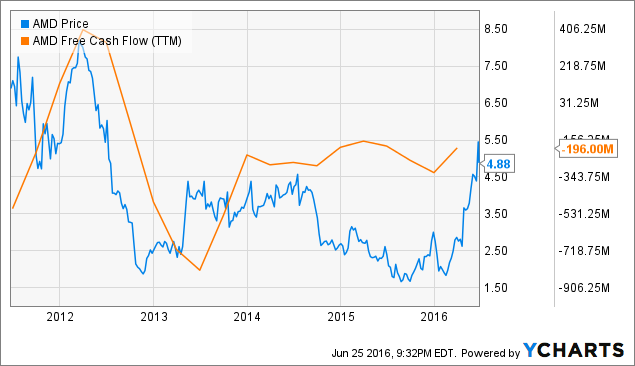 AMD will get closer to operating profitability if GPU sales do well. I am not changing my bullish case for the stock at this time. Instead, expect greater returns resuming later this year. Any tepid response following the initial launch or negative reviews on the RX 480 will hurt the share price in the near-term.
Please [+] Follow me for continued coverage on AMD's Polaris graphics card release and Zen this year. Click on my name next to my avatar at the top of the article. Thank you for reading.
Disclosure: I am/we are long AMD.
I wrote this article myself, and it expresses my own opinions. I am not receiving compensation for it (other than from Seeking Alpha). I have no business relationship with any company whose stock is mentioned in this article.