There's a grave misunderstanding, of sorts, in the oil market right now. In prior articles I've written on Seeking Alpha, I've had some readers comment that crude stocks aren't falling as quickly as they were in years past and that this will cause inventories to soar higher later this year, their interpretation, from my understanding, being that the imbalance is not disappearing quickly enough and that demand is unlikely to be as strong as some have been suggesting.
To some extent, these readers have a point but I do not believe that the picture is perfectly understood in that light. In what follows, I will discuss what I mean by this, what I anticipate later this year, and what all of this means for companies like Memorial Production Partners (NASDAQ:MEMP), Approach Resources (NASDAQ:AREX), and Legacy Reserves (NASDAQ:LGCY), as well as for those in the United States Oil ETF (NYSEARCA:USO) and other oil-related ETFs.
What I will not dispute
I, like the readers who have stated that oil inventories will rise later this year, also believe that an increase in inventories is highly probable but the question is where. In its latest report on the issue, the EIA (Energy Information Administration) stated that total crude plus petroleum product inventory levels this year should end, in the U.S., at about 1.300 billion barrels. This should be a decrease compared to the 1.320 billion estimated for the end of last year and is higher than 2017's forecast of 1.262 billion barrels. Crude inventories are also expected to drop this year, falling from 481.4 million barrels last year to 479.8 million this year, followed by 461.9 million in 2017.
On the international scale, however, the opposite is true. According to the organization, crude plus petroleum products of all OECD nations will average 3.099 billion barrels, an increase from 2015's 2.997 billion barrels and only slightly lower than the 3.111 billion barrels estimated for 2017. What this means is that, even as U.S. inventory levels begin falling nicely, oil inventories elsewhere will continue to build as the decline rates and drilling decreases in other nations will not have the same impact as they would here at home.
For the most part, I agree with this assertion but I would be surprised to see the picture play out so cleanly for the U.S. Absent major and unexpected changes for the oil markets, I believe that OPEC pricing (something that will be discussed in greater detail below) will cause the decreases in the U.S. to be smaller but for the overall OECD inventory levels to be more or less what the EIA suggests, implying that OECD nations outside of the U.S. will be stuck with less inventories than they otherwise would be.
Having said all of this, I do not think that we will actually see any sort of meaningful builds (assuming current conditions do not change materially) in the months to come. The reason for this is that oil production is continuing to fall and will probably continue doing so unless the rig count increases enough to offset such a decline. This could happen and is actually certain to if prices stay high enough for a long enough period of time, but only time will tell if that will be the case.
The oil rumor that's only half true
Now that I've gotten those thoughts off my chest, allow me to dig into the relevant numbers. The argument made by some of my readers is that since drops in the oil inventory level are lower than they have been in the past, we are due for an uptick in storage later this year once the summer driving season is over. However, as you can see in the graph below, the notion that stocks are falling at a slower pace than what is acceptable is misplaced.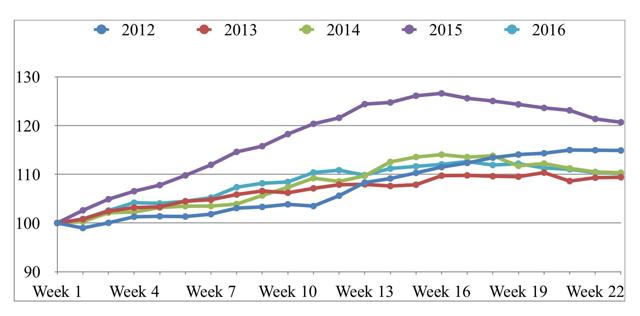 Click to enlarge
Certainly, over the past five years (as you can see where stocks are indexed at the start of the year at a measure of 100), stocks have dropped slower this year than they did in both 2014 and 2015 but 2012 and 2013 both saw even slower decreases. In the graph below, you can see what the trend has looked like over the past six weeks alone so that you can get a better glimpse of what is taking place right now.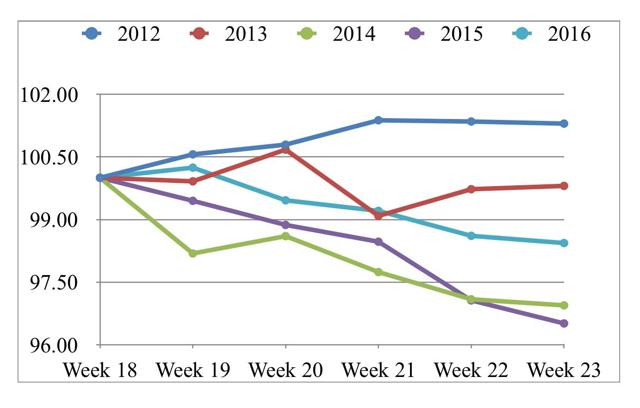 Click to enlarge
What is most interesting about this, in my opinion, is that, while production is certainly higher than it was back in 2012 and 2013, a major culprit here is actually the amount of oil being imported into this country. In the graph below, you can see that cumulative oil imports this year have come out to 179.25 million. This is 12.70 million barrels greater than the same period last year and is the second-highest of the five years (2012 is the highest at 204.44 million barrels) that I included in the data. In fact, if you break down the import data weekly and compare 2015 to 2016, in only two of the 23 weeks (or 8.6% of the time) do we see imports last year come in greater than they did this year so far.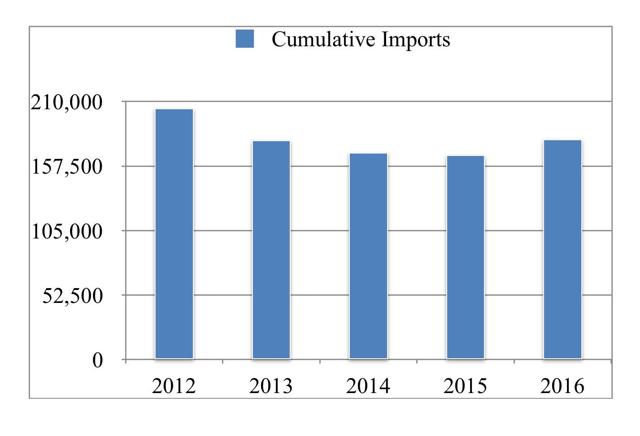 Click to enlarge
Over at least the past five years, oil imports to this country have been falling. This is due, I would imagine, to the fact that fracking has made production here far more realistic, a phenomenon that was aided meaningfully by high oil prices. Despite this trend downward, the share of imports attributable to OPEC have increased in 2016, rising to 68.5% of all imports to the U.S. as of March of this year, the highest year-over-year amount during the timeframe we are looking at. Even on an absolute basis, the amount of OPEC oil is growing, coming out to 3.42 million barrels per day, the highest since 2013 and the first year of the five in which imports to the U.S. from OPEC have risen. In the table below, you can see these details laid out.

Click to enlarge
What's interesting to me is why this appears to be the case. In the graph below, you can see the OPEC Reference Basket, which is the measure of the average price of crude sold by OPEC nations over time. During the first quarter of this year, the OPEC reference basket stood at $30.16 per barrel. This is, as you can see, the only first quarter over the past five years when this number was below WTI crude prices here in the U.S., which averaged $33.18 per barrel during the quarter.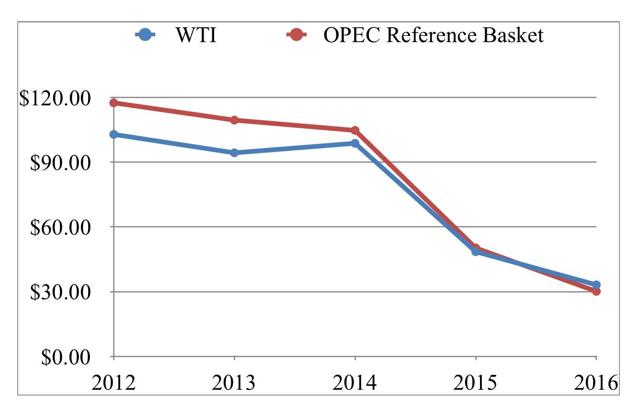 Click to enlarge
Perhaps a better way to assess this information is to look at the spread of the OPEC Reference Basket over the WTI price. In the graph below, you can see just that. Since 2013, the spread has been falling, declining from 1.160 to only 0.909 this year. This represents a falloff of 21.6% during this period and likely means that OPEC has been employing a strategy whereby it seeks to flood the U.S. with oil by undercutting domestic producers. This has been a well-known argument amongst oil bulls and bears alike but it has dramatic consequences for the oil market.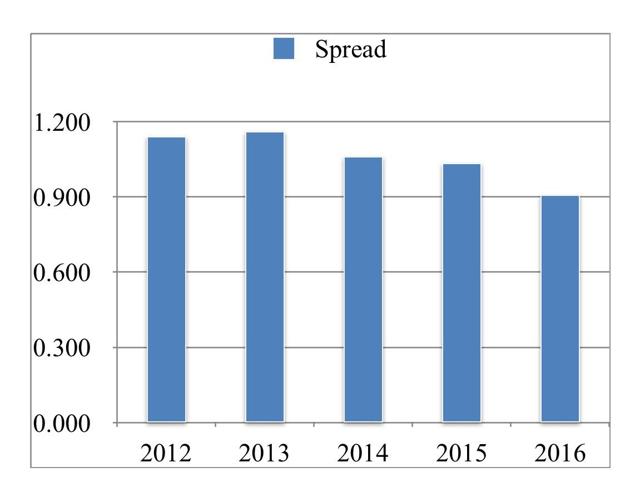 Click to enlarge
In the graph below, for instance, you can see a 2016 Revised figure this year that can be stacked up against 2012 through 2016. What this number seeks to show is what the image would look like for crude oil inventories in the U.S. if import levels were consistent with last year's numbers, a period during which OPEC was not trying to compete so much on price. Based on these findings, year-to-date inventory levels would actually have fallen quicker than any of the other years between 2012 and 2016 despite production levels that are still rather high (but falling).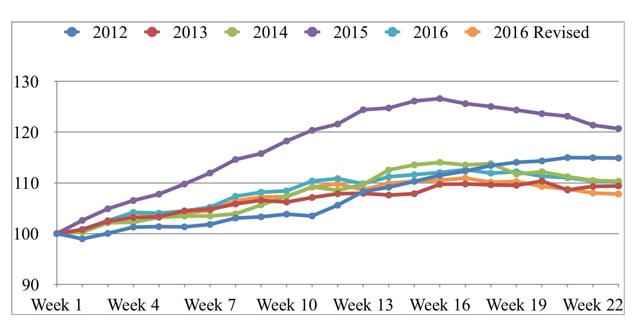 Click to enlarge
Takeaway
This brings me to my central argument, which is that if the EIA and other organizations like Golman Sachs (NYSE:GS) are correct about the supply/demand imbalance correcting right now (thanks to strong demand, supply outages, and naturally-falling production), we are not likely to see pain later this year in the form of rising inventories because the macro picture will not change; the same amount of oil being forecasted (subject to adjustments) will continue to be produced this year and demand will continue to follow more or less along with forecasts (though I suspect these will be raised later this year).
If OPEC continues to undercut U.S. producers, it is possible that some shift will take place whereby supplies in the U.S. could tick up but if this does happen then it will almost certainly be offset by lower supplies in other OECD nations. In an efficient market, such a shift would not matter all that much and the market would understand that if any such increase in inventories does exist and the reason for it is a change in the supply mix rather than in production, a crash in the price of crude would be unwarranted. Instead, we would have to deal with just a minor price adjustment.
Disclosure: I am/we are long AREX, MEMP, LGCY.
I wrote this article myself, and it expresses my own opinions. I am not receiving compensation for it (other than from Seeking Alpha). I have no business relationship with any company whose stock is mentioned in this article.
Additional disclosure: My LGCY position is in the form of preferred units, not common ones
Editor's Note: This article covers one or more stocks trading at less than $1 per share and/or with less than a $100 million market cap. Please be aware of the risks associated with these stocks.