Atwood Oceanics (NYSE: ATW) just announced that it is making a tender offer for up to $150 million aggregate principal amount of its outstanding 6.50% Senior Notes due 2020. Shares of Atwood Oceanics have enjoyed significant upside since February and are up 20% year-to-date.
The rising oil price has contributed to the upside of the company's shares, which, in my view, is directly correlated with the fact that Atwood Oceanics' shares are heavily shorted.
I previously argued that the lack of short positions was "responsible" for underperformance of Noble Corp. (NYSE: NE) shares. Atwood Oceanics' case is opposite-shorts are running for cover, pushing the stock price higher.
Let's look at the offer. Atwood Oceanics expects that total consideration per $1000 principal amount of notes will be $650-$750, a discount of 25%-35%.
In April, Atwood Oceanics repurchased $140.7 million aggregate principal amount of 2020 notes at an average discount of 34.8%. I expect that a discount of 30% - 35% could be reached. In this case, Atwood Oceanics will pay roughly $100 million for a $150 million principal amount of 2020 notes.
In the recent presentation, the company indicated that its liquidity stood at $660 million on June 1. Atwood Oceanics had $435 million available under the existing credit facility. Thus, the company has about $225 million of cash, in line with the amount of cash on the balance sheet at the end of the first quarter.
Atwood Oceanics still enjoys legacy contracts with favorable day rates, so it is able to generate positive cash flow. In this light, it makes perfect sense to buy existing bonds at a discount and reduce indebtedness.
Among drillers, Atwood Oceanics has a very favorable debt schedule. Apart from $490.7 million of 2020 notes, which will soon become $340.7 million of 2020 notes, the company has $960 million of debt on its credit facility.
Theoretically, after Atwood Oceanics buys all of its 2020 notes at a discount, it can continue operating with the indebtedness under the credit facility and perpetually push its maturity to the future. That's the strongest bullish argument for Atwood Oceanics.
However, debt was never a major problem for the company. The contract coverage is a concern.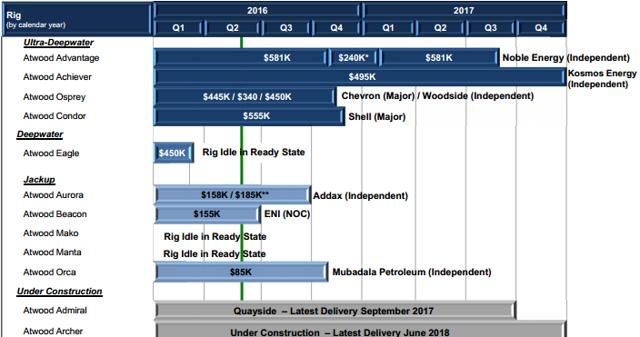 Click to enlarge
This is a slide from Atwood's recent presentation that shows the main bearish argument. Just 2 rigs are contracted past 2016. Newbuilds were ordered on speculation and have no contracts.
All drillers this year showed their ability to postpone newbuild deliveries, so the newbuild backlog is probably not a big concern for the company. However, the prospect of doing business with just two rigs is a serious concern.
Back at the end of 2015, it looked like the biggest problem would be the day rate for new contracts. Now the concern is whether there be any new contracts at all in 2016.
Consider reading recent Fun Trading's article where he describes how Transocean (NYSE: RIG) is reportedly outbid by a competitor offering a suicidal day rate. Transocean's bid was already very low, but the competition was ready to go beyond that.
It's not a healthy business practice and companies that take rates that make zero sense will ultimately become history, but this process takes time. So far, each milestone on the road for offshore drilling recovery took significantly more time than expected. I see no signs that this pattern will change in the future.
All in all, the short squeeze in Atwood Oceanics may continue if oil manages to overcome Brexit results and rallies again. The company is right in its decision to deal with the debt when it has the money. However, the contract situation remains tense and lack of contracts could ultimately lead to renewed pressure on the company's shares.
Disclosure: I/we have no positions in any stocks mentioned, and no plans to initiate any positions within the next 72 hours.
I wrote this article myself, and it expresses my own opinions. I am not receiving compensation for it (other than from Seeking Alpha). I have no business relationship with any company whose stock is mentioned in this article.
Additional disclosure: I may trade any of the abovementioned stocks.