A lot of negativity came to the surface over the LinkedIn (NYSE:LNKD) buyout by Microsoft (NASDAQ:MSFT) especially over the price which came in at $26.2 billion or $196 a share. Many Microsoft shareholders were angry with the eventual closing price which ended up being more than a 50% premium to the previous Friday close price.
What is ironic is that the company reported over $105 billion on its balance sheet this last March but yet it has decided to borrow the funds for tax reasons to complete the deal. Microsoft's balance sheet is strong and even with the new fresh debt to land on the balance sheet in the near term, the company's debt to equity ratio will still be under 1 which illustrates the strong equity Microsoft has on its balance sheet.
The question remains though whether this deal will provide enough synergies and data connections to ensure the purchase price was warranted. I believe that over time it will as the LinkedIn platform should turn out to be a perfect fit for Microsoft's suite of products. On a side note, this deal comes at a nice time for LinkedIn.
Firstly its stock collapsed by 90 handles in February when the company announced reduced guidance going forward. LinkedIn was a company that grew its top line by 45% in 2014 and 34% last quarter. Expectations are we will see an annual revenue growth rate of 24.5% this year and 19.6% in 2017. However slowing sales is only one side of the story.
The other side is its member growth which hasn't slows at all. This had to be a key element before Microsoft put pen to paper.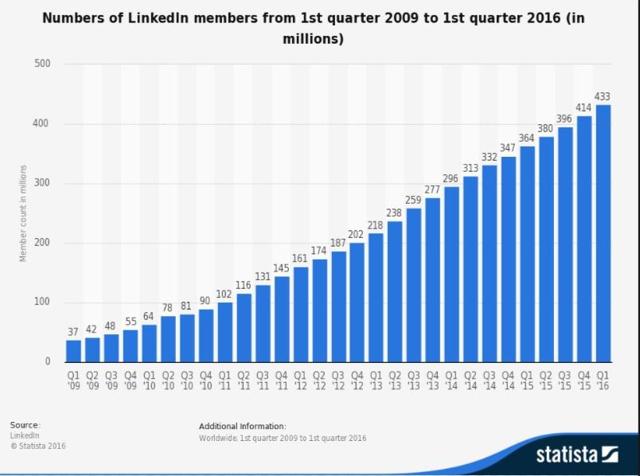 Click to enlarge
The chart demonstrates that it wasn't user growth but revenue growth the social media company was struggling with and hopes Microsoft can provide big leadership regarding the monetization of its user-base.
Now visualize this. Business professionals are more and more migrating their practices online to the cloud. Microsoft has one of the best cloud portfolios out there despite the growing competition in this area. Now many of Microsoft's products you would think would be an excellent fit for the 430 million+ users on LinkedIn's database because of the business orientation. Some analysts are citing Facebook (NASDAQ:FB) as a big risk in this area but personally I don't see it. Why? Because many Facebook users accounts differ in a large way to those same users' accounts on LinkedIn.
Look at this from the eye of the user. Even compare an individual's account on Facebook to his or her well crafted account on LinkedIn. The important word here is "crafted". Many users on LinkedIn (especially employees) have their profiles scripted like a resume in the hope they will be able to attract prospective employers and/or opportunities. They do not have this goal on Facebook. Therefore their profiles would look like two different people where two different advertising agencies could advertise completely different ads.
Therefore the more valuable and interactive this platform gets, the more you should see users creating profiles on the platform. Microsoft knows there is ample room for user growth especially in China (where users are growing at a rapid rate). Could you say the same for Twitter (NYSE:TWTR) where MAU growth has leveled off significantly in recent quarters? It's questionable, to say the least.
User growth is only one side of the argument. Why? Because if users are going to be using more Microsoft products along with Talent Solutions, Marketing Solutions and Premium subscriptions inside of the platform, engagement levels should increase (users should be spending more time on the site every day). This is the real metric Microsoft will be focusing on - with daily active users slightly over 100 million - and where the big opportunity lies. Why? Because LinkedIn since its inception has not been good at converting its online traffic into revenue. This is where Microsoft comes in as the social media platform will provide a highly targeted platform where it will sell ads to advertisers and marketers.
To sum up, many Microsoft shareholders are lamenting the fact that the price of $26.2 billion of $196 a share was far too high for a company like LinkedIn which is undergoing slowing revenue growth. However traffic is king online and LinkedIn has plenty of it which most definitely can be monetized much better. Is the deal a risk? Most definitely yes but the combination of these two companies should create plenty of synergies that increase engagement levels over time. If user growth can re-accelerate and engagement levels improve, then revenue growth will undoubtedly come back and Microsoft knows this. We will see how things play out going forward.
I'm going to be adding a few good dividend and growth stocks to the Elevation Portfolio over the next several weeks, when I see value. In order to ensure that income is brought in every month, it's imperative that they are not correlated and all don't have similar valuations. You can follow along by pressing the "Follow" button above.
Disclosure: I/we have no positions in any stocks mentioned, and no plans to initiate any positions within the next 72 hours.
I wrote this article myself, and it expresses my own opinions. I am not receiving compensation for it (other than from Seeking Alpha). I have no business relationship with any company whose stock is mentioned in this article.