I've been bullish on gold this year and made gold miners a huge part of my portfolio. The most recent article I wrote about gold (NYSEARCA:GLD) was published on the 9th of May. Currently, gold is slightly higher, mainly because of the sharp rally on Friday.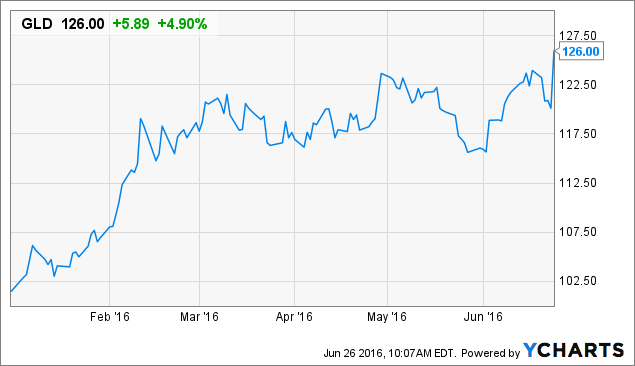 The chart below shows the comparison between the gold price and the gold/silver ratio. This ratio takes factors like economic growth, inflation and the debt situation into account. A ratio peak at relatively 'high' levels indicates that gold is about to have a rally. As you can see, this has almost always been the case.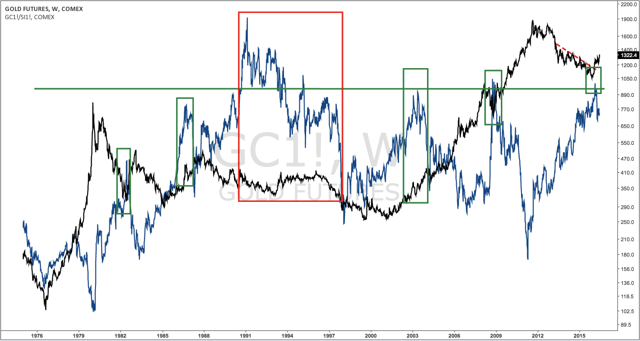 Click to enlarge
Based on this graph, it looks like gold is about to jump higher over the coming months or even years.
Another important factor is inflation and safety. To display both, I use inflation protected securities (iShares TIP Bonds ETF (NYSEARCA:TIP)). These bonds are backed by the US government and inflation protected.
Tips are highly correlated to gold and have rallied on a YTD basis.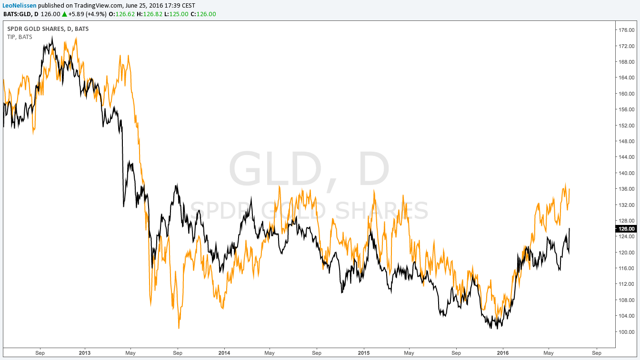 Click to enlarge
In addition to everything I mentioned above, I also look at the US Dollar. At this point, the US does not back a gold rally.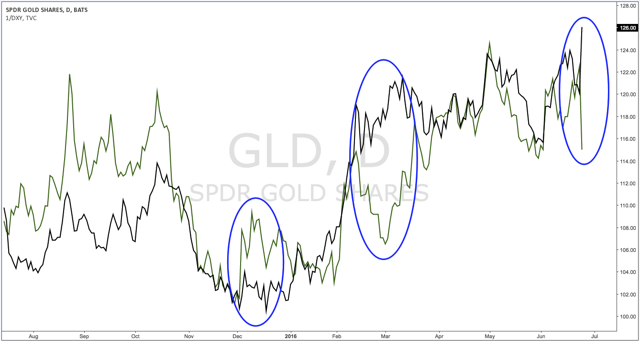 Click to enlarge
I believe however, that gold is going to rally nonetheless. Based on the macro economical circumstances, it is highly likely that gold and USD are going to disconnect.
This is mainly because the global economy is slowing. Even in the US, things are starting to look ugly. Retail sales, industrial production, building permits and durable goods are either contracting or slowing. All of this makes it even more unlikely that the Fed is going to hike rates in the near future without starting a financial crisis.
Even the Bank of Japan is unable to get the Yen down.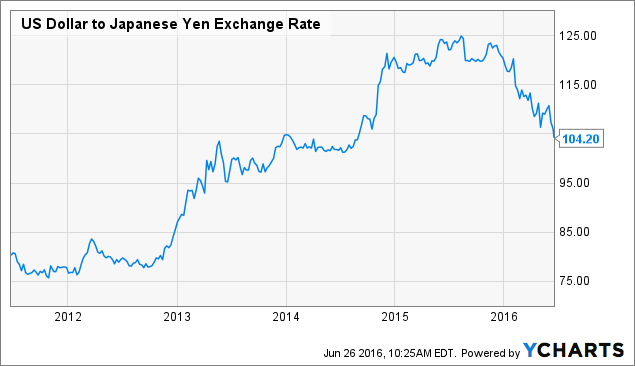 US Dollar to Japanese Yen Exchange Rate data by YCharts
In an environment, where global growth is slowing and central banks have lost the fight, I am happy to own gold related trades. And I haven't even mentioned the uncertainty that comes along with a Brexit.
Disclosure: I/we have no positions in any stocks mentioned, and no plans to initiate any positions within the next 72 hours.
I wrote this article myself, and it expresses my own opinions. I am not receiving compensation for it (other than from Seeking Alpha). I have no business relationship with any company whose stock is mentioned in this article.
Additional disclosure: I am long IAG and AUY