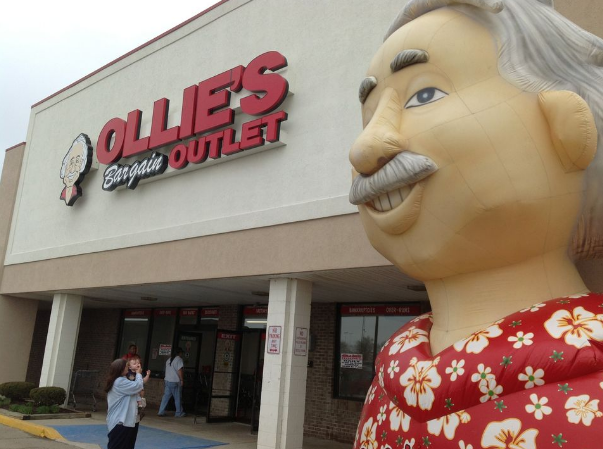 A few weeks ago I wrote an article about off-price retailer Ollie's (NASDAQ:OLLI) wherein I posited that even at 31 times earnings, the stock was still a buy. As a value investor, that's difficult for me to say but there is one thing that made me continue to like the shares despite the big run-up since I first recommended them, margins. Ollie's is absolutely fabulous at growing its margins, and in this article, I'll take a deeper look at where they've come from and where they could be headed as a way to bolster the bull case.
I'll be using data from Morningstar to populate the charts below.
We'll first take a look at gross margins, the widely publicized and critical starting point for a company's ultimate profitability. Since Ollie's hasn't been public for long, we've only got data back to 2013 but it is charted below.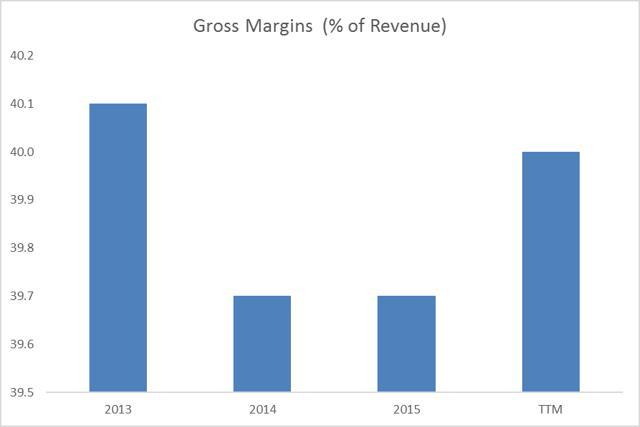 Click to enlarge
We can see that Ollie's sees its gross margins move around a bit, but at the same time, it is always very close to 40% of revenue. Considering OLLI's model of off-price merchandise with a shifting assortment, those margins are actually quite good. And while I'd like to see some leverage on its gross margins over time, gains here will likely be hard-fought.
The reason is that Ollie's is wed to its low or off-price strategy; it doesn't have a business model without it. That means pricing power that other retailers may have on the other end of the spectrum - like a luxury goods retailer - are off the table. That source of gross margin expansion is a valuable one but it will never be with Ollie's. That means the only real source of gross margin expansion that is possible is through supply chain efficiencies and the good news is that there is a long runway for just that going forward.
Ollie's is still very much in rapid growth mode, and while that means high levels of top line increases are coming for a while longer, it also means the supply chain will become more and more efficient as well. Things like distribution centers are expensive to setup so when a chain is still growing, that investment can take a toll on operating efficiencies. But with Ollie's, it will see greater and greater supply chain efficiencies of many kinds as it opens more stores and gets closer to its mature state. Gains, as I said, will likely be moderate but if, for instance, Ollie's can get 200 bps of efficiencies out of its supply chain over time, that money flows directly to operating earnings and, as we'll see, 200 bps is more than meaningful. There are lots of ways to see efficiencies in the supply chain, and while they're all small on their own, in concert, the results can be terrific.
The other component of operating margins - SG&A costs - is charted below for the same period and the story here is even more interesting.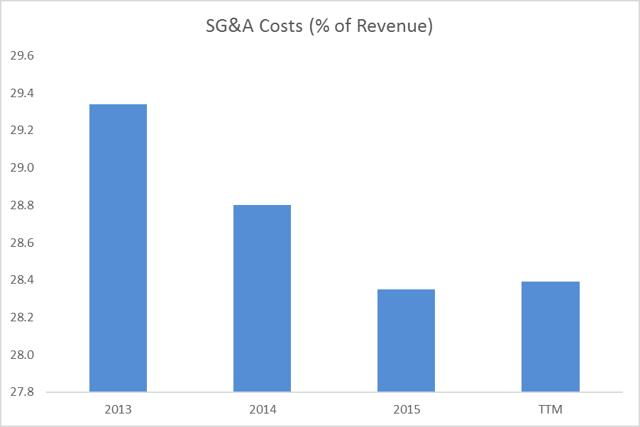 Click to enlarge
OLLI's SG&A costs are roughly in line with other general merchandise retailers near 30% but as we can see, the trend is much rosier here. Ollie's has already seen some significant leverage on its SG&A costs even though it is still growing rapidly and - importantly - has come public in this time frame. Becoming a public company is very expensive and in particular, in the first year or two of actually being public. SG&A costs soar during these times to levels that eventually come down and despite this, Ollie's has managed to see leverage on its back office costs.
SG&A has come down 100 bps in two years despite the company going public in that span, and as the store count and comp sales both continue to grow, we'll see more and more leverage on these fixed costs. I mentioned there was likely limited upside for gross margins due to the model Ollie's uses, but for SG&A, there is significantly more room for expansion. We could easily see another 300 bps or more of leverage on the company's SG&A costs over time and that is money the proverbial bank.
The net of these two numbers gives us operating margins, which I've charted below.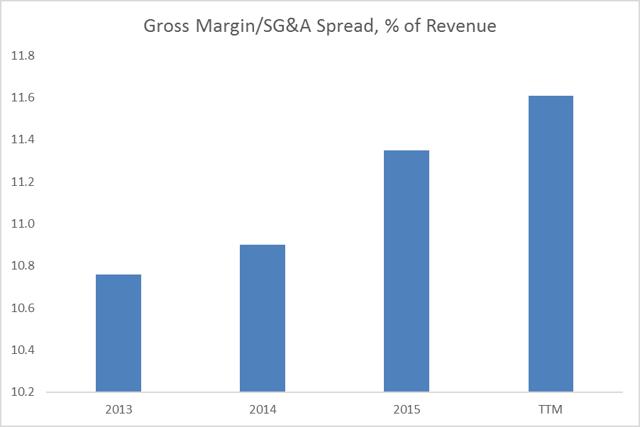 Click to enlarge
We can see that despite roughly flat gross margins, Ollie's has seen strong growth in its operating margins. The TTM number is about 80 bps higher than it was three years ago, and while I keep coming back to it, remember that Ollie's will see additional leverage from the lack of IPO costs in the coming years. And as the store base grows and comp sales move higher, we'll see more and more leverage on things like back office costs and payroll for store personnel. Those items are largely fixed so comp sales leverage in particular is huge.
I love the Ollie's story for a bunch of reasons, but the only reason I'm willing to pay 31 times earnings for it is because of its margin growth potential. For where Ollie's is in its lifecycle and the kind of model it employs, it is superbly profitable. And even if Ollie's follows a normal trajectory for operating margins as it "grows up" as a retailer, we should see something like 16% or higher operating margins over time. That means there is tremendous expansion left in its profitability and that is why shares are worth 31 times earnings. Margin expansion should be pretty strong this year as the company gets away from costs related to going public and after that, strong and steady gains are on the menu. I love the Ollie's story and it is because of its margin growth potential.
Disclosure: I am/we are long OLLI.
I wrote this article myself, and it expresses my own opinions. I am not receiving compensation for it (other than from Seeking Alpha). I have no business relationship with any company whose stock is mentioned in this article.