Envestnet (NYSE:ENV) is a top provider of software used by investment managers and financial planners. The company projected that its total addressable market includes over 265,000 advisors and more than $11 trillion in assets. But the company at the moment is offering its products to only 18% of its addressable market or about 49,000 advisors with more than $880 billion in assets.
Due to the quality and integration of its products, Envestnet has a competitive advantage. Indeed, the company is trying to develop into a one-stop shop for wealth managers, with services which include financial planning, trading, portfolio balancing, performance analysis, billing, client portals, and customer relationship management software, and other services. In addition, Envestnet's Yodlee acquisition is doing well and has been helping to increase its value proposition.
The company is clearly expanding with a PEG of 1.75, and seems to be fairly valued with a forward P/E of 24.83 which compares with the sector mean of 25.86. Recently the company received an upgrade from UBS. The firm issued a Buy rating and hiked the target price on the stock from $33 to $44, which represents a 23% upside from the current price of around $36
The stock fell from highs of about $57 last year due to the surprising highly dilutive acquisition of Yodlee; however, the 30% drop was an overreaction from Institutional traders who think the company overpaid for Yodlee. Reasons why the acquisition was a brilliant move include: the company now can have all of its business units shift to the in-house brand; it helped differentiate Envestnet's platform; it was a good use for the $200 million that was sitting in the bank; and it provided with a lot of clients the company was having trouble gaining access to in the past like Citigroup, Bank of America, JPMorgan Chase and HSBC.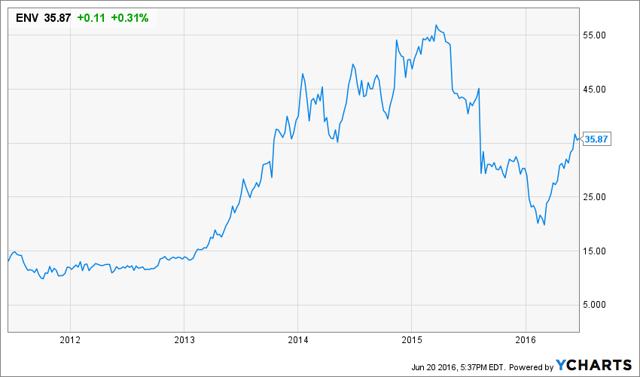 With a phenomenal huge growth opportunity, the future of Envestnet seems to hold plenty of promises. And because it is still a small cap stock (market cap of $1.4 billion) so does the stock. As we see more and more managers continue to migrate to its platform, we expect the stock to continue rising and reward investors.
Disclosure: I/we have no positions in any stocks mentioned, and no plans to initiate any positions within the next 72 hours.
I wrote this article myself, and it expresses my own opinions. I am not receiving compensation for it (other than from Seeking Alpha). I have no business relationship with any company whose stock is mentioned in this article.