Recently, I've been interested in dividend payers from the gaming industry. After looking into Las Vegas Sands (NYSE:LVS), which has an attractive dividend although earnings have been under pressure, I wondered if there were other similar properties with equally large, but perhaps safer, dividends. Gaming and Leisure Properties (NASDAQ:GLPI), with its 6.5% yield, seems like it might fit the bill. This REIT focuses on properties that are leased to gaming operators. Although not nearly as large as LVS, with only a $4 billion market cap, GLPI has a yield that might be just as good, if not better. I bought into LVS, but I liked what I found about GLPI, and it could be a nice addition to a REIT sector of a portfolio.
Point me Toward the Yield
GLPI has only been a REIT since 2014, but its dividend yield is still quite respectable. Aside from a special dividend of $11.84 in 2014 as part of its conversion to a REIT, and another special dividend later in 2014 of $0.40, the company has been paying consistently rising regular dividends. Quarterly dividends have risen from $0.52/share in 2014 to the current $0.56, with another increase projected by management for Q3 2016 to $0.60.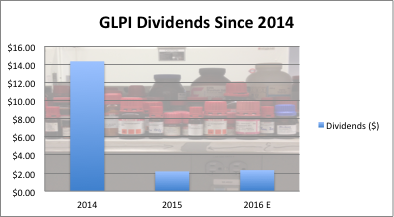 Source: GLPI
Having declared and returned a total of $17.62/share since declaring REIT status, investors have already collected quite the payout. But because of the projected dividend increase, new shareholders stand to keep raking in those dividend chips.
Funds from Operations
Although GLPI doesn't have a long track record as a REIT, it still generated decent FFO (funds from operations) and AFFO (adjusted funds from operations). Although GLPI uses AFFO to determine its dividend payment capability, we'll look at both FFO and AFFO just for comparison. Including both major segments, TRS Properties and GLP Capital, AFFO has been on an upward trajectory. Additionally, 2015 dividend coverage was 80% of AFFO, while projected 2016 coverage is slightly better at 79%.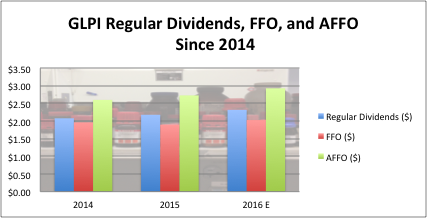 Source: GLPI
GLPI's AFFO is adjusted from FFO by adding in straight line rent adjustments, other depreciation items, amortization and debt issuance costs, and stock-based compensation, while subtracting maintenance capex. Because straight line rent adjustment is significant, AFFO for GLPI is often larger than FFO. This payout level gives GLPI some room to maintain the payout while still having funds to pay down debt or grow its portfolio.
Why the Share Count Increase?
From the end of 2015 to Q1 2016, the company's basic shares outstanding increased from 114 million to roughly 177 million. This is primarily because of GLPI's merger with and acquisition of the Pinnacle properties during Q2. Although the company's share count grew to help fund this merger, the new properties are expected to materially increase AFFO. This increase in AFFO is largely responsible for the dividend increase planned for Q3 2016.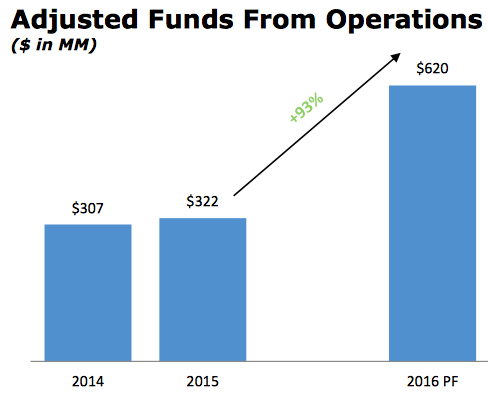 Source: GLPI
Checking on Debt
GLPI's dividend seems to be on a stable ground, pending no surprises on the debt front. As of the end of Q1 2016, GLPI had nearly $2.5 billion in long-term debt. There are no maturities due until 2018, although the $998 million coming due that year is significant. However, GLPI's projected AFFO for 2016 will reach $620 million, and growth is likely to continue. It is feasible that GLPI would produce enough AFFO by 2018 that it would be able to cover a significant portion of maturities, while taking on additional debt to cover any remainder.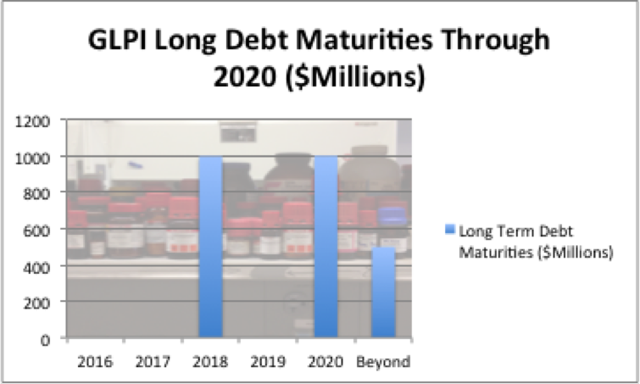 Click to enlarge
Source: GLPI
It might be a stretch for the company to cover both maturities and dividends by 2018, however, without taking on additional debt. In one particular scenario, assuming from these numbers that GLPI saves all AFFO beyond its dividend coverage for 2016 and 2017, it might be able to pile up enough cash to cover a greater portion of the 2018 maturities, excluding current cash and cash equivalents. As projected above, 2016 AFFO will reach roughly $620 million. Adjusting for share count variations, the company will pay out about $415 million in dividends, leaving a hypothetical $205 million. For an estimated 2017, it will be assumed that AFFO grows by 7.3% (rate of AFFO growth from 2015 to 2016), reaching $665 million. With no dividend increase in 2017, the company would again pay out $415 million. Excess 2017 coverage would be $260 million. Then this excess coverage cash would total $465 million by 2018. If AFFO again grows by 7.3%, it could be expected that GLPI's 2018 AFFO would be $714 million. Disregarding any 2018 dividends, this cash stockpile of almost $1 billion would definitely be enough to cover the 2018 maturities, as well as pay a smaller dividend.
GLPI's Projected Cash Growth Through 2018
| | | | |
| --- | --- | --- | --- |
| Year | AFFO ($Million) | Dividends ($Million) | Generated Cash ($Million) |
| 2016 | 620 | 415 | 205 |
| 2017 | 665 | 415 | 455 |
| 2018 | 714 | 171 | 998 |
Source: GLPI and Author's Projections
However, if GLPI proceeds this way by reducing the dividend in order to cover debt maturities, it is likely that the stock price would suffer significant reductions. The reduced dividend payment would be roughly a 60% cut from the previous year's level. While there isn't a reliable way to estimate the impact on the stock's price, other stock price behaviors might be useful as a gauge. On March 19th of 2015, Wheeler Real Estate Investment Trust (NASDAQ:WHLR) announced that its dividend would be cut 50% from an annualized $0.42/share to an annualized $0.21/share. In the aftermath of this announcement, the company's share price fell nearly 30% from $3.28 to $2.34/share. Based on this behavior, a 60% dividend cut by GLPI might send the share price plummeting between 30 and 35%. The temporary nature of this cut being the payment of debt maturities might lessen the impact perhaps to only a 20% decrease, but a potentially significant decrease nonetheless. To avoid a possibly precipitous price decline, it might be advantageous for GLPI to either issue additional shares or take on some additional debt to cover both maturities and dividends. Regardless of how GLPI determines its debt management, the company's liquidity appears adequate in the near term to cover necessary expenses.
Final Thoughts
GLPI's payout seems stable, while the debt load appears manageable for the time. Additionally, GLPI trades at only 12.6 times 2015 earnings.
Although the share count rose significantly to help aid in its recent acquisition, GLPI's AFFO and subsequently dividend will be growing because of the new properties. With a payout ratio under 80% of AFFO, GLPI's dividend appears to leave room to take care of expansion or debt. Although GLPI seems to be a decent play on gaming properties, I won't be buying right now: I placed my bet on LVS for the time being. However, if there were room in my REIT portfolio later this year, GLPI could be a good fit.
Author's Note:
I am on the lookout for high, yet sustainable dividends. If you're looking for the same, please hit the "Follow" button by my name at the top of the article, and hopefully you'll get some good ideas for value and income stocks.
Disclosure: I am/we are long LVS.
I wrote this article myself, and it expresses my own opinions. I am not receiving compensation for it (other than from Seeking Alpha). I have no business relationship with any company whose stock is mentioned in this article.
Additional disclosure: I am neither a certified investment advisor nor a certified tax professional, and do not claim to be either. The data presented here is for informational purposes only and is not meant to serve as a buy or sell recommendation. Investors and potential investors should do their own research and make their own decisions. In the event that an investor or potential investor does not feel qualified to make such a buy or sell decision on their own, they should consult a certified advisor that they trust or feel comfortable with. Investing may involve losses, including potential loss of principal. The author relies on external links for some information that may have appeared on this perspective. These external links, although believed to be accurate, have not been verified independently. Therefore the author is unable to guarantee their accuracy.