One of the reasons that our Durable Income Portfolio has generated exceptional returns in 2016 is because we have maintained discipline, by not investing heavily in the lodging sector. In fact, we have just one REIT (3% exposure) in the portfolio: Chatham Lodging (NYSE:CLDT).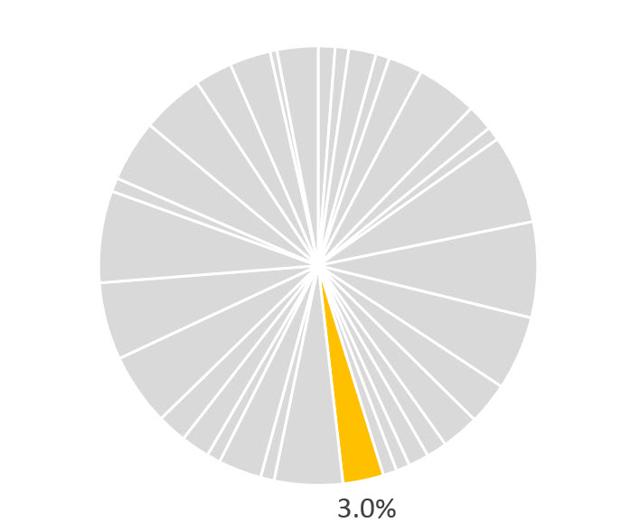 Click to enlarge
Up until now, we have resisted the temptation to jump into the deeply discounted Lodging REIT sector. There is no question that the bargains are widespread, and we have maintained caution and become more defensive in nature as fundamentals have continued to decelerate due to a slowdown in business demand and reduced travel due to the strong dollar.
Year to date, Lodging REITs have underperformed the RMS REIT Index by 740 bps, and we have avoided the sector, for the most part.

Click to enlarge
As a frequent traveler, I have also become cognizant of Airbnb (Private:AIRB). A few weeks ago, I stayed at an Airbnb unit that overlooked Times Square. I paid $150 per night for one room in the 3-bedroom apartment and the host was likely paying over $8,000 per month. The apartment had a 2,000 square foot balcony and as I was relaxing (after a long day at REIT Week), I thought to myself, "what a bargain."
I'm sure most of the others at REIT Week were staying at The Waldorf Astoria where room rates are around $600 nightly. I thought to myself, "I saved myself $500 a night and I have a balcony overlooking Times Square." All good things come to an end, right?
Airbnb is expected to see increased threats as more cities institute greater regulations and restrictions on the illegal short-term rental market. I am fairly certain that the $150 per night unit that I stayed at was illegal. Here's a summary of some of the recent activity in Chicago, Los Angeles, New York, and San Francisco.
Chicago: The Chicago City Council successfully passed legislation backed by Mayor Rahm Emanuel that seeks to curb the proliferation of unregulated short-term rentals across the city. The final vote was 43-7. Chicago's new ordinance is now among the strongest in the nation and holds the short-term rental platforms accountable for regular reporting requirements and strict density caps based on the type of multi-unit building in which units are located.
Neighborhoods dominated by single family homes will also have an opt-out process available to them should they wish to completely ban short-term rentals in certain areas. The legislation also includes a first-ever four percent surtax on short-term rentals (over and above lodging taxes) to fund homelessness initiatives and enforcement activities.
Los Angeles: The Los Angeles City Attorney is filing suit against property owners for allegedly unlawfully converting and operating rent stabilized apartment buildings as short-term rentals or hotels. This is another significant step in making the case for strong legislation and the importance of enforcement. Click HERE for today's news on this action.
New York: The New York State Hospitality and Tourism Association, Hotel Association of New York City, and ShareBetter have been pushing for legislation that would ban illegal short-term rental ads on Airbnb. With their state legislative session set to come to a close this week, this bill has gained much momentum in recent days. Click HERE for the latest media.
San Francisco: Airbnb launches campaign to ease registration requirements for SF hosts and SF legislators approve tougher rules for Airbnb
Seattle: Can't find a home in Seattle? Airbnb rentals may be to blame
So much for the $150 per night bargain. I'm not calling it the end of Airbnb, but it does appear that the regulations being imposed will restrict growth and that means I will likely have more difficulty finding great bargains when I'm traveling.
But, I'm still attracted to the bargains in the Lodging REIT sector, and I'm getting closer and closer to checking into one of my favorites. It's Time To Take a closer look at Pebblebrook.
Peblebrook Has Not Seen A Recession Yet
Most hotel landlords were hit hard during the Great Recession; however, Pebblebrook Hotel Trust (NYSE: PEB) dodged the disaster, as the Maryland-based Hotel REIT launched its IPO at the end of 2009.
The timing could not have been better (for PEB), as the Great Recession had a major impact on the performance of hotels, with the average hotel's cash flow declining by 50% between 2008 and early 2010.
But the company took advantage of the financial collapse by raising $400 million in an IPO that has led to 35 hotels (8,111 guest rooms) and over $2.68 billion of invested capital. Since the IPO, PEB has acquired 37 properties (sold 2):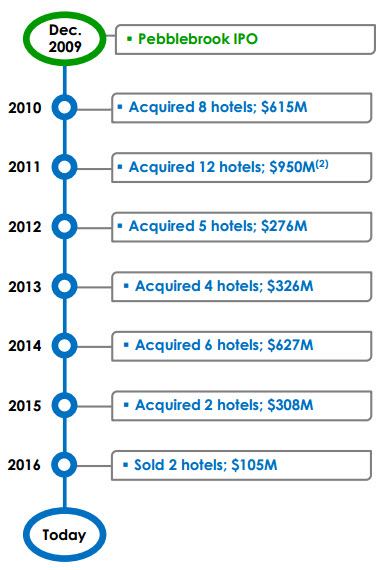 It's important to note that PEB has "no legacy assets," and the company was able to acquire hotels operating significantly below comparable operating margins. This presents substantial margin expansion opportunities.
PEB's hotels are located in major U.S. gateway cities like San Francisco, West Los Angeles, Seattle, Portland, New York, Boston, Washington, D.C., and Miami. Currently, the company has properties in 14 major urban markets, with 16 different operators. Around 62% of its 2016 hotel EBITDA come from West Coast properties.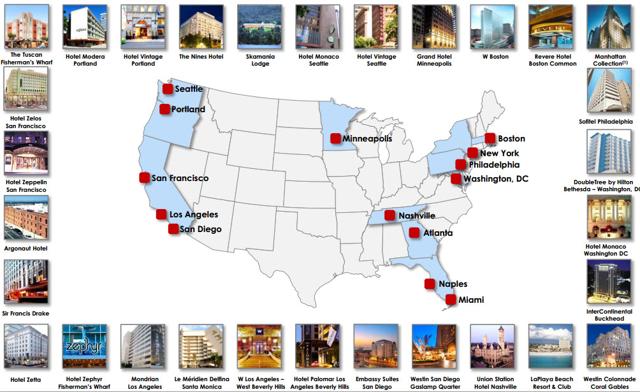 Click to enlarge.
Here's a snapshot (below) that illustrates PEB's geographic diversification. As you can see, San Francisco (24%), Los Angeles (14%), and Portland (12%) are the top markets: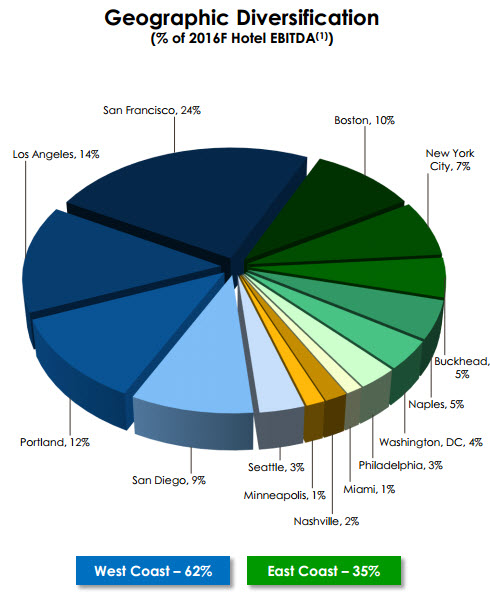 Pebblebrook focuses on acquiring assets that are broken, either operationally or physically, and then utilizing its expertise, in collaboration with the expertise of the operators, to fix the problems and significantly improve the performance of the hotel, thus creating significant value for shareholders.
As you can see below, around 58% of its operators are independent and 42% represent major brands (like Kimpton, Viceroy, etc. ...) Here's a snapshot of the company's operators: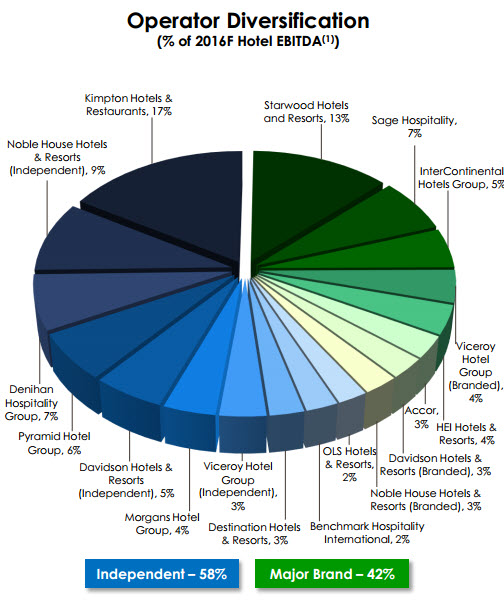 The Value Creation Process
Here is PEB's mission statement:

Click to enlarge
PEB expects to outperform the urban markets by 100 bps in 2016 by continuing to focus on renovations. By successfully repositioning its acquired hotels, the company is likely to increase value by increasing occupancy and reducing costs. There is significant upside across a majority of its portfolio from redevelopments and repositionings.
There is significant upside opportunity from prior RevPAR underperformance due to capital deprivation, foreclosure, receivership, lack of asset management or poor positioning by prior ownership and recent renovation impact. As you can see below, there is a 250 bps growth outlook in RevPAR between April 2016 to 2018, which represents ~6.3 million in EBITDA upside.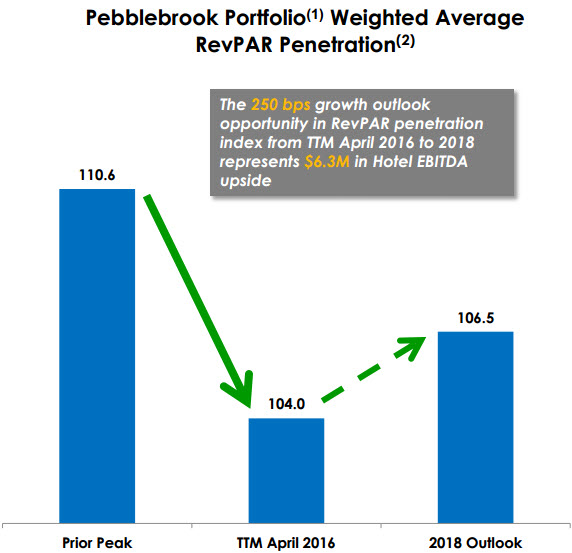 Despite the difficult macro environment, PEB has been able to add value at the property level by adding hotel rooms and cutting expenses. Here's a snapshot of the company's EBITDA margin upside opportunity as compared with the direct peer group: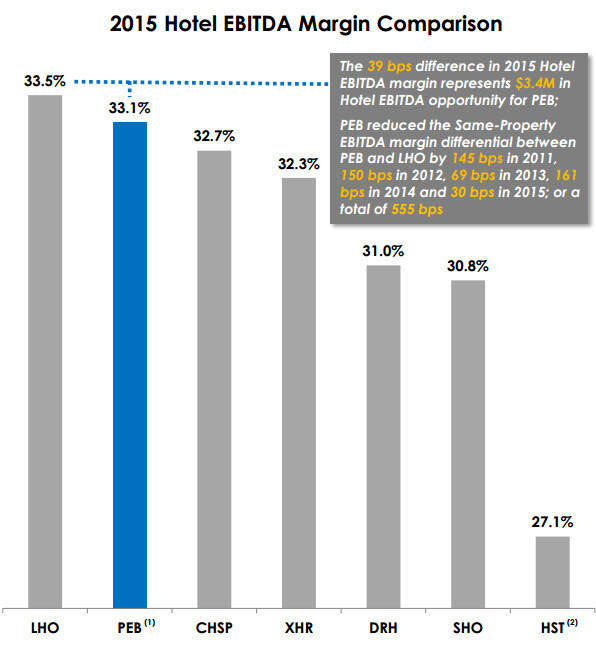 The company has kept expenses low. Re-concepting food and beverage outlets and right-sizing hotel staffing continue to drive costs lower, and PEB also increased margins by improving the guest mix at some hotels. Incremental hotel EBITDA growth is expected to continue during the next several years as asset management initiatives are implemented.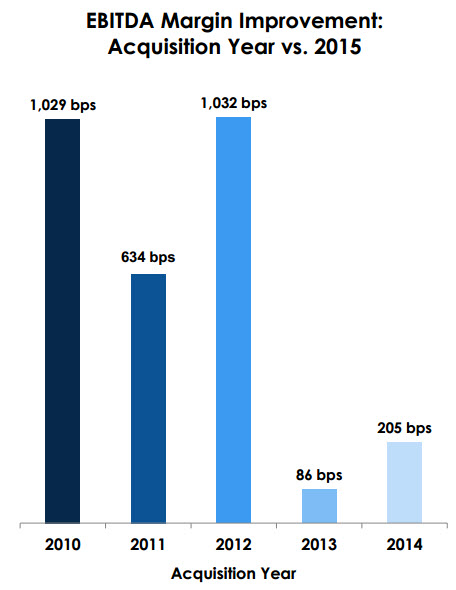 Since its inception, PEB has implemented $36 million in total estimated annual savings: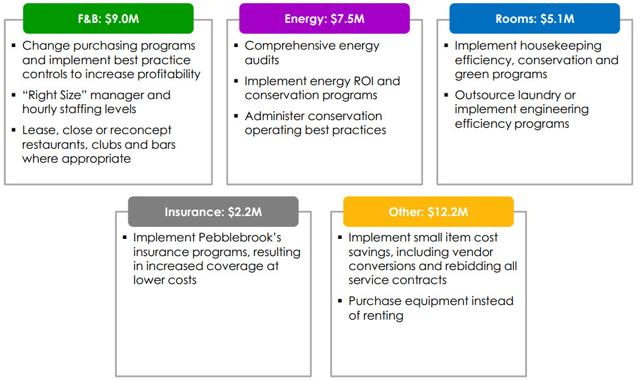 Click to enlarge
The company's overall process for value creation takes around 6-12 months to do the visioning and planning, another 3-6 months to execute the renovations and other changes, and then 3-4 years to change the customer mix in order to attract the customers willing to pay for the upgraded product. However, upon completion, the hotel offers a unique "experiential vision."
Total invested capital of $142.6 million in major renovations and redevelopments through 2015 has assisted in producing $58.8 million of incremental hotel EBITDA.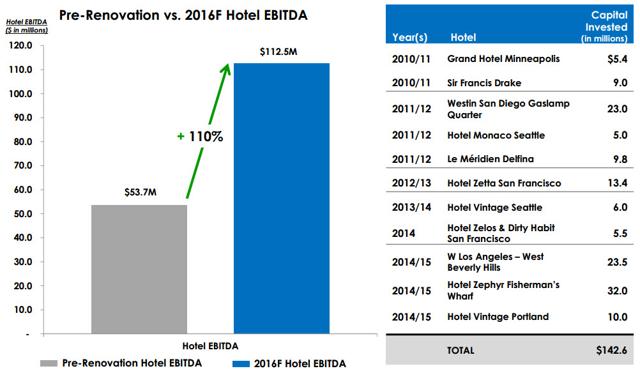 Click to enlarge
Assuming a 15x EBITDA multiple, total invested capital of $193 million in experimental redevelopments is forecasted to create $27.5 million of incremental hotel EBITDA and $219.5 million of incremental value above the investment amount.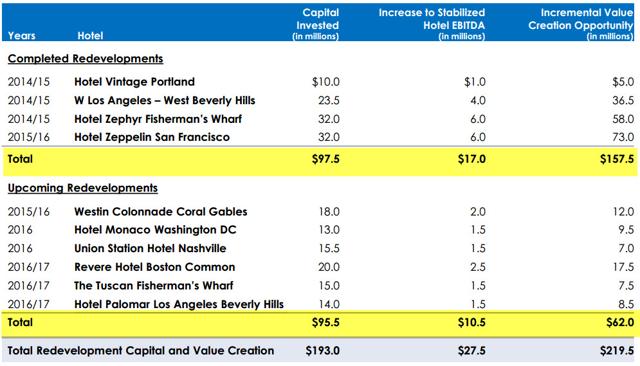 Click to enlarge
PEB's already identified hotel EBITDA opportunities of $30.2 million drives stabilized operating hotel EBITDA to $338.6 million.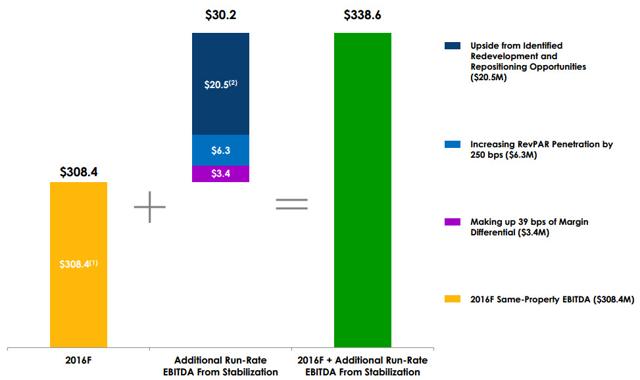 Click to enlarge
The company's stabilized EBITDA multiple is materially below the long-term average premium of the peer group: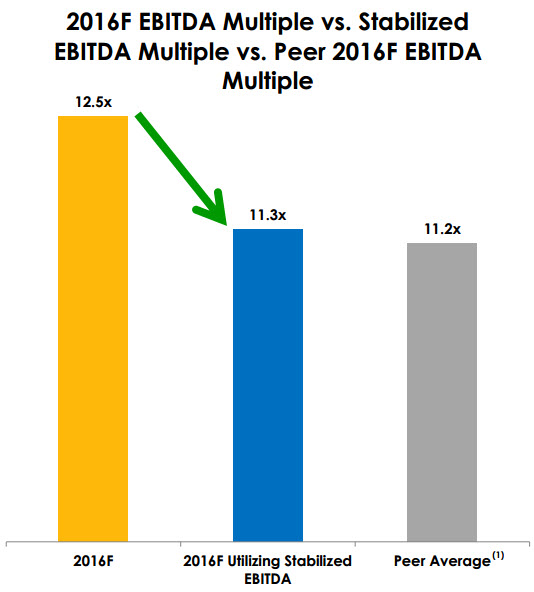 The Balance Sheet
PEB redeemed all $140 million of its Series A preferred equity shares and in early April repaid the $62.8 million, 6.3% mortgage secured by the Embassy Suite San Diego Bay Downtown. Capital to redeem the preferred equity and to repay mortgages that came from PEB's unsecured credit facility.
The combined reduction in the company's annualized fixed charges from the preferred redemption and two mortgage paydowns is approximately $7 million to $8 million or $0.10 to $0.11 per share based on the current interest rate environment.
At quarter end, PEB's debt-to-EBITDA ratio was 5.1x and the fixed-charge ratio was 3x. Excluding the debt associated with the Manhattan Collection, PEB's debt-to-EBITDA ratio was 4.8x and the fixed-charge ratio was 3.1x.

PEB's current leverage ratio is higher than its targeted long-term leverage ratio of about 4.5x and higher than the 4x targeted by the end of this year. The company expects increased EBITDA and potential proceeds from property dispositions should reduce the leverage ratio and the outstanding balance on the credit facility. PEB currently has $264 million outstanding on its $450 million credit facility (that was before paying off the mortgage on the Hotel Modera in May).

PEB has no more debt maturities until 2017.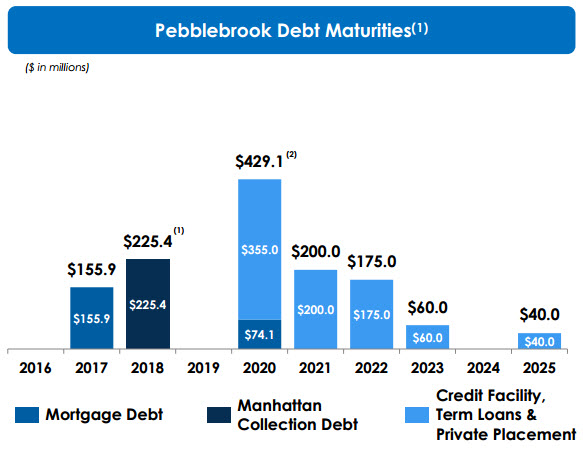 Battle Tested REIT?
On Friday, PEB fell almost 7% as a result of the Brexit fears.
Clearly, U.S. Lodging REITs are exposed to international economic threats and the continued slowdown on tourism. In my upcoming newsletter (July edition), we explain our view of the Brexit event in great detail and within the context of our article today, we view the pullback as overblown.
There is clearly economic uncertainty and between Brexit and the upcoming presidential election, we anticipate more choppiness. PEB has continued to maintain guidance and on the recent earnings call the CEO said:
…in general, economic statistics have been better, though they continue to be pretty choppy. The dollar has weakened off its highs, which is a helpful direction for improving international inbound travel. Employment gains continue to be very healthy, which is good for leisure travel. And interest rates remain very low.
But he cautioned:
The most negative of the signals we've been seeing remains the lack of corporate profit growth, which is clearly having a negative impact on business transient travel in particular.
But he added:
Given these economic and industry-specific factors, we still don't buy into the impending recession scenario as the likely outcome. We believe the recovery will continue but remain bumpy, as it has been for the last six years, with fear, anxiety, and a lack of confidence seemingly popping up from time to time.

Click to enlarge
For Q2-15, PEB is forecasting same-property RevPAR to increase between 1% and 3.5% and same-property hotel EBITDA of $81.5 million to $85 million, with same-property EBITDA margins flat to down 50 basis points, due primarily to the weak revenue growth.
Overall, PEB's group room nights are up 9% for the balance of the year, meaning Q2-16 through Q4-16, with ADR currently 5.3% higher and total group revenues ahead of same time last year by 14.8%.

Click to enlarge
As I alluded to earlier, PEB has not experienced a recession, so it's more difficult to determine how the company would be impacted in one. However, PEB's management team had extensive experience in the REIT and lodging sectors: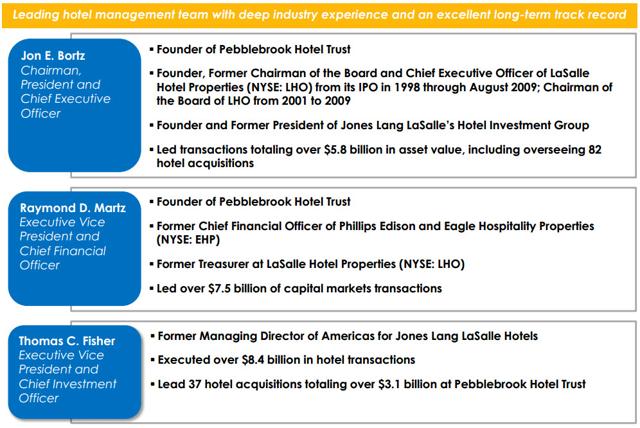 Click to enlarge
Maintaining Growth?
As evidenced by the snapshot below, PEB has maintained a good track record of accretive execution: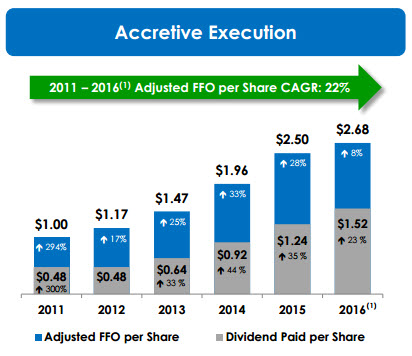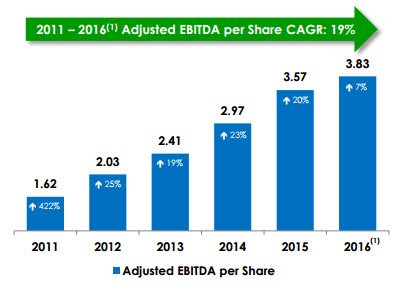 PEB's same-property RevPAR was up 8% in Q1-16, exceeding outlook of 3% to 6%. The company's RevPAR growth is driven by a combination of occupancy and rate growth, as occupancy increased 4.8% and ADR increased 3.1%.
PEB's room revenue grew 9.9% due to the increase in the average room count as the company added 50 additional guest rooms through several renovation programs.

Click to enlarge
AFFO was $40.6 million or $0.56 per share which exceeded the upper end of the outlook range by $0.09 as PEB also experienced interest expense savings and a larger tax benefit than expected on top of hotel EBITDA and hotel operating margin outperformance. Here's a snapshot of historical results:

Click to enlarge
PEB's AFFO per share growth outlook is 4% to 11%, and as you can see (above), it is less than the robust growth in recent years. Now let's examine the dividend growth:

Click to enlarge
Maintaining a Cautious BUY
As I explained at the outset, we are significantly underweight in the Durable Income Portfolio and that has served us well. However, we also recognize that there could be an opportunity to begin to gain exposure in the higher-risk REIT model.
As we learned on Friday, an international event can spook investors causing them to move money into safer asset classes. We consider a U.S. recession to be the biggest risk to owning Lodging REITs and we will avoid them when we see the clouds forming.
We consider Chatham Lodging to be a safer REIT (during a recession) due to the company's limited service focus. However, we can't ignore PEB's significant discount to NAV, and we believe there is significant upside as the company continues to dispose of assets and continue repurchasing shares. Here's how PEB's dividend yield compares with the peer group:

Click to enlarge
Here's how PEB's P/FFO multiple compares with the peer group:

Click to enlarge
As you can see below, PEB was the second worst performer over the last year:

Click to enlarge
All things considered, PEB has maintained an impressive track record of earnings and dividend growth: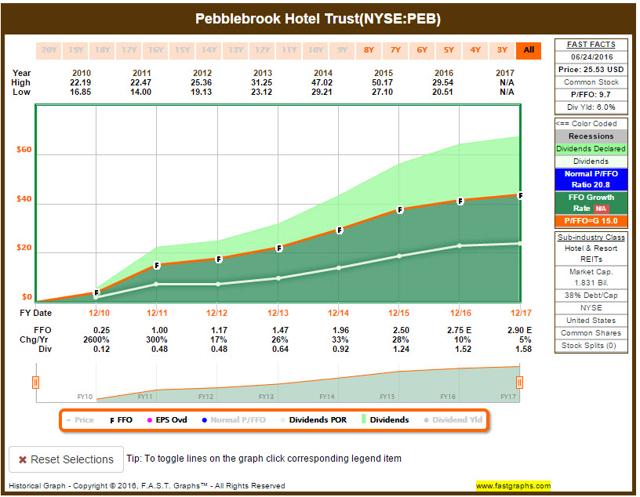 Click to enlarge
The FAST Graph below illustrates the depressed share price (black line):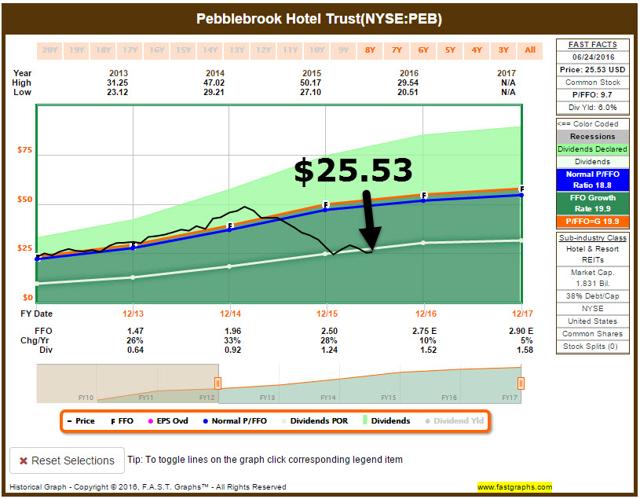 Click to enlarge
In summary, it's important to recognize the risks. There is a good reason that shares in all Lodging REITs are getting hammered. The market has already priced in a recession and we believe that we are a few years away from the actual event. Brexit certainly signals unstable economic conditions in Europe, but we don't believe that muted rate increases in the U.S. warrant such a discount in shares of PEB.
Our bet is that the U.S. will continue to be the "gold standard" and real estate in the (U.S.) gateway markets will perform well. We like the fact that PEB has a high-quality portfolio (62% of EBITDA on west coast) and that the company has the highest same-store EBITDA and FFO per share growth of any public lodging REIT.
Admittedly, it's much harder to predict earnings and dividend growth in the lodging sector due to the higher degree of economic uncertainty. I wish we had a better crystal ball for you - our forecast for PEB is 27.8% annualized returns.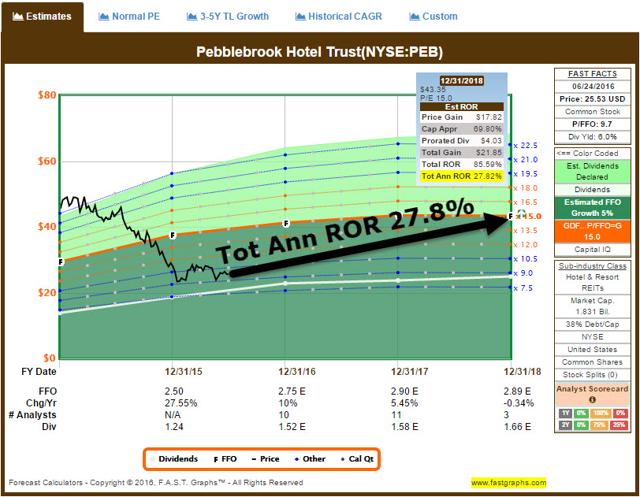 Click to enlarge
To view our complete Durable Income Portfolio CLICK HERE.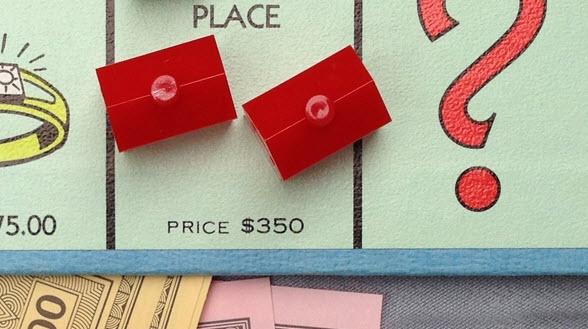 Author's Note: Brad Thomas is a Wall Street writer and that means that he is not always right with his predictions or recommendations. That also applies to his grammar. Please excuse any typos, and I assure you that he will do his best to correct any errors if they are overlooked.
Source: S&P Global, FAST Graphs, PEB Investor Presentation, and The Intelligent REIT Investor.
Disclaimer: This article is intended to provide information to interested parties. As I have no knowledge of individual investor circumstances, goals, and/or portfolio concentration or diversification, readers are expected to complete their own due diligence before purchasing any stocks mentioned or recommended.
Disclosure: I am/we are long O, DLR, VTR, HTA , STAG, GPT, ROIC, HCN, OHI, LXP, KIM, WPC, DOC, EXR, MYCC, TCO, SKT, UBA, STWD, CONE, BRX, CLDT, HST, APTS, FPI, CORR, NHI, CCP, CTRE, WPG, KRG, SNR, LADR, PEB, BXMT, IRM, CIO.
I wrote this article myself, and it expresses my own opinions. I am not receiving compensation for it (other than from Seeking Alpha). I have no business relationship with any company whose stock is mentioned in this article.