MLPs carried a streak of 7 straight positive days into Friday's market-crushing Brexit debacle. The MLP Index declined 3.3% Friday, but had banked enough gains earlier in the week to finish up 1.5% since last Friday.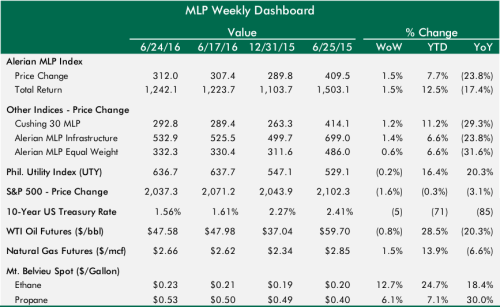 Oil prices recovered to more than $50/bbl by Thursday, which helped MLPs keep the momentum going from last week. Also, news reports of the ETE/WMB non-merger court proceedings on Tuesday seemed to encourage buying in MLPs broadly, with big cap MLPs rallying along with the MLPs involved in the transaction. Things were all trending in the right direction, it seemed like recent oil weakness really was all about currency, and currencies were going to revert once the Bremain vote was official… but things didn't turn out like they were supposed to. The whole world seemed to be on the wrong side of the trade (except George Soros), and it showed in Friday's action.
Poll Questions: Clean-ish Slate
With the ETE/WMB merger cancellation a mere formality at this point (more detail in News section), the next logical question for each party (outside of further litigation) is: what now? The strategic directions of both have more questions than answers at this point, but both have options.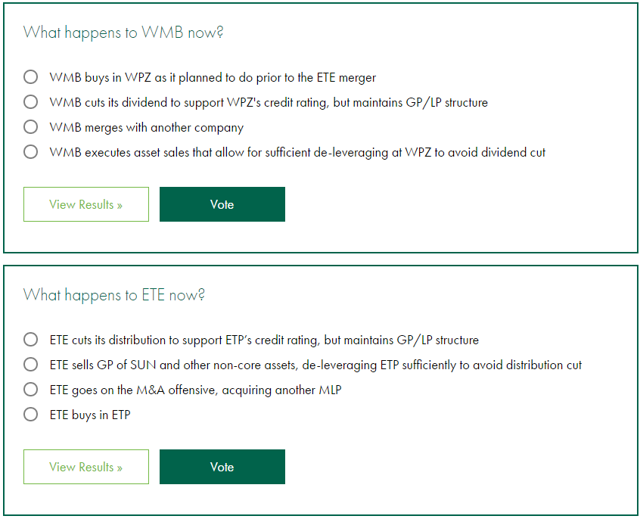 Winners & Losers
No real trends among the winners this week. Teekay Offshore Partners L.P. (NYSE:TOO) led the way, followed by Summit Midstream Partners (NYSE:SMLP) (maybe with help from its sponsor buying units), and TC PipeLines, LP (NYSE:TCP) (whose sponsor will close the Columbia Pipeline Group, Inc. (NYSE:CPGX) deal this week). On the downside, Enable Midstream Partners LP (NYSE:ENBL) was hurt by one of its major holders selling shares throughout the week, but other than that, no big obvious reasons for the underperformers.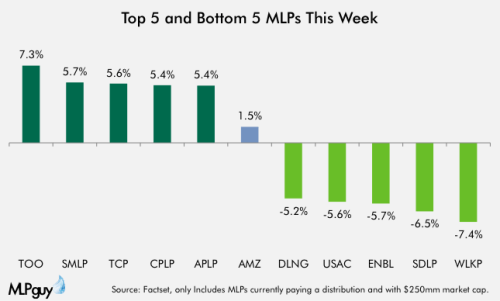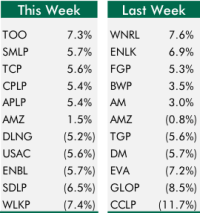 The MLP Index is up 12.5% year to date, and the YTD chart reflects serious mean-reversion action. Major 2015 losers comprise the top 5 and a few major 2015 winners (Delek Logistics Partners LP (NYSE:DKL) and Shell Midstream Partners, LP (NYSE:SHLX)) are among the bottom 5.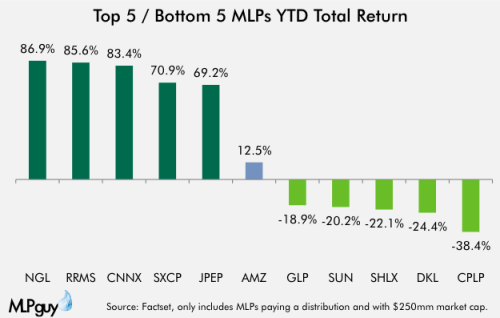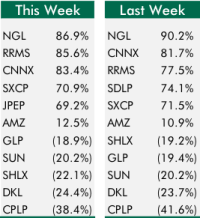 General Partner Holding Companies
GPs as a group underperformed the MLP Index this week, with a wide range of performance among the group. Williams Companies Inc (NYSE:WMB) went from first last week to worst this week. Tallgrass Energy GP LP (NYSE:TEGP) was once again second worst. SemGroup Corporation (NYSE:SEMG) and Plains GP Holdings, LP (NYSE:PAGP) reversed last week's weakness. But the big winner and easily the most heavily-traded this week was Energy Transfer Equity, L.P. (NYSE:ETE), which received affirmation on its tax opinion merger escape hatch.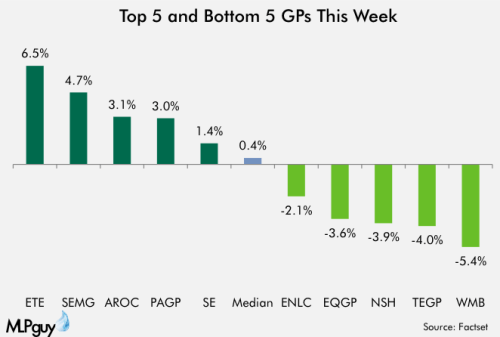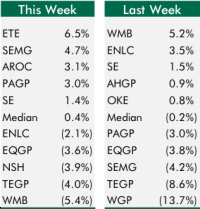 News of the (MLP) World
No MLP equity deals this week. Three acquisitions were announced, all by Sunoco LP (NYSE:SUN), which remains hell-bent on rolling up its industry, regardless of leverage or distribution concerns. Also, despite a general lack of development opportunity across the sector, Enterprise Products Partners L.P. (NYSE:EPD) continues to find ways to deploy capital, this time in the Delaware Basin. EPD has placed an increasing interest on attracting that first barrel into the system that creates a multiplier effect across its asset base.

M&A/Growth
Other