Last Friday was not pretty thanks to the Brexit vote which could send the United Kingdom out of the EU. One name that was hit particularly hard was cigarette giant Philip Morris (NYSE:PM), which has about a third of its revenues coming from the region. While Friday's decline pushed shares below a key moving average, the situation probably isn't as bad as many might think. Today, I'll examine how Brexit might impact Philip Morris in both the short and long term.
Perhaps the most important item for this company in recent years has been currency movements. The US Dollar's strength has negatively impacted results, and a pullback in the USD so far in 2016 was starting to make the situation look better. Unfortunately, last week's Brexit vote has sent the Dollar much higher against key currencies such as the Euro. The Dollar Currency Index has jumped 3 points in the last roughly 48 trading hours, back above 96 currently. As a result, Q3 will probably see the worst impact, and any cash flow pressures will provide a headwind to those looking for a dividend raise this year.
On the flip side, interest rates have also taken a dive, which is good for the debt heavy balance sheet of Philip Morris. If I were the company, I would be looking for any opportunities to refinance current debt issuances, especially longer term ones that carry higher rates. Lowering interest expenses will help the bottom line and provide more cash flow over the longer term. Last year, Philip Morris had just over $1 billion in net interest expenses.
The other impact of lower rates is on investor psychology. With bond yields falling, investors looking for income will likely turn to companies with decent dividend yields. After Friday's pullback, Philip Morris shares were yielding more than 4.17%, which is much better than you'll do with US Treasuries. As you will see in the chart below, shares also fell below the 50-day moving average, and still have a ways to go before reaching the 200-day. Hopefully, shares can get back above the short-term trend line soon.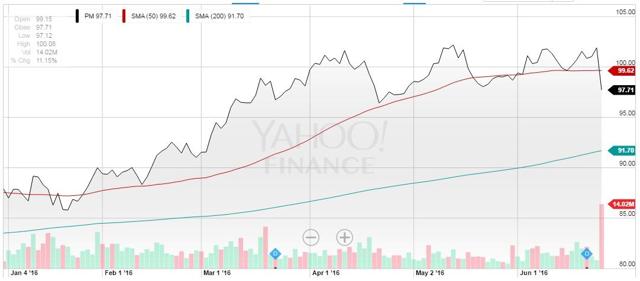 Click to enlarge
(Source: Yahoo! Finance)
Philip Morris shares tumbled Friday with Brexit fears taking down global markets. In the short term, this makes sense as the cigarette name's results will be hurt by a stronger US dollar. On the flip side, lower interest rates could help the debt heavy balance sheet, and might send those looking for income into this dividend giant.
Disclosure: I/we have no positions in any stocks mentioned, and no plans to initiate any positions within the next 72 hours.
I wrote this article myself, and it expresses my own opinions. I am not receiving compensation for it (other than from Seeking Alpha). I have no business relationship with any company whose stock is mentioned in this article.
Additional disclosure: Investors are always reminded that before making any investment, you should do your own proper due diligence on any name directly or indirectly mentioned in this article. Investors should also consider seeking advice from a broker or financial adviser before making any investment decisions. Any material in this article should be considered general information, and not relied on as a formal investment recommendation.