Britain's decision to walk away from the European Union has shocked investors last week, and the Brexit will continue to be a hotly discussed subject for the foreseeable future. The referendum has thrown global financial and currency markets into disarray on Friday, with stocks in Europe and the U.S. selling off sharply. The market slump after Britain's referendum reflects deep uncertainty that is likely going to weigh on stocks for a while longer.
European equities were hit very hard on Friday, and much harder than U.S. equities. While I can understand the anxiety investors feel over the Brexit, the referendum is also a big buying opportunity, and especially for European equities. Take a look at Spanish telecom Telefonica, S.A. (NYSE:TEF) whose shares were getting clobbered at the end of last week.
I have rarely seen a large European telecom lose ~18 percent of its equity value in a single day. The question, though, is, does this market meltdown make much sense?
I get that investors like to reposition their stock portfolios in light of the Brexit, and sell out of British banks. But dumping a telecom? And just because it is considering delaying the IPO of one of its businesses due to market volatility?
The Telefonica meltdown is just one example of how quick investors were to sell stocks. However, as I have now contended multiple times, the Brexit-induced market sell-off includes a HUGE emotional element.
And experienced investors know that emotionally-fueled market corrections are always a good opportunity to load up on beaten down shares. And that's especially true for a company like Telefonica which will continue to offer telecom services all around the world, including Europe, Brexit or no Brexit.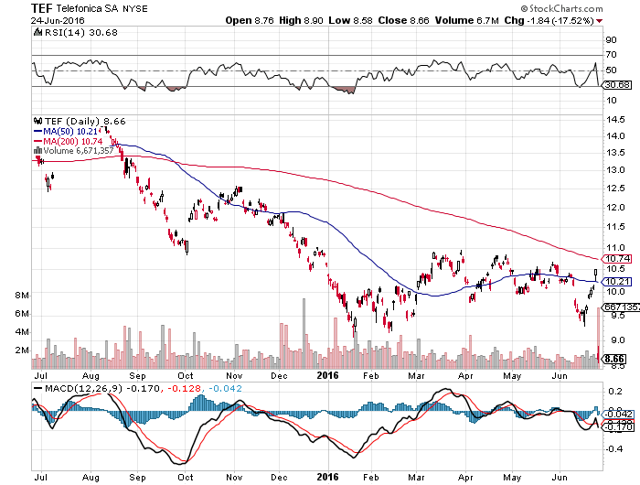 Click to enlarge
Upside And Nice Dividend Income
How much upside is there?
Ok, let's look at what analysts think.
According to MarketBeat, eight analysts rate Telefonica a 'Buy', five rate it a 'Hold', and four analysts think investors should sell the Spanish telecom. So far, none of the analysts have updated their opinions on Telefonica in light of the Brexit.
The consensus price target sits at €10.82, which is equivalent to U.S.-$11.92. Since Telefonica's shares are selling for €7.92/$8.66 at the time of writing, the Spanish telecom has ~37 percent upside to the estimated consensus fair value.
And what about income?
When stocks fall off a cliff, the dividend yield surges. In the case of Telefonica, the market meltdown has caused Telefonica's dividend yield to surge to 10 percent. That's a whopping yield for a European telecom, but remember, Telefonica's shares lost a painful ~18 percent in Friday's market panic, too. Telefonica's reward-to-risk ratio does not look bad at today's price point.
Your Takeaway
As far as I am concerned, Telefonica's terrifying slide on Friday was not justified. Investors have quickly de-risked and rebalanced their stock portfolios last week, that's true, but Telefonica fell too hard, too fast. The consensus price target implies significant upside for stockholders, and Telefonica is WAY oversold. As a result, an investment in TEF yields ten percent. Buy for income and capital appreciation.
Disclosure: I am/we are long TEF.
I wrote this article myself, and it expresses my own opinions. I am not receiving compensation for it (other than from Seeking Alpha). I have no business relationship with any company whose stock is mentioned in this article.