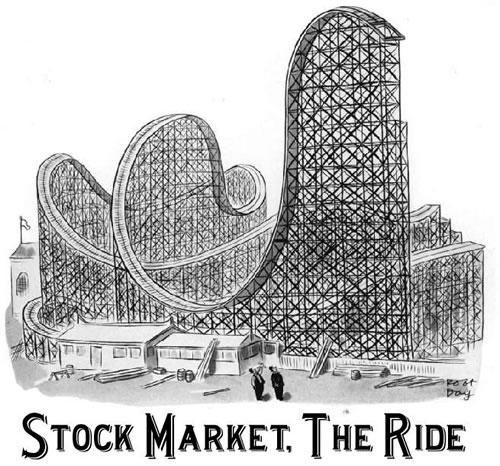 Credit: Thrive Wealth
The Brexit sell-off around the world has been interesting to watch and unbelievably costly to investors around the world. The pound is reaching levels it hasn't seen for 30 years and markets around the world are crashing. But here at home, what has really changed? Sure, the volatility caused by the Brexit is upending what may have been a precariously perched market but are we going to crash along with Europe?
The S&P 500 (NYSEARCA:SPY) was once again knocking on the door to new highs just before the Brexit vote happened, as it has several times in the past year.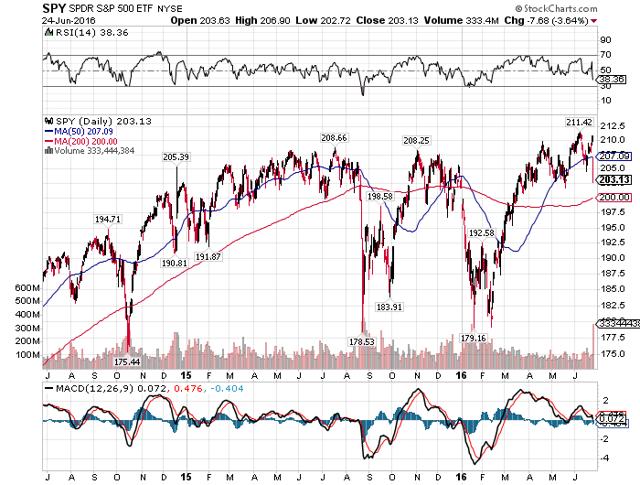 Click to enlarge
The Brexit vote took care of that, however, as we are now back at the bottom of the recent trading range that has formed roughly between 203 and 211. Further weakness this morning around the world threatens the 203 mark on the SPY but given the resiliency of US markets in the face of global turmoil in the recent past, I'd say damage is likely to be well contained.
Importantly, the SPY is seeing some very bearish technical signals at a time when it should have seen the opposite. If we take a look at the 14-day RSI on the chart above, we can see that metric hit its recent high back in March as the SPY was around today's levels but was still very much in rebound rally mode. We are a long way from that and since that time, the 14-day RSI has weakened more and more and now sits at just 38. That's not good from the perspective of stocks hitting new highs because buyers are losing conviction; for new highs to be in the cards you'd like to see some more thrust from buyers but we just haven't.
The good news is that in the past few years, whenever SPY has hit oversold levels (we're not quite there yet), it has rebounded nicely. The 14-day RSI is indicating that we are getting close to oversold levels and when/if that happens, it could be a great opportunity to get some additional exposure to US stocks.
The same story is true for the MACD - bearish divergences are taking place - but at the same time, the 200DMA is turning up for the SPY. While the slope is still fairly flat, if SPY can remain above the rising 200DMA for a few weeks and really cement the uptrend, new highs are certainly possible. Again, we are a little early to know this for sure but right now, the pieces are certainly in place.
In addition, the Fed has proven it will do anything and everything it can to calm markets and - by implication - drive them higher. While this is not an official policy of the Fed, the actions taken in the years since the financial crisis have proven this unequivocally. That means providing additional liquidity where needed and waiting to raise rates until it thinks the market can handle it. That is also very bullish because the Fed is the most powerful single force on the planet in terms of driving asset prices. The flip side is that if the Fed does make a surprise rate hike in July or September we could see a nasty sell-off. But I think they know better than that and wouldn't dare upset Mr. Market so that's another piece in place for a rebound rally.
To be clear, I'm not overly bullish right now. I think we are reaching the late innings or even the end of the very long bull market we've seen for the last several years. But that doesn't mean that we can't take advantage of some Europe-driven volatility and I think that's where we are right now. And given that I'm not calling for new highs but that I also think damage will be contained, the logical place to turn is volatility.
For the purpose of this discussion I'll be referencing the short term VIX product (NYSEARCA:VXX) but there are myriad other products - both short and long volatility - that would fit in its place. VXX is the most liquid one I'm familiar with, including options, so we'll stick with this one for now. Here's a chart of VXX for the past two years and you can see that each spike is met in relatively short order with a sell-off.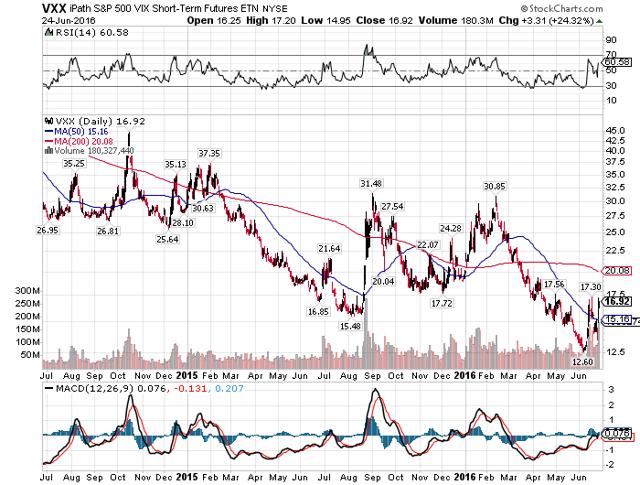 Click to enlarge
VXX only has one long term direction and that is down; if you'd like to know why, there are many terrific articles here on SA explaining the reasons. The reasons why VXX is a long term loser are not important here, only the fact that it is. And in that frame work, we can use the current volatility to position ourselves to profit from an eventual sell-off in volatility, however you measure it and whichever product you choose.
This chart shows the VIX futures term structure out to February of next year so we can get a sense of what traders think the medium term looks like.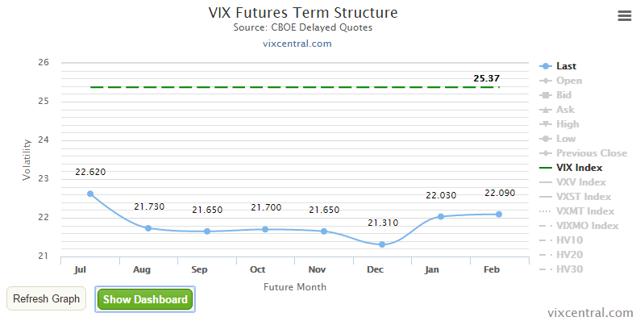 Click to enlarge
Credit: Vix Central
What's interesting is that the front month contract is well in excess of the second month contract, indicating that VXX actually has a tailwind right now. Under normal circumstances where volatility isn't elevated, the later months have higher VIX values than the early months. But in this case, traders think volatility will be lower next month than it will be this month, creating a positive roll yield for the VXX. The inverse of this relationship can be seen below.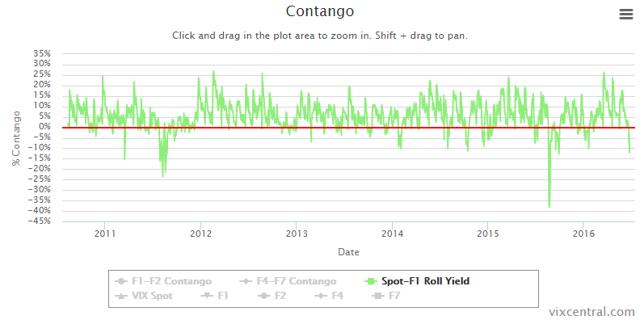 Click to enlarge
Credit: Vix Central
The vast majority of the time the roll yield against VXX is positive, meaning that VXX loses money each day simply due to the way the ETP is structured. But right now, that roll yield is excess of 10% in favor of VXX, something that has portended sell-offs in the ETP in the past. This condition cannot persist forever as it only happens when rapid spikes in the VIX occur, like the one we saw last week on the Brexit vote. That means this condition will be remedied one way or the other and that is why I'm in favor of shorting VXX here. Also keep in mind that a positive roll yield for VXX can persist for some time so while most of the time this is a quick move, it sometimes isn't and that can be costly if you're short.
As I said before, I don't necessarily think new highs are on the menu. However, for the short volatility trade to work, we just need the world not to end. In other words, even if SPY just goes sideways, we'll see VXX get crushed over the coming weeks and shorting it will prove immensely profitable. That tips the scales in our favor because there are three outcomes for the stock market over any period of time and two of them are favorable for those shorting VXX. If we get a deeper selloff, shorting VXX will get killed but the other two outcomes - sideways or up - are very profitable for that position. And shorting VXX after a huge spike has proven a winning strategy in the past as long as you can stomach the moves.
I don't know if SPY will end this week at 210 or 190 or somewhere in between; no one does. But what I do know is that shorting VXX here is a much higher probability trade than it usually is and given the moves that are possible, the risk/reward is huge. If SPY continues to sell off, VXX will rally and a short position will get slaughtered, so stay nimble and don't mortgage your house to put this position on. But if I'm right and we go sideways or up, VXX will get clobbered and I'll be there to collect my profits if and when that occurs.
Disclosure: I am/we are short VXX.
I wrote this article myself, and it expresses my own opinions. I am not receiving compensation for it (other than from Seeking Alpha). I have no business relationship with any company whose stock is mentioned in this article.