By Scott Tzu
Tesla (NASDAQ:TSLA) is going to receive some tax benefits when it does business in the UK as a result of the Brexit, along with automakers General Motors (NYSE:GM) and Ford (NYSE:F). We wanted to lay out our reasoning as to why these tax benefits are absolutely not a reason to go out and buy Tesla's stock.
Anton Wahlman wrote a fantastic piece on why the United Kingdom leaving the European Union is bullish for Tesla and the automotive industry. It was a well reasoned article, explaining that Britain leaving the European Union could create a "an automotive manufacturing tax and free trade haven" in the United Kingdom.
In his article, he also talks about how Tesla vehicles need to make a stop in the Netherlands prior to being shipped off to the European Union for sale. This is a way to avoid a European Union tariff that the company will not have to abide by further when shipping to the United Kingdom going forward. The vehicles are manufactured in California, but make a stop in the Netherlands to specifically avoid these tax implications.
Anton is a sensible writer and does fantastic analysis. However, we would focus our efforts on looking at Ford and General Motors as opposed to Tesla.
We are not going to lay out our entire bullish case on Ford. For that, you can consult our recent article talking about why F is probably a good stock to add in the face of this Brexit pullback. In that regard, we do agree with Anton. But let's update investors on our thoughts on Tesla to parse out the difference between these companies.
Anton is right that there are significant tax advantages for all of the automobile companies that do business in the United Kingdom. However, Tesla needs a little bit more help than a couple of tax advantages.
Tax advantages really can benefit companies that have positive cash flow and consistent earnings, where a couple of basis points on the company's margin makes an enormous difference. 10 basis points here and there will help a little bit more drop to the bottom line for companies like Ford and General Motors. These tax advantages may help these companies juice their numbers slightly and may potentially add a half a cent to each of these company's earnings numbers going forward. But Tesla? Let's take a look at the after-tax margin of the three companies: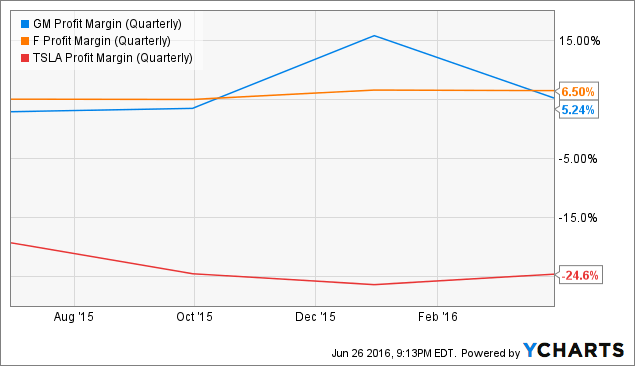 GM Profit Margin (Quarterly) data by YCharts
Puts a small tax advantage into perspective, doesn't it?
This also speaks to exactly how these companies are valued. As staple plays, F and GM are valued specifically based on their EPS. That's why a tax break could help the share price increase. Tesla is valued on a ridiculous theory that everything is going to be fine until 2020 or 2025 when analysts hope the company can finally turn a profit. A couple basis points from a tax break today is simply meaningless for Tesla.
Another way that all three of these companies are similar is that they all have a market cap that is between $20 billion and $50 billion. They are large corporations that have equally large valuations.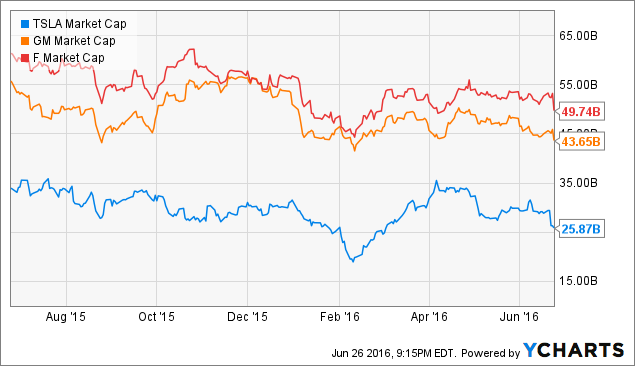 TSLA Market Cap data by YCharts
But we absolutely cannot lump Tesla in with a company like Ford or a company like General Motors. Tesla is an entity that has negative operating margins and a company that relies on the sale of stock to survive. It has not proven that it can turn a profit and it has not proven that it can leverage volume to make up for its past losses.
In addition to the simple common sense reasoning that these tax benefits don't matter for Tesla, the company also has a significant issue in its attempted acquisition of SolarCity (NASDAQ:SCTY). You can read our article on why we think Elon Musk has simply gone crazy.
Most importantly, we agree with Anton that Ford and General Motors are exceptional opportunities here and we commend him for his fantastic analysis pointing out the intricacies of each company's tax implications from the United Kingdom leaving Europe. This is fantastic analysis and supplements our already firmly held belief that General Motors and Ford should both be buys if the market pulls back lower.
But to lump Tesla in with these two companies, simply because it makes automobiles, is a poor reason to go out and buy Tesla's stock. An overvalued cash-burning company like Tesla is exactly the type of stock we believe one should be avoiding or shorting as we move into a period of economic volatility like the one we are currently in.
To further add to our skepticism on Tesla, its recent attempted acquisition of SCTY shows that corporate governance is extremely poor and the conflict of interest between TSLA board members that are also SCTY shareholders is extraordinarily odious.
Add to that the company's recent "suspension-gate", where it was reported that the company was having customers sign off on NDAs after the company performed out-of-warranty work on TSLA vehicles.
When you combine this with the recent executive exodus from the company and its financial fundamentals, we absolutely do not think that the United Kingdom leaving the European Union is a reason to go out and buy Tesla's stock.
We have been short Tesla off and on for the last few months, and we may initiate and add to a new short position at any time.
Disclosure: I am/we are long F.
I wrote this article myself, and it expresses my own opinions. I am not receiving compensation for it (other than from Seeking Alpha). I have no business relationship with any company whose stock is mentioned in this article.
Additional disclosure: May buy GM or short TSLA at any time