According to Joint Organisations Data Initiative (JODI), Saudi's oil inventory fell for the longest stretch since JODI started tracking supplies 15 years ago.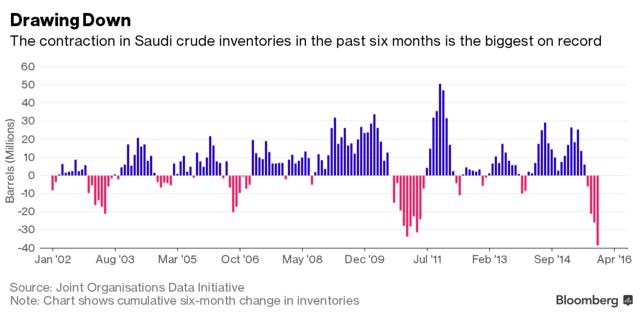 Click to enlarge
Looking at the data compiled by Bloomberg, the contraction for the last 6 months is the largest on record.
While everyone remains focused on US storage reports, very few are paying particularly close to one of the largest oil producers in the world. According to JODI, Saudi used and exported nearly 10.5 million b/d while only producing 10.2 million b/d.
Since last October, Saudi supplies have fallen by 38.6 million bbls and US stock supplies have risen by 61 million bbls.
In the coming months, summer cooling demand will also absorb an increased amount of Saudi's oil production via electricity generation. Even if Saudi's oil production rises to 10.5 million b/d, oil storage will continue to deplete. This will contribute to the much needed rebalancing we expect to take place in the second half of the year.
Once Saudi can no longer export more than they produce, export volumes to the US will fall. This will affect import figures, which will in turn affect how much storage the US builds week over week.
US storage remains bloated with record inventories.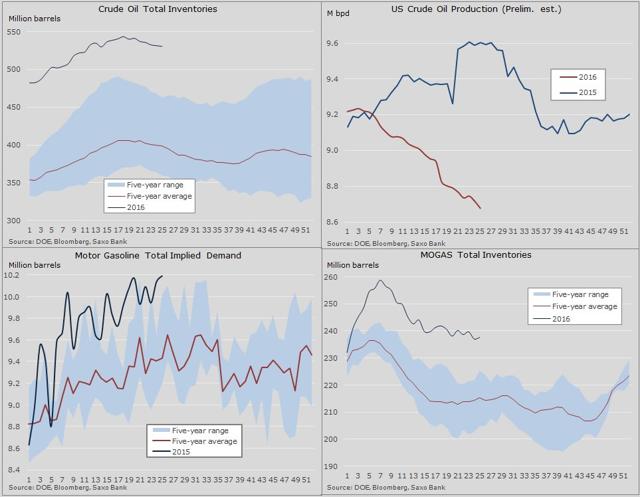 Click to enlarge
US crude production has responded by moving lower, and gasoline demand has spiked thanks to low prices. Overall, the fundamental picture remains bullish with supplies falling and demand increasing. The surplus storage, however, will serve as an overhang on crude prices. Depending on the pace of the rebalancing, the overhang could last till the end of 2017. But in the meantime, global energy capex will remain subdued thanks to low prices. This continues to be our number one concern as the level of underinvestment could lead to potential price spikes after the storage overhang disappears. The price spike this time will require shale producers to meet additional demand, but the pace of the production rise will be in question.
Barring any additional black swan events from happening, where will the additional crude oil (NYSEARCA:USO) supplies come from in the next 2-3 years?
Disclosure: I/we have no positions in any stocks mentioned, and no plans to initiate any positions within the next 72 hours.
I wrote this article myself, and it expresses my own opinions. I am not receiving compensation for it (other than from Seeking Alpha). I have no business relationship with any company whose stock is mentioned in this article.